Admission notice has been issued by the University of Peshawar for inviting admission application from candidates who wish get admission in any degree program BA, BSc, BBA(Hons), BS(Hons) 4-Years, Pharm-D, BSCS, MA, MSc, LLB, MBA, MS, MPhil and PhD in many different subjects. Students from all over Pakistan can get admission in the University of Peshawar. If you have passed the Intermediate examination with at least 45% marks and willing to get admission at UOP, then you can choose from many choices of degree programs available e.g. BA, BSc, BS, B.Com, BBA etc.
The University of Peshawar offers enrollment in the Spring as well as in autumn season. UOP has many affiliated institutions in the different cities of KPK to help the students to avail of educational facilities at their doorstep. Admission advertisement 2022 is published in the leading newspaper in English and Urdu versions.  Here you will find the complete description of University of Peshawar admission procedure, admission schedule, admission form download, fee structure, eligibility criteria and requirements, entry test, merit list and various scholarships offered.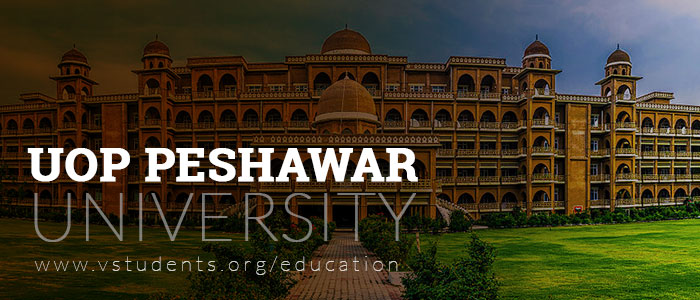 UOP Admission 2022 Complete Admission Guide:
Peshawar University is one of the best University in the Province of KPK who is offering excellent academic and research-based facilities to the students belonging to different areas of the Province, F The University of Peshawar UOP has announced Spring and Fall semester admissions in multiple degree programs. Peshawar University issues an academic calendar approved by its management who provides a detailed description of all the academic activities that are going to be held in the current semester.
The University of Peshawar provides complete admission guideline and fee structure about the different degree program. If you want to obtain information about how to apply for admission at UOP, Where to get admission form? what is eligibility criteria and requirements to obtain admission to a particular degree program? fee structure, entry test and merit list of the University of Peshawar.
UOP Admission 2022 Last Date For Applying
The University of Peshawar offers different degree programs including semester and annual system. The last date to submit the application form to the Directorate of Admissions is clearly mentioned in the admission advertisement.
Last date to apply for BS Degree Program: October 21st.
[box type="tick"] Don't forget to fill an application form for Pakistan's top-ranked universities including  
AIOU Admission
,
LUMS Lahore
,
UCP Admission
and
LSE Lahore
for MBA & BBA Programs. Apply before the deadline.[/box]
University of Peshawar Admission Advertisement 2022
Admission advertisement for the Spring and Fall semester is the responsibility of Directorate of the Admissions University of Peshawar. This directorate specifies the degree programs offered for admission, Last date to apply for admission, Entry test schedule and complete eligibility criteria in the admission advertisement 2022.
UOP Fee Structure 2022:
Fee structure of the University of Peshawar is approved by the syndicate of the university. UOP has notified fee structures for regular as well as private candidates. The fee structure for regular candidates is different than those of private candidates.
| | |
| --- | --- |
| Peshawar University Degree Program | Fee |
| BBA | Rs. 33000/- per semester |
| BS | Rs. 27500 per semester. |
| Pharm-D | Rs. 49,500/- (Per year) |
| BSCS | Rs. 28600/- Per semester |
| MA | Rs. 27500/- ( per Year) |
| MBA | Rs. 39600/- Per semester |
| MSc | Rs. 44000/- per Year |
| MS | Rs. 41800/- per semester |
| Ph.D. | Rs. 41800/- per semester |
Comprehensive details about the fee structure and miscellaneous charges of the University of Peshawar can be viewed by Clicking Here.
University of Peshawar Admission Form 2022 download:
Admission forms of the University of Peshawar for getting admissions into different academic categories can be obtained from the University bank branch of HBL or from the Directorate of Admissions, University of Peshawar. Instructions for filling the admission form are printed on the form and must be followed to fill the admission form correctly. Click Here to download admission form for admission to different degree programs.
[box type="note"]You can also get complete admission guideline and details for top-ranked universities including BZU Multan Admission, UMT Admission, and UOL Admission.[/box]
Admission procedure how to apply: If you are interested to get admission into the University of Peshawar then following steps will definitely help you to get enrolled into the university.[unordered_list style="tick"]
Purchase Admission form for a particular degree program from HBL University bank branch or admission office of the University.
OR download the admission form from Here.
Fill the admission form correctly following the instruction printed on the form.
Required Documents
Two photocopy set of all academic certificates and degrees
Attested Copy of National Identity Card
2 recent colour photographs
Domicile certificate
Equivalence certificate if applicable
NOC from the previous university must be provided if admission is confirmed.
All these documents along with filled admission form must be received at the Directorate of Admissions UOP before or on the Last Date specified by the University.
[/unordered_list]
Undergraduate, graduate and Ph.D. Programs Admissions 2022:
Peshawar University has various departments for providing different courses of studies to the students. University has well experienced and highly qualified faculty members, most of them are MPhil and Ph.D. holders. Different Programs of the University of Peshawar are BA, BSc, BS Urdu, BS English, BS Botany, BS Zoology, BBA(Hons), BS Accounting & Finance, MPhil Urdu and Ph.D. programs are started in different disciplines by the University.
UOP Admission Criteria & Requirements:
The University of Peshawar observes the following criteria for admissions into different study programs.
Eligibility Criteria for BA, BS, BSc, BBA Degree Program:
Intermediate passed with a minimum of 45% marks
Entry test qualified with at least 45% marks
Eligibility Criteria for Masters degree:
45% marks in bachelor degree with entry test qualified to secure 45% marks.
Eligibility Criteria for MS, MPhil, Ph.D.
For admission into MS, MPhil minimum 2.5 CGPA in master degree or 60% marks in master degree.
At least 3.0 CGPA is required for admission into the Ph.D. program with an entry test qualified to secure 70% marks.
University of Peshawar Entry Test 2022:
Different departments of the University of Peshawar conduct entry test for admissions into different categories of the program. Candidates must qualify the entry test held by the University of Peshawar to be able to get admission into the university. At least 50% marks are required to pass the entry test. After qualifying, the entry test application for admission is submitted to the admission department of the Peshawar University.
Merit List 2022:
The University of Peshawar prepares a merit list for admission into different categories. Merit list is prepared by calculating marks obtained in the previous academic certificates or degrees, entry test marks, interview marks. For your easiness, we provide you with the web link to view the merit list displayed by the Peshawar University for getting admission in various degree programs. Click Here to view the UOP merit list 2022.
University of Peshawar Scholarships 2022:
If you have an excellent academic career and you have cleared your previous degree with good marks then there is a good chance for you to get enroll into Peshawar University and avail different scholarships as offered by the university for energetic and brilliant students. If you cannot afford the fee for further studies and you are a student of UOP, then apply through proper channel with required documents for financial assistance program offered by the University of Peshawar.
UOP Address & Contact Information:
Address: University of Peshawar, Old Jamrud Road, Peshawar
Website: www.uop.edu.pk
Email: admissions@upesh.edu.pk
Phone Number: +92-91-9216701