The University of Education has declared that admissions in 2021 are open now. UE offers admission to the students in two semesters Spring and Fall in the different disciplines like BEd, B.Ed(Hons), BBA(Hons), BS(4-Years), BS(IT), MA, MSc, MEd, MS, MPhil, and Ph.D. in the relevant subjects.
The University of Education is a well-recognized university in the field of educational research. The University has nine campuses in different areas of Punjab which include Lahore (3 campuses), Attock, Vehari, DG Khan, Faisalabad, Jauherabad, Multan. Lahore campuses of UE are situated at Bank Road, Township, and Lower Mall.
The last date for submission of admission application FOR UE Admissions 2021 is clearly mentioned in the admission advertisement, after the due date, no application form is considered for admission. We have completely explained the admission procedure for applying, admission schedule, admission form download, fee structure, eligibility criteria and requirements, GAT entry test conducted by UE, merit list, various types of scholarships, and jobs offered at UE as given below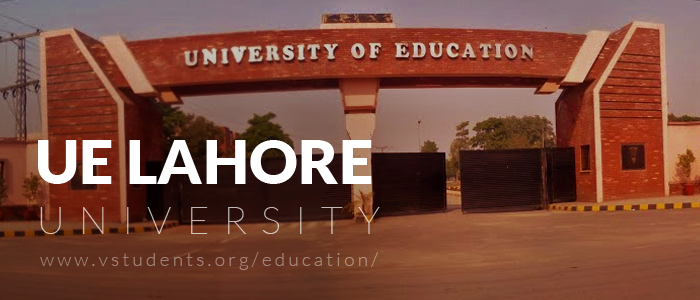 UE Admission 2021 Complete Guidelines
University of Education UE admission office has formally announced the admissions 2021. These admissions are offered to the eligible students for getting admission in BEd, B.Ed(Hons), BBA(Hons), BS(4-Years), BS(IT), MA, MSc, MEd, MS, MPhil, and Ph.D. UE enrolls the students two times in an academic year.  These are known as Spring and Fall semesters. Each semester is scheduled for 16 weeks as a study period.
After going through this article you can gain information about admission advertisement 2021, the procedure for downloading and submission of admission form, eligibility criteria and requirements for various types of study programs, fee structure, schedule to display merit list, scholarships, jobs, address, and contact information of the University of Education. You may find Top Business Universities of Pakistan also.
UE Lahore Admission 2021 Last Date:
UE Lahore admission 2021 last date to apply online is 24 September 2021 application forms can be submitted for BS, M.A, M.Sc, BA,  B.Ed, MS, M.Phil and P.hD. Students can apply online before the deadline for undergraduate and postgraduate programs.
Note: The university of education announced that USAT is not required for undergraduate admissions 2021. Also, University will not conduct any entry test for undergraduate programs.
UE allows Fall admission 2021 in all campuses of the university all over Punjab. Applicant must deposit admission form for Spring 2021 before or on the last date 19 September 2021 along with the processing fee of Rs. 500/- in the specified branches of HBL or in any University campus.
Click here for all upcoming dates.
UE Admission Advertisement 2021
The University of Education has announced the admission of 2021 in various degree programs for acquiring admission in university campuses and affiliated colleges. Candidates must carefully read the whole advertisement to know about degree programs offered admission schedule, admission procedure, and last date to apply for admission.
[box type="note"]Check out
Fast University Islamabad
 and 
VU Admission details
in your respective disciplines.  [/box]
University of Education Fee Structure 2021:
The fee structure for the affiliated colleges of the University of Education Lahore does not control by the University administration, so the affiliated institutions might charge a different fee from students as per the policy of the college. The fee structure of some of the courses offered by UE is mentioned as Under:
Degree Program offered by UE
The fee amount for the 1st semester evening

(in Rupees)

B.Ed (Hons)
12900/- (morning)  20400/-
M.Ed and M.Ed Special Education
13900/- (morning)   18275/-
MBA 1.5 Years
23400/- (morning)   35900/-
MA English
15400/- (morning)   27400/-
BBA(Hons)
17900/- (morning)   27400/-
BS (Hons)
16400/- (morning)   24400/-
MA
13400/- (morning)   22400/-
MSc
15900/- (morning)   23900/-
Further details about the overall fee structure of all the programs offered by the University of Education can be viewed by clicking Here. Must check LSE Fee Structure for admission guidance.
UE Admission Form 2021 download:
UE admission form 2021 for acquiring admission to the University of Education Lahore can be obtained from any of the university campus described above. UE admission form can also be obtained from designated branches of HBL on the payment of Rs. 500/-. The applicant can also download the admission form online from Here. 
UE also provides the facility of online submission of the admission application. You can click Here for filling the online application form.
UE Admission 2021 procedure on how to apply:
In order to get admission to the University of Education, the applicant must follow the procedure given below:
[unordered_list style="tick"]
The applicant can obtain admission form 2021 from university campuses, divisions or from the specified branches of HBL by paying Rs. 500/-.
The downloaded form must be completely filled by the candidate and submitted in person, by post or courier to the relevant campus with a bank draft or pay order of Rs. 500/-
Candidates can apply for admission online by clicking Here.
The candidate must attach attested copies of all the certificates and degrees with the admission form.
Copy of National Identity Card must be attached.
3 color photographs are required with the form.
Forms received after the last date are not accepted.
[/unordered_list]
UE Admission Criteria & Requirements:
For getting admission into Master's level programs like MA, MSc, M.Ed candidates must acquire a bachelor's degree with at least 2nd division or 45& marks in the annual system.
For students who have passed Bachelor degree in the semester system must have a minimum of 2.00 CGPA.
For enrollment into MS or MPhil program, the applicant must have MA, MSc, or BS degree in the relevant subject with GAT and subject test qualified held by the University of Education Lahore.
MS, MPhil, or equivalent degree is required by the candidates to get admission in a Ph.D. level degree program.
Undergraduate, graduate, and Ph.D. Programs Admissions 2021
The University of Education offers a different program of study ranging from bachelor level to Ph.D. level in various types of disciplines.
Some of the program offered by the UE is given as BBA (Hons), BEd(Hons), BFA (Hons), BS (Hons) Botany, BS (Hons) Chemistry, BS (Hons) Economics, BS (Hons) English, BS (Hons) IT, BS (Hons) Mathematics, BS (Hons) Physics, BS (Hons) Zoology.
MA Special Education, MA Education, MA Education Leadership and Management, MA in English, Urdu, History, MBA (1.5 years), MBA (3.5 Years), MEd, MEd Special Education, MSc in Botany, Chemistry, Economics, MSc(IT).
MS and MPhil are started in different subjects like MPhil Urdu, MPhil Education, MS Chemistry, MS Mathematics, MS Physics. Ph.D. is currently going on in the subjects of Education and Urdu.
UE Entry Test 2021:
In order to apply for admission in any discipline at the University of Education (UE) Lahore, the interested candidate must qualify for the UE entry test for admission to the concerned department. Candidate must obtain at least 60% marks in the entry test to be eligible for admission in UE.
Merit List 2021:
University of Education Merit list 2021 is displayed on the Notice Board of the concerned department and can also be viewed online from UE official website. The admission office of UE will prepare three merit lists and waiting lists. The merit list is displayed by the admission office after the formal approval of VC.
Those Applicants whose names are displayed in the 1st and 2nd merit list and were unable to pay their dues within the last date are added to the 3rd merit list for admissions. UE merit list 2021 can be viewed by clicking Here.
Scholarships 2021:
University of Education UE awards scholarships to brilliant students who are studying at the University. Merit-based scholarships are awarded to the top position holders of the UE who retain their extraordinary performance in all semesters. HEC need-based scholarships are given to poor and needy students at UE.
Minority scholarships are granted to students who are non-Muslims. Those students who are eligible for the scholarship must apply to the Head of the Department.
Address & Contact Information:
Address: University of Education College Road, Township, Lahore, Punjab, Pakistan
website: www.ue.edu.pk
Email: dsa@ue.edu.pk
Phone: +92-42-99262208