Have a glance at the top medical colleges in Pakistan 2023, their overview, and also check the programs that the best medical colleges are offering. We have categorized them as a list of the top ten as per the ranking of the Higher Education Commission (HEC). This list of top ten medical colleges in Pakistan is declared to facilitate students who had passed their FSC Pre-Medical examination and going to choose a medical college or university for admission that is recognized as best to deliver.
Medicine has become the most respected profession in the world and in Pakistan as well that's why it is called the mother of education over here. In Pakistan, a large number of medical institutes, colleges, and universities are established where thousands of students get a medical education from professionals.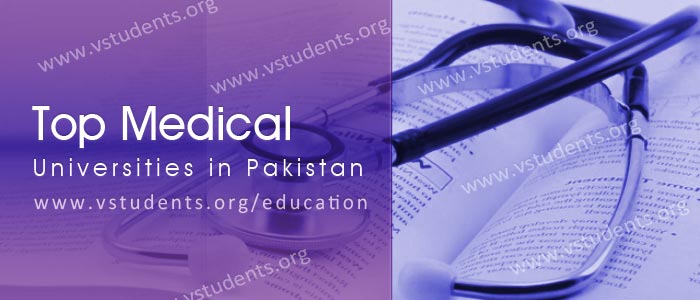 Top 10 Medical Colleges in Pakistan 2023
Below we mentioned the best medical colleges in Pakistan, according to HEC which can be a proud symbol for you to get enrolled in one of them. HEC has strict criteria and after free and fair evaluation issues the top ten medical universities 2023 list with grades and points.
HEC criteria to shortlist the medical institutes include academic quality, medical equipment, highly professional teaching staff as well as student satisfaction. Now let's come to check HEC's best medical universities in Pakistan 2023 and the programs they offered.
1
Aga Khan Medical University: AKU Karachi is a renowned name of excellence in the medical field in Pakistan and internationally that was formulated in 1983. The AKU medical university is delivering excellence in different campuses in Karachi, Kenya, Tanzania, and Uganda and provides various academic programs such as health sciences, nursing, arts, media, and communications. AKU Karachi is ranked as a leading medical university in Pakistan and details of fee structure, admission 2023, entry test, and other program details at AKU Admission.
2
University of Health Sciences: UHS Lahore aims to give distinction and brilliance in medical & health sciences as an international standard. It focuses on delivering high-quality instruction in basic medical science by its internationally qualified professionals who had become the cause to make it the 2nd best medical college in Pakistan from all the medical institutes. To get admission in the University of Health Sciences Lahore check the listed programs. Find the complete UHS admission guide Here.
UHS Lahore Undergraduate Programs
MBBS
BDS
Pharm D
DPT
BSC Nursing
Sc. Biotechnology
Sc. Medical Imaging Technology
Sc. Medical Laboratory Technology
Sc. Optometry & Orthoptics
Sc. Emergency & Intensive Care Sciences
Sc. Orthotics & Prosthetic
Sc. Audiology
Sc. Operation Theatre Technology
Sc. Dental Technology
Sc. Dental Hygiene
Sc. Cardiac Perfusion
Sc. Occupational Therapy
Sc. Speech & Language Pathology
Sc. Respiratory Therapy
Sc. Nutrition
Graduate Programs UHS Lahore
Diploma in Family Medicine
Masters in Family Medicine
Master in Health Professional Education
Nursing
Transitional Doctor of Physiotherapy
UHS Postgraduate Programs
Anatomy
Biochemistry
Behavioral Sciences
Forensic Medicine
Human Genetics
Hematology
Immunology
Microbiology
Morbid Anatomy & Histopathology
Oral Pathology
Pharmacology
Physiology
Medical Laboratory Sciences
Cellular and Molecular Biology
3
Dow University of Health Sciences Karachi: Introducing one of the oldest and highly ranked public research institutes of Pakistan named Dow University placed in Karachi. DUHS comprises various health sciences research institutions and medical colleges mainly Dow International Medical College (DIMC) and Dow Medical College (DMC) and offers undergraduate, postgraduate, and doctoral programs. Dow Medical University has recently announced admissions in the Clinical Research Certified Professional course, BBA, and admission to in MBA at the Institute of Health Management (IHM). You can also find further details of enrollment in DUHS, fee structure, application form, and last date.
4
Isra University Hyderabad: Check the 4th top medical university as per HEC criteria named Isra University, having three campuses Islamabad, Karachi, and Hyderabad. It's an autonomous organization licensed by Pakistan Center for Philanthropy and owned by Isra Islamic Foundation (IIF). IUH offers up-to forty-degree programs from graduation to the doctoral level and more than 3500 students are enrolled with it.
Isra University Programs:
MBBS
BDS
DPT
BS Nursing
BS (CS)
BS (ICT)
BS (TC)
BS (SE)
BS (ES)
BBA
BE
Master of Science
MBA
MSC
MD
MS
MDS
MPHIL
PHD
5
Ziauddin University Karachi: It is HEC's recognized degree-awarding school of medicine founded by Doctor Ziauddin Ahmad, with the theme is to increase medical education with quality amongst Muslims. It has made different colleges, departments, and faculties to give particular disciplines as faculty of medicine, college of dentistry, pharmacy, college of nursing, college of bio-medical engineering, college of physical therapy, faculty of allied sciences, department of research, and institute of communication & media studies.
6
Khyber Medical University Peshawar: KMU is a public sector institute of higher education affiliated with HEC Pakistan which was founded just seven years ago. It aims to provide services to the people of Pakistan, particularly the citizens of tribal areas with the promise of merit and quality in medical science and practical research. In Khyber Pakhtunkhwa, there are many institutes and colleges affiliated with KMU Peshawar in which a few renowned names are listed below.
Bacha Khan Medical College Abbottabad
Post Graduate Medical Institute Peshawar
Jinnah Medical College Peshawar
Women Medical College Abbottabad
Royal College of Nursing Swat
Frontier Homeopathic Medical College Peshawar
7
King Edward Medical University Lahore: Almost every Pakistani knows this name creditably because of its high standard of educational infrastructure, a team of professionals and facilities provided to enrolled students. The higher Education Commission has given 7th rank to King Edward Medical College in the top ten best institutes of medical education in Pakistan 2023 year. This school of medical learning has departments of basic sciences, medicine & allied, surgery and allied health sciences in which it offers undergraduate and graduates admissions to students. Check King Edward University fee structure, admission 2015-16, last date of form submission and other details visit the official website or follow this link KEMU Admissions.
8
Baqai Medical University, Karachi: We have found that in the list of top ten leading medical universities in Pakistan, Baqai Medical University got the eighth rank shortly known as BMU Karachi. This paramount institute of medical learning is located in Karachi. University offers undergraduate, postgraduate, and Ph.D. programs for Spring & Fall semesters. For more information and updates check Baqai Medical University Karachi Admission 2023 Guidelines.
9
Liaquat University of Medical and Health Sciences Jamshoro: We have given the place from the top ten lists of medical colleges Pakistan LUMHS stands at number 9th rank institute. It aims to serve humanity, to achieve prominence as a world-class medical school of teaching & research, and to give education with great ability to undergraduates, graduates, and postgraduates.
LUMHS Faculties:
Medicine & Allied Sciences
Surgery
Basic Medical Science
Community & Public Health
Faculty of Dentistry
10
Gandhara University, Peshawar: Gandhara University is standing at the number 10th position in the HEC's recognized list of top medical colleges in Pakistan that is located in Khyber Pakhtunkhwa Province capital Peshawar. Check GU Peshawar fee structure, admissions, last date of application, and also jobs in Gandhara University at Vstudents.org/education. It aims to foster academic excellence, improve quality, produce professionals, and establish an international level of medical education.
Above we have done the list of HEC-recognized best medical colleges in Pakistan 2023 which are standing in the top ten lists. The above information will definitely assist students that, which medical colleges are the best in Pakistan for government and private medical institutes. Students must know all necessary information especially fee structure and eligibility criteria when they apply for any course or degree program in any of the mentioned medical colleges.