Admissions are open in National university of science and technology (NUST) which is leading academic institute for delivering quality in engineering fields to brighten the future of candidates in pakistan. Students can enroll in the NUST university Islamabad for the engineering BS, MS under graduate and post graduate programs. This institute is one of the leading university in capital of pakistan to explore abilities in the competitive era for computer science and business administration.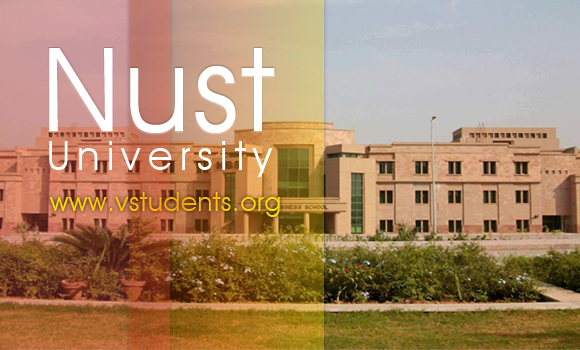 Nust University Islamabad Admission 2018 Last Date
You can get admission in Nust university islamabad in BBA, MBA, MA. BA, BSC, BS, MCS, M Phil and many other programs or courses. Here you will find the nust university admission last date for applying with application form, Fee structure and jobs. As we will get latest admission last date for this session, we will update here after getting from nust officials.
NUST Islamabad Admission 2018 last date
NUST Islamabad admission 2018 dates will soon be published here. Until no, the NUST entry test (NET) schedule has been declared.
NUST Entry Test 2018 Schedule
There will be three series for the test. Schedule for the these series is given below.
| Series​ | Online Registration​ | ​Test Schedule |
| --- | --- | --- |
| Series – 1​ | 1 – 30 Nov 2017 | ​Dec 2nd, 2017 – onwards |
| Series – 2 | Mar 2018 | Mar – Apr 2018 |
| Series – 3 | ​Jun 2018 | ​Jun – July 2018 |
Nust Undergraduate Admission form download 2018

Eligibility criteria :
60% aggregate marks is required  in each  Matric and  FSC/FA/equivalent
O and A level candidates required certificate from inter board committee of chairmen (IBCC) Pakistan
Engineering Admission in Nust Islamabad:
Candidate should have FSc (pre-engineering) from any broad of intermediate or equivalent
FSc with physics, math and computer studies can only apply for software engineering, computer engineering and telecommunication engineering.
BS Computer Science:
For computer science FSc (pre- engineering) or equivalent with computer subjects.
MBBS/BDS:
From any board of intermediate and secondary FSc(pre-medical)
BS Applied Biosciences:
FSc(pre-medical) no board restriction.
Business studies and social sciences:
Intermediate or equivalent from any Board
Natural sciences:
Intermediate or equivalent
Architecture and Industrial design
FSC(pre-eng) or with computer subject ,physics and math.
NUST University Fee Structure 2018 Undergraduate Programs
Admission fee for each undergraduate program is 30,000 rupees with security of student is 10,000 rupees
Semester fee is quite different for some programs, like.
Engineering, Bio Science, Natural Sciences fee 60,000 Rupees
Medicine fee 72,000 rupees
Architecture, Social Science & Business Studies fee 72,000 Rupees
NUST Islamabad Postgraduate Admissions
Eligibility criteria:
National university of science technology Campus eligibility criteria is different for each postgraduate program that's why we discuss each program separately under.
Engineering in IT
Four year BS (124 credit hour) or equivalent education of 16 years. You should have 50 score in NTS test or other ETS and HEC/PEC  recognized degree is applicable for admission .
Structural engineering  / transportation / geotechnical
Construction engineering and management
Electrical (telecommunication) engineering
Computer software Engineering / Information technology / computer science
Natural Science
Mphil mathematics
physics
How to Apply For admission in NUST University Islamabad
Just follow then link to apply online https://ugadmissions.nust.edu.pk 
Nat test number is required while applying for online admission
Nust university get data from NAT test so, your test should be clear before applying.
 Nust University Islamabad Jobs 2018
You can also get jobs in nust university islamabad in different departments as university has officially announced job vacancies in news paper. Candidates can apply for nust jobs 2018 by submitting application form with required documents. Find follow the nust university official website for updated jobs.
NUST University Official Website
You can browse the nust university Islamabad official website for more information  www.nust.edu.pk
Tags: Nust University Islamabad Fee Structure, NUST University Islamabad Jobs