VU admission for Spring semester 2022 are announced for getting admission in variety of degree programs available at Virtual University e.g. BA, BBA(Hons), BEd, B.Ed(Hons), BS(4-Years), BSCS, BS(IT), MA, MSc, MCS, MIT, MBA, MS, MPhil and PhD.  Virtual University is among topmost universities in Pakistan providing online education through video lectures, notes, audio and video tutorials and electronic classrooms for providing quality education to the people of Pakistan. VU has 160 virtual campuses in all over Pakistan.
Admission advertisement is published in topmost newspapers as well as on the Television. Admission Last date to apply is mentioned in admission advertisement. The prospectus is purchased from any virtual campus. Admission form is purchased from VU campus or can be filled online.  This article will let you know about admission 2022 last date, the procedure for applying, admission schedule, admission form download, fee structure, eligibility criteria, and requirements, VU entry test, merit list, scholarships and jobs offered at Virtual University.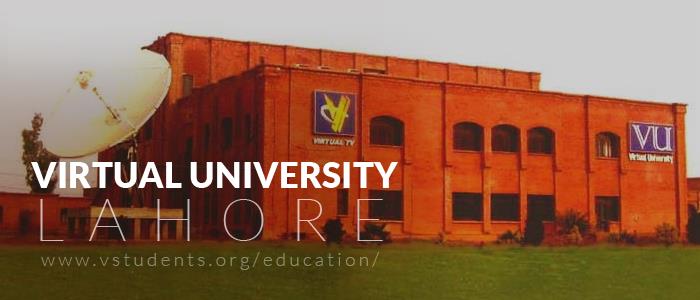 VU Admission 2022 Complete Guidelines
Admissions 2022 are in progress as declared by VU for various degree programs. Eligible candidates are offered admission at VU. Candidates must first check eligibility criteria before applying for the admission in a particular degree program. Applications failing to meet the pre-requisite criteria will be rejected. VU offers informal education to the students who want to study along with their employment.
We will provide you comprehensive information about admission advertisement 2022, the guideline for an online application form, eligibility criteria and requirements for enrollment into a specific degree program, revised fee structure, VU entry test of the Virtual University Lahore. You may also check AIOU Admission Schedule for the current year.
Virtual University Admission 2022 Last Date: Fall Admission
Admissions staring date: Last week of February 2022
Commencement of classes SPRING 2022: Monday, 25th April, 2022
Click here for admission schedule Spring 2022
[box type="note"]  Get latest updates about
PIEAS Islamabad Admissions
 as well as
UMT Lahore Admissions
2022 details here [/box]
VU Admission Advertisement 2022
VU has advertised the latest admission advertisement in 2022 for new admissions in a variety of academic programs in different University campuses and virtual campuses. Different programs are mentioned in the admission advertisement for admission with the last date to apply for admission.
VU Fee Structure 2022:
The fee structure of the Virtual University of Pakistan for different programs of study includes admission fee one time, registration fee one time, security fee, admission processing fee, the enrollment fee for a semester, tuition fee per credit hour.
| | |
| --- | --- |
| Study Program | Fee Amount to be paid  |
| MBA top-up | 39500 PKR |
| B.Ed | 50800 PKR |
| Bachelors | 56000 PKR |
| BS | 110400 PKR |
| Masters | 98200 PKR |
| MS | 110,000 PKR |
| PhD | 101000 PKR |
The security fee is refundable to the students after passing their degree. Further details about the fee structure of all the degree programs under different disciplines offered by VU can be seen by clicking Here. Also, find complete guidelines about LUMS Fee Structure.
Virtual University Admission Form 2022 download:
VU admission form 2022 for gaining admission in the Virtual University can be obtained from virtual campuses. VU facilitates the applicant by allowing the applicant to submit the admission application online. Interested candidates can click here.
VU Admission procedure how to apply:
For obtaining admission into any degree program in Virtual University of Pakistan, The complete admission procedure is given as under:
[unordered_list style="tick"]
Candidate can get VU admission form 2022 from virtual campuses of the university by paying Rs. 500 as prospectus fee.
You can apply online for admission in VU by clicking Here.
Fill the form carefully by providing all information in the online application form.
After completing the admission form, click the submit button. The form number is generated which should be noted for later use.
Download and take print of admission form and Fee Voucher.
Pay the fee voucher in designated branches of HBL, UBL, Bank Alfalah.
Admission form along with paid fee voucher, attested copies of academic certificate, 3 passport size color pictures and a copy of NIC must be submitted in any near virtual campus or can be sent by post to the Registrar office at the VU Address M.A. Jinnah Campus, Defense road, off Raiwind Road Lahore.
[/unordered_list]
VU Admission Criteria & Requirements 
For getting admission in bachelor or BS(4-Year) degree programs applicant must qualify the HSSC examination or equivalent with 45% marks.
The eligibility requirement for obtaining admission in Master programs is 2nd division or 45% marks in annual system. For semester system candidate must have secured 2.0 CGPA in BS programs.
VU enrols those students in MS or MPhil program who have passed masters degree in the relevant subject with CGPA 2.5 out of 4.00 and qualified VU Entry test in relevant subject securing a minimum of 50% marks.
For getting admission in the Ph.D. degree program, the candidate has completed 18-year education and must have passed VU entry test with minimum 70% marks.
Undergraduate, graduate and Ph.D. Programs Admissions 2022:
The Virtual University of Pakistan presents various study programs of bachelors, BS(Hons), Masters, MS (2-years) and Ph.D. level in different subjects. VU provides the facility to the students for getting online education from home or at different virtual campuses.
Some miscellaneous academic programs offered by VU are BA, BSc(Computer Sc), BBA, BA Mass communication, B.Com, B.Ed, BSCS, BS(IT), BBA(Hons), B.Ed(Hons), BS Software Engineering, BS Banking & Finance.
MCS, MIT, M.Com, MBA, MSCS, MS Mathematics, MPhil Education, MS in Business Administration, Ph.D. in Computer Science and Biotechnology.
VU Entry Test 2022:
For getting admission in MS and Ph.D. programs of study, VU entry test is mandatory. Applicants must pass entry test by obtaining 50% marks at least. Students securing 50% marks or higher in the VU entry test are eligible for admission in MS and Ph.D. programs.
Candidates wishing to get admission in MS program but having CGPA below 2.50 will have to take zero semesters and fulfil their deficiency by successfully passing their courses in zero semesters.
VU Merit List 2022:
VU displays the Merit list 2022 of the candidates on its website who are eligible for the admission and offered admission 2022 at Virtual University of Pakistan Lahore. After the display of 1st merit list, 2nd merit list is displayed after two weeks.
Display of first merit list for Life Sc. Programs:

07 October

2nd /last merit list for Life Science Programs:

15 October

Display of MS-CS first merit list:

15 October,

Display of MS-CS 2nd /last merit list:

19 October
Those applicants who will not deposit their dues within the last date to deposit the fee are excluded from the merit list and applicants in the waiting list are added to the 2nd merit list. The names of newly admitted students can check their name by clicking Here.
VU Scholarships 2022:
Virtual University of Pakistan (VU) offers the scholarships to its regular students enrolled in any study program in the University. VU provides scholarships to brilliant students who perform excellently in their studies. These scholarships are called merit-based scholarships.
These scholarships intend to provide a competitive environment among the students in a constructive manner. Other scholarships are offered to the needy and poor students for the purpose of providing them financial support.
VU Jobs and Vacancies
VU offers jobs to suitable candidates for different types of posts advertised on the VU official website and in the electronic and print media. VU is an equal opportunity employer for both types of genders. VU offers attractive salary packages to its employees who strive for its progress day and night.
VU offers group insurance and benevolent fund to its regular employees. Latest job opening at VU can be seen by Clicking Here.
Address Contact Information:
Address: M.A. Jinnah Campus, Defense Road, off Raiwind Road Lahore
Website: www.vu.edu.pk
Phone : +92 (42) 111 880 880
Fax: +92 (42) 99200604, +92 (42) 99202174