Application forms are invited in the University of Sindh Jamshoro campus Karachi in various programs on Graduate and Postgraduate level. Submit your fully filled admission forms 2021 according to the given deadline for forms and fee submission in this recognized university.  Which is included in the top universities of Pakistan by HEC ranking 2021. This institute is included in the list of oldest universities of Pakistan which conveying the quality of education at international standard with academic excellence and results.
There are up to 25000 enrolled students are taking knowledge from this recognized institute Sindh University, having fifty-four full-fledged teaching departments and three centers of excellence in analytical chemistry. It is playing a vital role is enhancement the level of better education and learning in Pakistan and decreasing the level of illiteracy via its affordable merit and self-finance program of graduate, postgraduate and MPhil level.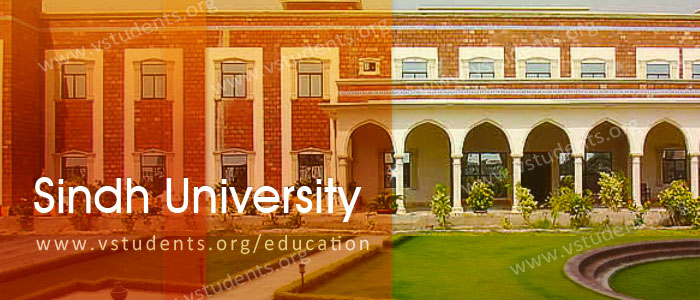 Admission in Sindh University Jamshoro 2021 and Results
University of Sindh admission announcement 2021 is, the USINDH is announcing the admission of graduate and postgraduate level in education and Law programs. Where the interested candidates can submit their forms and fee which is affordable for every student.
Here you would be informed regarding merit lists, scholarships, admission details of programs of MA, B.Ed, M.Ed, and Law. Details about admission criteria, Sindh University Jamshoro Results, admission test last date 2021 and forms submission schedule and fee structure.
Sindh University Admission 2021 Last Date:
Online registration for admission: 25th May, 2021
Last date for registration of online forms: 10th June, 2021
Pre entry test: 21st June, 2021
Interviews:

For M.Pjil: 23rd June, 2021
For P.hD: 25th June, 2021

Admission Registration form is available at admission web portal. Apply Now.
University of Sindh Advertisement:
Interested students are informed that University Of Sindh, Jamshoro admissions are open applications are invited according to the admission schedule shown below in the Admission Advertisement.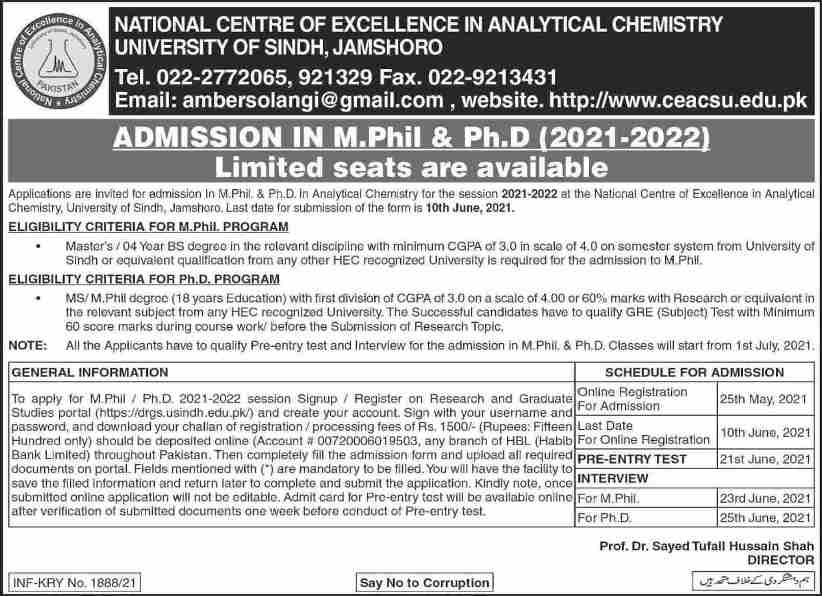 University of Sindh Fee Structure:
Fee Structure is pretty different for courses, students can also come up with reasonable excuses for extra fee concessions. Hafiz students have also different fee structure for every course. Below is the default fee list for programs.
|  USINDH Programs |  See Details |
| --- | --- |
|  B.Ed (Morning) |  Rs. 10,100/- two instalments per Semester |
|  B.Ed (Evening) |  Rs. 14,600/- two instalments per Semester |
|  M.Ed (Morning) |  Rs. 11,200/- two instalments per Semester |
|  M.Ed (Evening) |  Rs. 15,700/- two instalments per Semester |
|  M.A Education (Morning) |  Rs. 21,300/- four instalments per Semester |
|  M.A Education (Evening) |  Rs. 30,300/- four instalments per Semester |
|  B.Ed Elementary (Morning) |  Rs. 20,000/- four instalments per Semester |
|  LL.M |  Rs. 40000/- Per Year |
USINDH Department of Education:
The department has launched various teaching based programs, will assist you to enhance your knowledge in education, will learn the latest teaching techniques and method of teaching in elementary, higher school and university level. Applications are invited on prescribed forms for admission to B.Ed, MA Education and M.Ed.
B.Ed (Morning & Evening)
 M.Ed (Morning & Evening)
B.Ed (Morning 2 years)
M.A Education.
The B.Ed and M.Ed courses consisted of one-year semester system for both morning and evening session.
Sindh University Admission Criteria 
The students can submit their application forms in B.Ed program, they must have passed their BA, BSC, B.Com with the minimum 2nd division from any registered institute by HEC and entry test can also be conducted for other others.
[box type="tick"]Looking for getting admission in Top Karachi Universities? For complete details, visit
 MAJU Karachi, 
and
Iqra University Karachi.
[/box]
Sindh University Law Program :
Choose the best way of this famous educational institute for becoming a professional, skilled lawyer and submit your forms in LL.M two years program 2021 which is offering from University of Sindh department of Law studies.
Pre-requisite qualification: The passed candidates in LL.B with the 2nd division are eligible to apply for this course.
Sindh University Admission 2021 Procedure and Results:
You can get admission forms from HBL, Sindh University, old campus, Jamshoro and Hyderabad branches and deposit form with challan slip of payment 1300/- rupees for LL.M and Rs. 300/- for education programs. This includes the form fee and pre-entry test fee is included. Please fill the application form carefully and in case of incomplete or incorrect forms will not be entertained.
Entry Test Date 2021
Sindh University will announce the entry test date and will display merit list of the successful candidates which can also be seen at the official website of the University of Sindh. After that, the results will be announced as per semester and sessions.
For further admission, queries visit Sindh university official website www.usindh.edu.pk for more admission details, updated merit lists, sign university Jamshoro results and job opportunities for many courses. You can also browse the other top universities in Pakistan on our website if you can study outside the Sindh.