The Lahore University of Management and Sciences (LUMS) offered admissions in 2022. If you want to get enrolled in this one of the top management universities in the world, then it is a great chance for you. LUMS Lahore will offer admissions in graduate, undergraduate and doctoral degrees in different majors like biology, Computer Science, Chemistry, MBA, Electrical Engineering and many others. As LUMS university Lahore is going to offer admissions in many top programs and courses. The university is achieving and sustaining excellence in every era of teaching, research and technique.
Here you can find out the details about the LUMS Lahore eligibility criteria, fee structure, short courses 2022, last date of form submission, entry test date, merit list date, scholarships, jobs and the programs offered by The Lahore University of Management and Sciences. The LUMS University was founded in 1985 and up to the current times it is counted in the list of most leading and top-ranking business universities in Pakistan.

LUMS Admission 2022 Short Courses & Fee Structure
Lahore University of Management and Sciences is a leading institute in the department of business and you can take admission in different programs like MBA, BBA, BSCS, BS Biology, Chemistry, Electrical Engineering and in Ph.D of different programs. Find complete information about LUMS fee structure and Short courses 2022 below. The institute invites you to take admission in LUMS that will provide an excellent way of studies of international standard.
The university also houses a special Java lab and sun ray appliances and library consisting of thousands of books. The institute is offered a residential area of modern standard and state of the art apartments for its faculty members. The students of the institute receive a comprehensive education, including frequent tutorials and are taught by collegiate leaders in their squares.
[box type="tick"]Don't forget to apply for
Virtual University Admissions
in
MBA, BBA, M.COM, 
and other business fields. Find all the knowledge at your home.[/box]
LUMS Lahore Fee Structure 2022
LUMS university Lahore also declares fee structure for this year. The following fee structure 2022 is for the students who are paying the full fee. LUMS offer fee concessions on partial and full base as well. Below is the complete fee structure of the Lahore University of Management and Sciences.
LUMS Tuition Fees
Following fee particularly applies to the student tuition fee.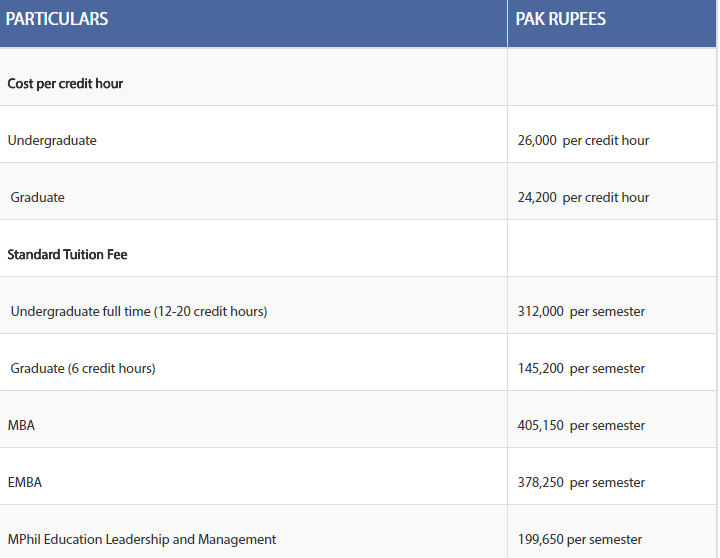 LUMS Hostel Fees
LUMS overall fee structure for hostel residents is given below. It includes hostel charges detail for double occupancy and triple occupancy plus Lums hostel registration fee.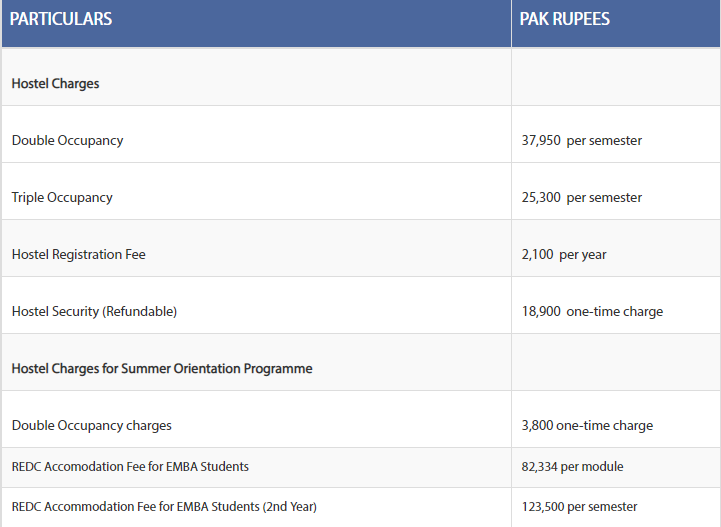 LUMS admission fee, registration fee and fee for the reading material can be checked from this link.
LUMS University Admission 2022 Last Date
Online application deadline for UG continuing student is below.
Admission Decisions:

15th April – 30th July

Online Application Deadline (PST): 

12 Feb.

SBASSE Subject Test: 20th March.
LUMS Common Admission Test: 21st March
Deadline to take SAT (Second Round Offers): 13th March.
Deadline to take ACT: 17th April
Undergraduate admission decision: Tuesday, June 15, – Saturday, July 31
MS/M.Phil. admission decision: Tuesday, June 15, – Saturday, July 31
PhD admission decision: Tuesday, June 15, – Saturday, July 31

[box type="tick"]Also seek admission in 
ITU Lahore
, and 
Arid Agriculture
to your desired engineering or non-engineering programs they are offering in 2022.[/box]
LUMS Short Courses 2022
There are multiple skill based and interest-based courses offered by LUMS administration.
Skill-based programs:
English, Arabic, German, Chinese language courses.
Graphic designing, SEO, Content Marketing, and Creative Writing.
Interest-based programs:
Interior Designing, Organic Gardening, Photography, Pottery.
Singing Classes, Film Making, Video content for electronic media, Astronomy, Painting, and more.
LUMS Admission Online Application 2022
Here is the step by step guideline about LUMS online admission form submission process. Exactly follow the steps to apply for undergraduate, graduate or master level programs.
Go to this link for applying online admissions.lums.edu.pk
Click on the degree program you want to apply.
Log in/sign up for your lums account.
A form will appear. Carefully fill all the required fields.
Submit the application form and wait for further updates.
Entry Test Date and Merit List Date
The organization announced the entry test date as well as merit list date which will conduct by the university.
Please follow the link Here for the recently announced entry test dates by the Lahore University of Management Sciences.
Deadline for SAT is 10 March 2022.
Undergraduate Graduate and Doctoral Programs 
Undergraduate Programs
BS Biology, Chemistry, Computer Science, Electrical Engineering, Mathematics, Physics
BSc Economics, BSc (Honours) Economics and Politics, Political Science, Anthropology, and Sociology, Accounting, and Finance,  Management Science.
BA (Honours) English, BA-LL.B Programme, and History.
Graduate Programs
MBA
MS Chemistry
Executive MBA
MS Economics, Computer Science, Electrical Engineering
Biology, Physics, and Mathematics
Doctoral
Ph.D. Mathematics,
Management
Ph.D. Computer Science, Biology, Chemistry, Electrical Engineering, Physics.
LUMS Lahore Admission Criteria: 
Following are the admission requirements for LUMS undergraduate, graduate degree level programs.
LUMS undergraduate admission eligibility conditions can be checked here.
To find graduate admission criteria kindly go to the link here.
LUMS University Scholarships: 
Financial Aid at the university is based on need and merit. The scholarships are typically awarded on merit or extremely high need according to the laws.
Normally a combination of economic assistance comprising loan and tuition waiver is offered to candidates. For all the information go here.
LUMS Lahore Contact Information
Location: D.H.A, Lahore Cantt. 54792 Lahore, Pakistan
website: lums.edu.pk
Email: info@lums.edu.pk
Contact : (042) 35608000