Admissions 2023 are welcomed in the renowned University of Engineering and Technology Lahore (UET Lahore) which is one of the most proficient engineering universities in Pakistan that is serving the educational sector for many years. Get your higher studies from Pakistan's best engineering institute where the admissions have been commenced for undergraduate, graduate, postgraduate, and Ph.D. levels. This reputable school of education institute came into existence in 1921 that is affiliated with the Pakistan Engineering Council (PEC) and the Higher Education Commission (HEC). UET Lahore is adopting the professional methodology by giving care to practical work and using modern techniques of learning.
The academic teaching level of UET Lahore is equal to that of any adept University in Pakistan because of its teaching excellence. The University of Engineering and Technology, Lahore is honored at the top fourth position in top engineering universities by HEC 2023 in Pakistan, 54th position in Asia, and 345th position all over the world. Lahore University of Engineering and Technology is operating its various campuses across the country as Kala Shah Kaku (KSK) campus, Faisalabad, RCE & Narowal (NWL) campus, where thousands of students are enrolled and get studies of graduate, postgraduate, and Ph.D. level.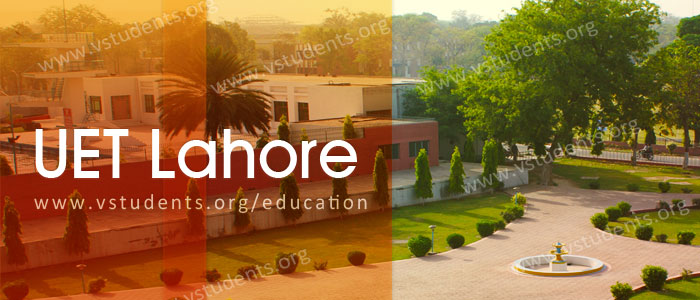 UET Lahore Admission 2023 Complete Guideline:
The admission details are available now regarding BSC, BS, BBA, MBA, MSC, MS, and Ph.D. Programs at University of Engineering and Technology Lahore. Check UET Lahore Entry test date 2023 for the fall admissions, merit list, enrollment procedure, last date, UET admission fee structure, registration form, date sheet, UET entry test 2023, eligibility criteria for admission, and commencement of classes as well. Moreover, the vacancies for the candidates are available now, who are seeking Lecturer or faculty jobs in UET Lahore. Scroll below to take the admission guide and job criteria.
UET Lahore Admission 2023 Last Date:
Last date for admission application submission: 30 June 2023
The last date for UET Lahore Self Finance admission 2023 is 15 September 2023
Find the admission advertisement below
As the university can limit or extends the admission last dates so, you can follow this official Admission Portal by UET Lahore for updated dates by official authorities.
UET Lahore Entry Test Date 2023:
The entry test date for the combined entry test for all Punjab institutes has been announced for MBA and BBA. the last date to apply.
Admission Advertisement UET Lahore
Admission advertisement for Self-finance is released by officials. Please find below complete guidelines regarding the program offered including the last date of admission, eligibility criteria, required documents, and more.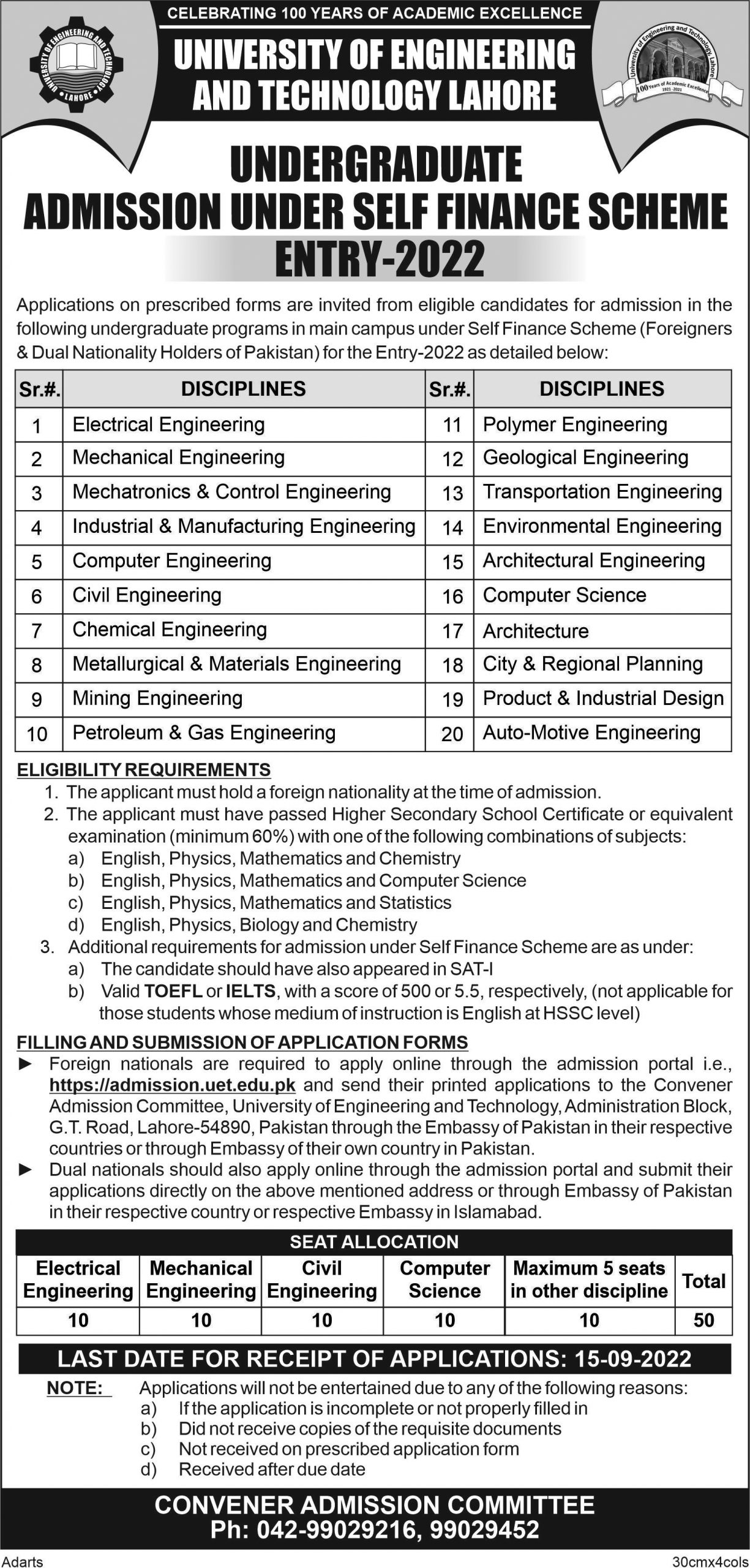 UET Lahore Fee Structure 2023
University has changed the fee structure over the last few years and this time university has made a few more changes as well for local and international student fees. UET Lahore fee structures 2023 are mentioned below for local students in Pakistani rupees.
| UET Lahore RECURRING FEEs | For Local Students In PKR |
| --- | --- |
| First Time Admission Fee | 2,000 |
| UET Lahore Registration Fee | 1,000 |
| University Security Fee which is Refundable | 1,000 |
| If Hostel then Security fee which is Refundable | 1,000 |
| If Mess then Security fee which is Refundable | 1,000 |
| University Library Security Refundable | 1,000 |
| UET Lahore Evaluation or Re-evaluation of thesis Fee | 2,000 |
ANNUAL UET Lahore RECURRING FEE Structure 2023
Tournament Fee for University
50
Annual University Magazine Fee
75
Student Medical Fee
250
UET Lahore Tuition Fees
UET Per Subject Fee
2,000
Research Fee
Payable after the stipulated period for every month
1,000
The Graduate students will not pay the Research and thesis fee.
It must be under consideration that the dues are not refunded after the date of registration.
Students can check out the fee structure from the UET Lahore official website Here
Eligibility Criteria for Undergraduate, Graduate, and Postgraduate Programs:
The candidates who have passed FSC (Pre-engineering) examination or equivalent exam with the minimum scoring of 60% marks from any registered education board of the country, may apply for BSC and BBA courses.
Note that for students who have scored less than 60% marks, their forms will be rejected by the institute at first glance.
The applicants who are going to submit their admission forms in MSc, or MBA programs, should be aware that they must have passed NTS or GAT test with 60% scoring and at least 55% marks in BSC, B.Tech, or BE.
The eligibility requirement for admission to Ph.D. program is that the applicant must have earned MSC, MPhil degree (17 years of education) or equivalent degree in the relevant discipline with first division or with 3.0 CGPA out of 4 CGPA in the semester system of examination. Candidates should meet HEC's admission criterion in order to get admission.
How to Apply in UET Lahore Admission Procedure:
Application forms and prospectuses are available at the admission office of UET Lahore which can be obtained by paying of 1000/- rupees. You can also avail the opportunity to get admission forms online via logging on to the official site of the institute and submitting it with the 1000/- rupees bank draft.
Documents Required With Application form:
Please carefully fill up the admission forms and submit them before the last date of admission to the office by hand, through post or submit in any of the Habib Bank branches that are given below.
Habib bank Ltd UET branch Lahore.
Habib bank Ltd Kashmir road branch Rawalpindi.
Abpara market branch Islamabad,
Cantt Branch Multan Cantt.
Fareed gate branch Bahawalpur.
Clocktower branch Faisalabad.
Habib bank Ltd Civil lines branch Gujranwala.
Details of seats in each category and criteria are available in the UET Lahore prospectus provided by the university. Those candidates who are interested in applying in more than one program will provide their preferences on the application form.
UET admissions for Undergraduate Programs
This reputable engineering institute is announcing admission for undergraduate programs such as Bachelor, BSc, and BBA in some of the subjects which are given below.
B.Sc Building & Architectural Engineering
B.Sc Architecture, Chemical, City and Regional Planning, Computer Science,  Electrical Engineering, Geological,
BBA (Bachelor of Business Administration)
BSc Environmental Science, Industrial & Manufacturing, Mechanical, Mining Engineering, and, Metallurgical and Materials.
Admission in UET for Graduate Programs
Applications are invited from the eligible students who have done their Bachelor's degree from any recognized institute by Higher Education Commission (HEC). Those candidates are strictly told to submit their admission forms before the last date of form submission, which has recently been announced by the University of Engineering and Technology Lahore.
The several departments of the institute are offering admission sessions in 2023 as MBA (Master of Business Administration), M.Com, MA Economics, MBA Engineering, MBA Executive, MSC Electrical Engineering, and other MSC programs in varied subjects that we are giving below.
Electrical Engineering
Mechanical Engineering.
Chemical Engineering.
Polymer Engineering.
Other Top Engineering Universities in Pakistan
UET Lahore Postgraduate Admissions
It must be under consideration by the students that the last date of admission for the postgraduate level in UET Lahore has been declared by the officials of the organization. Interested candidates can enjoy the benefit of applying online by downloading UET Lahore admission forms. These forms can be obtained from the official website of the Institute for the application form Here.
The following faculties of UET engineering university are providing the students with the enrollment programs in Ph.D., please get down and check Ph.D. program details along with the eligibility and UET Lahore fee structure 2023.
Offered  Engineering Courses:
Computer Science.
Electrical Engineering.
Course offered for Chemical Engineering:
Ph.D. Mechanical Engineering.
Ph.D. Manufacturing.
Department of Earth Sciences:
Ph.D. in Geological Science.
Ph.D. in Petroleum & Gas Engineering.
Faculty of Islamic & Natural Studies:
The admission forms required by the department of Islamic & Natural Studies in UET must be submitted before the last date to secure admission. The department may ask deeply about the basic & advanced knowledge regarding Islam and its beliefs from the well-qualified professors of UET and Islamic scholars.
UET Lahore Jobs 2023
As a leading educational organization of higher studies in Pakistan, the UET has well-qualified educationalists as lecturers, assistant professors, and professors. All the faculty members are really competent and devoted to the latest methodology of teaching and research so that the institute could achieve more success and appreciation by the people like the world's best universities have.
For gaining its target, UET is considering the many positive changes in its teaching structure and it always announces career opportunities for highly qualified personnel. Now the institute has recently declared Jobs 2023 in UET Lahore for lecturers, professors, assistants, and associate professors, where the selected candidates will get a handsome amount of packages with other allowances as well. For further details about admission, fee structure, UET short courses, and more please contact the admission office or log on to the official website.