Mohammad Ali Jinnah University (MAJU) Karachi is considered a top-standard institute of higher learning in Pakistan's leading universities by HEC 2023. It is situated in Karachi and the sub-campus is delivering educational excellence in Islamabad, which has another great impact on the academic record with the name of Mohammad Ali Jinnah University Islamabad. Get admission 2023 in the institute which covers entire sections of education on graduate, postgraduate, MPhil, and Ph.D. levels.
Delivering knowledge regarding business management & commerce, applied sciences, engineering, medical science, and about the square of computer science. MAJU Karachi is providing modern facilities to their students as well as equipped engineering and medical laboratories, computer labs, air-conditioned classrooms, a conference hall, a growing library, friendly and cooperative environment. More importantly, teaching faculty on the level of world's famous universities and colleges.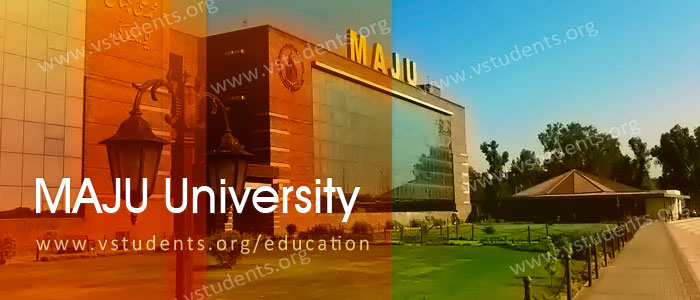 MAJU Karachi Admission 2023 Complete Guide
This reputable institute MAJU University Karachi is bringing you admission 2023 spring session in several departments including business, computer science, engineering, technology, telecom, and Islamic banking in BS, MBA, MS, BSC, BBA, ACCA programs. Get enrolled yourselves and find the admission details for Mohammad Ali Jinnah University, Entry Test date, application forms last date, Scholarships, Merit Lists, and schedule for depositing the fee dues in MAJU and admission criteria for all programs offered in 2023.
MAJU Karachi Admission 2023 Last Date:
The last date of fee submission for regular courses is given below. Candidates are advised to submit application forms before the due date.
MAJU Karachi Admission Last Date 2023
Last date to apply for admission: 31st

J

anuary
Online admission test and interview: Every Saturday, starting from 5th December
Last Date to apply for Scholarships / Financial Assistance:

31st January

Orientation: 8th February to 12th February
Commencement of classes:

15th February 
How to Apply for Admission in MAJU Karachi
There are five simple steps to apply online in MAJU Karachi for admission:
Visit and fill the admission form.
You will get an online admission test appointment after you receive admission confirmation.
On the basis of the online admission test, an interview shall be held online.
After a successful interview, you will be offered an admission offer letter with fee details.
Pay your fees and you are done!
MAJU Karachi Fee Structure:
There are different fee structures for every BBA, MBA, BS, and MS program with graduate or postgraduate programs respectively. Candidates must follow the three different timings as well as fees for their relevant courses.

BBA/BS Accounting and Finance Fee 

BSCS Fee Structure

BS BioSciences Fee Structure

Check all current courses like BSCS, BBA, MBA,  MPhil, MCS, MS, and Ph.D. fee structure here.
MAJU Admission in Masters Business Administration:
The MAJU Karachi offers you to submit your application forms in MBA in marketing and others. In this course, you will learn regarding marketing, finance, human resource management, HRM, banking & finance and supply chain management from the dedicated and experienced professors of Mohammad Ali Jinnah University Karachi.
Admission Requirements and Qualification:
The candidates must have their bachelor's degree with 45% marks in the annual system of examination or get 2.5 CGPA out of 4 CGPA in the semester system from any recognized college by Higher Education Commission HEC.
Bachelor of Business Administration:
BBA program is been offered by the department of business at Mohammad Ali Jinnah University Karachi where the students would be informed about marketing, HRM, supply chain management, banking, and finance.
Only those candidates who have completed their HSSC intermediate examination by any board of Pakistan with scoring of minimum 2nd division can apply for this program.
Trimester-based programs:
The university is giving you the offer to take admission in a trimester-based program of Saturday and Sunday classes in MBA and MS in MAJ University Karachi.
Specialization in Business administration:
This program will make you specialize in marketing, HRM, banking & finance, and supply chain management and after completing this course you would be able to run your own business or do an excellent job in this square.
Students having a bachelor's degree with second division may apply for this program. The timing of classes would be started from 3 pm to 9 pm on Saturday and 10 am to 5 pm every Sunday.
MS business & finance:
You must have done your BBA 4 year's program or equivalent degree with minimum marks of 45% percent from any registered university or college by HEC.
Department of Computer Science:
The Muhammad Ali Jinnah University Karachi gives you the option to get admission in various disciplines of computer studies and make your shiny future by many computer engineering fields under the world renowned top-ranked university.
You can submit application forms in any of the following programs.
BS computer science & telecommunication & Software Engineering:
BS (4 years) in computer & software engineering.
BSc (Hons. 3 years) computer & software engineering.
BSc (2 years) in computer & software engineering.
Eligibility Criteria for Computer Science in MAJU: The candidates having an intermediate degree with at least 45% marks are eligible to apply for the above computer sciences programs.
Admission forms & Prospectus:
Application forms can be taken by the admission office of MA Jinnah University or the students can download session 2023 admission forms from the official website of MAJU Karachi. The applicants can check details of the fee structure and more information from the site.
Only those candidates would be called for entry tests who would be filled their forms correctly. The merit list for successful candidates in the entry test will also publish at the official site of MA Jinnah University Karachi and the schedule of commencement of classes will inform later via the website.
MAJU Karachi Newspaper Advertisement:
Will be updated soon.
Address Contact Information:
Address: 22-E Block-6 P.E.C.H.S. Karachi, 75400 Sindh, Pakistan
Email: info@jinnah.edu
Fax: 92-21-3431-1327
Tel: 021-111-87-87-87