COMSATS University Islamabad (CUI) Admission 2020 are opened for BCS, MCS, BBA, MBA, Ph.D. with graduate and undergraduate programs. Here we have detailed information about comsats Fall admission last date, fee structure, entry test, merit list, scholarships, and comsats admission 2020 advertisement. this institute is considered a sustainable development foreign standard institute that is running with the purpose to make less the ever-growing distance between developed and underdeveloped states through efficient ways.
Comsats institute of information technology considered as a no. 1 institution in Pakistan according to HEC (Higher Education Commission) ranking that was established in 1994 in Islamabad. Comsats university is concentrating on different squares of science and technology on the first concern basis. Over this country, the main activities of the organization are participating through its subsidiaries that are delivering knowledge with modern techniques. University provides live education session, telephonic support, and video lectures.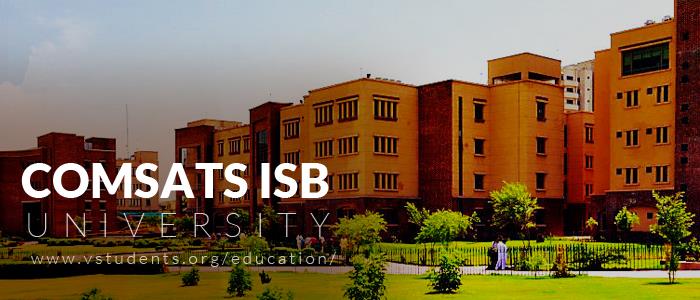 COMSATS University Islamabad Admission 2020
Recently comsats University Islamabad has announced the last date for admission 2020 for BCS, BS, BBA, MBA, MCS, Ph.D. programs and applying the procedure for how to get successfully enrolled into comsats institute of information technology and fee structure for undergraduate and postgraduate programs. Check the comsats admission 2020 last date, entry test date and more at vstudents.org
You can download admission form to apply online or process manually by CUI-Islamabad prospectus for your required program or courses. Comsats undergraduate and master program fall admissions 2020 last date announced for enrollments and entry test. Find the latest dates and updated fee structure for BS summer programs below.
[box type="tick"]Do check for the admission in NUML Islamabad and COMSATS Lahore Admissions in BBA, MBA, Engineering and more.[/box]
COMSATS Islamabad Admissions 2020 Last Date 
Admission last date for BS and MS programs in CIIT Islamabad, Lahore, Abbottabad, Wah, Vehari, and Attock are as follows.
Comsats Islamabad Admission last date: July 03, 2020.
Last Date of Comsats Lahore, Abbottabad is July 03, 2020.
Wah  Cantt, Attock, Sahiwal, and Vehari Campus Last date: July 25, 2020.
These dates are confirmed by the official authorities by Comsats Islamabad campus.
COMSATS Fall Admission Advertisement 2020
Find all updates regarding Comsats Islamabad Fall admission 2020. Find last date, admission procedure, merit list and all other information regarding seeking admission in the university.
[box type="note"]Don't forget to check the latest updates about NCA Lahore Admission as well as IMS Lahore Admission 2020.  [/box]
COMSATS Islamabad Fee Structure 2020
Find the fee structure for spring 2020 admissions at Comsats Islamabad. Check semester fee and the admission fee for all the offered courses in BS Physics, Math, Psychology, Software Engineering, Electronics, Computer Science, BioSciences, Accounting and Finance and more.
Comsats Entry Test 2020 Date:
The entry test is compulsory for all the candidates who looking for admission in comsats university. Comsats NTS test date 2020 for admissions is 8th July 2020 and for GAT entry test date is 15 July 2020.
COMSATS Islamabad Admission Criteria and Requirements
Following are the necessary parameters that you must fulfil for seeking admission in COMSATS Islamabad.
NTS-NAT test score with a minimum of 50% marks.
Intermediate or equivalent with 50% marks at least is required for seeking admission.
Your Final GPA must be 2.0/4.0 for passing out.
A student can get a degree in a minimum of 4 years and a maximum of 6 years.
Documents Required
Following documents must be attached with the admission form:
Demand Draft from any bank.
Matric/F.Sc/O-level/A-level certificates copies (back to back)
Copy of NIC / B form and Photographs.
NTS Result card copy
Hope Certificate/Affidavit is a must for result awaiting students.
The undertaking is mandatory for all the students.
CUI Islamabad Merit List 2020
COMSATS Islamabad will publish its merit list for Fall admissions 2020 on 18th July 2020. Just after the application submission process, NAT will be conducted.
Eligible students will appear in the test.
The students who will qualify with the highest percentage will be offered admission in COMSATS Islamabad as well as in all other campuses on the basis of their merit positions.
How to apply for admission in CUI?
First of all, you have to register on the official website of the university by following the link Click Here and fill the comsats university admission form as per your requirements for graduate or undergraduate courses then print your details and attach your documents with photos, NTS test slip and admission fee. All details are available on the link above for any other assistance.
CUI Islamabad Admission for Graduate Program:
University is offering BS courses in Computer Sciences, Business Administration, Software Engineering and Bachelor of Business studies. Candidates must have Intermediate or equivalent degree holder with the 2nd division from any recognized institute.
Comsats Postgraduate Programs:
Comsats Institute of Information Technology declared admissions in masters programs in Computer sciences, Mathematics, Public Administration, English, MBA Executive and MBA consists of 1.5 years, MS Project Management and Banking & Finance.
COMSATS Islamabad Scholarships 2020
There are multiple scholarships programs offered by Comsats Islamabad like PEEF & Shahbaz Sharif Merit Scholarship (SSMS) 2020. Students must have 2.5 or above GPA in in BA/ B.Sc./ B.Com/ BS/ BBA etc. For more information about the scholarships, you must visit this link.
Address and Contact InformationAddress:
Head office: Park Road, Chak Shahzad, Islamabad, Pakistan.
Website: www.comsats.edu.pk
Contact : +92-51-9247000-9247002 and 9049802
Tags: Comsats Institute of Information Technology Admission, Last Date of Comsats Admission