IQRA University Karachi officially declares Fall & Spring admission in 2023 last date and Entry test date for BBA, MBA, graduate, undergraduate, and doctorate level programs in one of the top business universities in Pakistan by HEC ranking. Check the admission last date, fee structure, online application form, and entry test date details below. The university is going to offer admissions in the Department of Education, Business, Fashion & Design, Electrical  Engineering, Telecommunication Engineering, and Computer Science. To be a world-class institute of higher education and research, Iqra University Karachi is promoting technical skills and participating extraordinarily in the development of our society.
 This academic institute has a vision and basic objectives to promote long-life learning, Islamic values, advanced learning methodology, and entrepreneurship. The institution has arranged collaborations with different European Universities that provide students and faculty exchange programs and material. Check the complete admission procedure, jobs, scholarship details, eligibility criteria, and much more.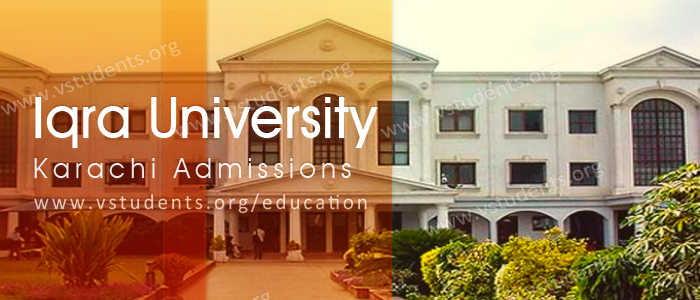 IQRA University Karachi Admission 2023 Guidelines:
The University has recently announced Fall admission 2023 for Graduate, Postgraduate, MS, and Ph.D. levels for leading departments of fashion designing, computer science, engineering, and education. Below are all the details for Iqra University Karachi 2023 fee structure, admission last date and requirements, course outline, eligibility criteria, application forms and prospectus, entry test date, and merit list, and Last date for submitting the application forms. Admissions in the Following departments will be offered here.
Iqra University Karachi Admission Last Date Spring 2023
Last date of form submission 2023: 12 June 2023
[box type="info"]Must submit your admission form to
COMMECS College Karachi
as well as in
MAJU Karachi Admissions
.[/box]
Iqra University Fee structure:
Description
BBA, Media
BS CS
MBA
Certificate Course
Tuition Fee/Course
Rs. 11,040/-
–
Rs. 11,040/-
Rs. 12,000/-
Tuition Fee/Credit Hour
Rs. 3,680/-
Rs. 3,450/-
Rs. 3,680/-
–
Registration Fee/Sem.
Rs. 4,000/-
Rs. 4,000/-
Rs. 4,000/-
Rs. 4,000/-
Verification fee
(at the time of admission)
Rs. 1,500/-
Rs. 1,500/-
Rs. 1,500/-
Rs. 1,500/-
Other Charges
–
–
–
–
Credit Hour Transfer Fee
Rs. 1,500/- per credit hour
–
–
Admission Advertisement 2023 Iqra University:
Find the latest admission advertisement for Iqra university containing all the necessary information like eligibility criteria, last date of admission, application procedure, merit list display date and entry test date as well.
Iqra University Entry Test:
After the entry test, you will be called for the interview. On the day of the interview, you will be told the date of the merit list.
Iqra university entry test will conduct an aptitude test, the institute has confirmed the entry test date for admission to Iqra University 2023 as per semester announcements currently for updated dates you can click Here.
[box type="note"]Don't forget to apply to
Hajvery University Lahore
and as well
LSE Lahore
, renowned as the best Business Institute in Pakistan.[/box]
Iqra University Online Admission Form
Fill online admission form for Iqra university undergraduate, master's, and postgraduate programs.
Iqra University Karachi Offered Courses:
The University is devoted to working with every deserving and needy candidate to help him in financing the educational degree in sense of fee concession. The school will provide aid to its students including Iqra university scholarships, merit-based fellowships, and educational loans.
BSCS
MSCS
Ph.D. in CS
Iqra University Fashion & Design
Bachelor of Fashion Design (BFD)
Bachelor of Textile Design (BTD)
Bachelor of Media Science (BMS)
MS.Advertising
MS in Electronic Engineering
B.E in Electronics Engineering
Ph.D. in Electronic Engineering
Bachelors (B.Ed)
Masters (M.Ed)
Master of Philosophy (M.Phil.)
Doctor of Philosophy (Ph.D.)
Department of Telecommunication Engineering
MS in Telecom Engineering
Ph.D. in Telecom Engineering
B.E in Telecom Engineering
Iqra University Khi 2023 Eligibility Criteria:
Here is a guideline for the eligibility criteria set by Iqra University for admissions. Check out
For Admissions in Bachelor, the applicant must have at least 2nd division in Higher Secondary School.
For B.E admissions, the candidate must have at least 60% marks in Higher Secondary School.
For admission to the master's, the applicant must have a minimum of 70% marks or 3 CGPA in 14 years of education.
Applicants who will have 16 years of education from a recognized institute with a minimum of 50% marks in GAT are eligible for admission to M.Phil.
Iqra University Karachi is already Pakistan's best institute for higher education and research fields with exceedingly professional faculty members, especially in fashion design and business disciplines. There is always competition for merit and admission to Iqra University Karachi due to its international-level standards. So, don't forget to submit your admission form to the world-renowned institute.
Address and Contact Information:
Address: 22-E Block-6 P.E.C.H.S. Karachi, 75400 Sindh, Pakistan
Email: admissions@iuk.edu.pk
Tel: 38797097