Join Pak Navy 2021 and complete your online registration because Pakistan navy offering new job opportunities for induction in Pak navy as civilian jobs and many others. Don't miss to join Pakistan Navy as a Short Service Commissioned officer (recently added), Civilian, Commissioned officer, PN cadet, medical cadet, doctor, and sailor as well. Females have the opportunity of joining Pak Navy as a female cadet, a female officer, medical technician, and psychologist too.
The Pakistan Navy is an institute that was established in the moments of 1947 with the aim to serve and save Pakistan boundaries outside the border. Many of us wish to dedicate himself to serve Pakistan with a high spirit and morale. So, this time there are hundreds of new jobs to join Pak navy opportunities. Here you can find the complete guideline about Pak Navy jobs 2021, online registration, test date, joining Pak Navy after matric, intermediate, graduation, BBA, and MBA. The latest job advertisement 2021 and eligibility criteria for the selection is mentioned below. For your ease, the table is given below for the quick access to the related topic.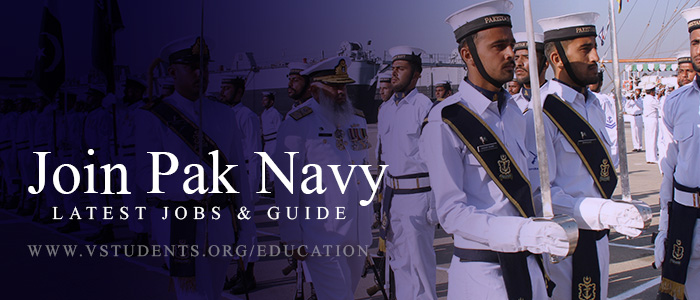 Join Pak Navy 2021 Online Registration and Jobs Details
Here you can find step by step registration guide which makes joining Pak Navy an easy job for you. There are multiple jobs available for the fresh passed out students of matric, intermediate and graduation. The jobs for the commissioned officer, civilian, m cadet, PN cadet, sailor, and short service commissioned are available. No matter what skills do you have or if you up to the eligibility criteria of Pak Navy jobs 2021, then apply just now without any further delay.
[box type="tick"]Must check Join Pak Army Online Registration Complete Guide.[/box]
Latest Pak Navy Jobs 2021:
There are many jobs offered by Pakistan for the sailor, civilians, PN cadet, and many others, where you can apply for joining Pakistan navy 2021 in many offered fields. You may check the latest jobs. You can find the Job title and its eligibility criteria as well.

Join Pak Navy 2021 Jobs
#
Highlights
1
Join Pak Navy Through Short Service Commission Course 2021-A
The last date for applying is 20 December 2021
2
Join Pak Navy Through Short Service Commission Course 2021-B
The last date for applying is 18 June
Join Pak Navy as a PN Cadet or Permanent Commission
The last date for applying is 03 June
4
PN Cadet for Permanent Commission
The last date to apply is 7th November
 5
 

Join Pak Navy Sailor Batch Technical & Marine Branch


Last date to apply 08 April
Pakistan Navy Job Advertisement 2021:
Pak Navy has offered the job for the post of Short Service Commissioned officer 2021-A. You can find complete information about the selection procedure, eligibility criteria, registration process, and other things in detail. You can see the latest Pak Navy advertisement 2021 below for online registration.
Pak Navy Online Registration Step by step Guide:
The registration begins
Candidates may register themselves by visiting the website of Pakistan Navy www.joinpaknavy.gov.pk.
Online registered candidates must bring the postal order of Rs. 200/-.
This fee is in favor of Director Recruitment, Naval Headquarters, Islamabad. They may also bring it with them and submit it to the centres.
The candidates will have to appear for the written test
After the test process, candidates will be called for interviews. Dates have been given in the advertisement
All information regarding the test venue and registration slip will be displayed on the official website of Pak Navy.
The successful candidates will have to go through a personality test and then a medical examination test.
If they pass these two exams properly, they will be assigned some work to do there and the authority will also conduct the interview for this duration.
[button link="https://www.joinpaknavy.gov.pk" size="l" icon="check" color="green" window="yes"]Click Here for Online Registration[/button]
Join Pakistan Navy After Matric, Intermediate & Graduation 
The students who wish to serve their motherland through joining Pak Navy after completing matric, inter or graduation have equal opportunities to join this force. Pak Navy offers seats to eligible candidates who fulfill the eligibility criteria. The candidate must have passed matric examinations with at least 65% marks or more. Should be an unmarried male.
Join Pak Navy as Commissioned Officer or Short Service Commission:
To join Pak army as a commissioned officer, the candidates must fulfill the following criteria.
Eligibility criteria:
Applicants should be unmarried.
For civilians, age should not more than 21 years and for the children of service, the age limit is 23 years and height should be 5" and 4 inches.
Ineligibility criteria:
Twice rejected by CMH or ISSB selection board
Medically unfit
Join Pak Navy as Civilian or Sailor:
Candidates can join Pakistan navy 2021 as a civilian, the sailor in the technical and marine branch. Male and female both can apply for this PN job. Male jobs are related to engineering and join Pak navy for female 2021 in the medical branch as a medical technician. Should be unmarried and Matric with at least 65% marks can apply for this Pakistan navy job.
Join pak navy 2021 last date to apply for Short Service Commission Course is  18 June.
Eligibility Criteria:
Marital Status: Should be Unmarried Male
Age of Candidates: 16 years – 21 years
Service Candidates: 17 -23 years (Personnel serving in Army/Navy/Air Force in uniform
Height: 5'4″
Candidates must have qualified HSSC/A-Level with at least 60% marks with any of the following subjects:
– Physics, Maths, and Chemistry 
– Physics, Maths, and Computer Science 
– Physics, Maths, and Statistics 
The candidates who have done A-Level, are required to submit an equivalence certificate.
F.Sc Part-II appearing candidates with at least 60% marks in Part-I are eligible. However, they have to provide a hope certificate.
Join Pak Navy as PN Cadet & Medical Cadet:
The candidates who have passed their Matric and FSC with at least 60% marks are eligible to register online.
You can also

Join Pak Army

for offered new jobs. Follow the link for more information and details about how to apply in Pakistan army.
Future Prospects and Promotions:
After two years of technical training Pakistan Navy 2021 will grant permanent commission to the candidate, and below are the other awards which navy grant after two years of basic training under Pakistan naval.
Weapon engineering branch (BE Electrical)
Supply branch (BE Supply chain management)
Marine engineering branch  (BE Mechanical)
Benefits of Joining Pakistan Navy 2021:
All-time free medical for him and also for his family
Navy provides free  accommodation or house rent facility
For traveling you will be granted a half concession
Pak Navy Selection Centres:
Pakistan Navy has its selection centers in multiple cities e.g Abbottabad, D.I Khan, Faisalabad, Gawadar, Karachi, Lahore, Multan, Peshawar, Quetta, Rawalpindi, Sialkot, and some other cities too. You can get the complete information of your nearest center by visiting Pak Navy official site.