University of Management and Technology (UMT) Lahore admission 2023 is announced by officials for spring and fall semesters 2023. UMT Lahore offers admissions to students in a range of various subjects in BCS, BBA, MBA, MCS, BSc, BS, MA, MS, Mphil, MSc, and Ph.D in different subjects. The university was founded in June 2004 and it is one of the leading institutions offering quality education to students. University of Management and Technology is a recognized institution of the Higher Education Commission (HEC).
UMT Lahore BBA and MBA programs are accredited by the National Business Education Accreditation Council. The comprehensive guideline for getting admission to the institute, last date to apply for admissions, UMT fee structure 2023, the admission advertisement, the admission form, and the complete admission procedure for the spring and fall semester is given below. You can find the admission last date, UMT online admission guide,  admission requirements, and criteria, scholarships, jobs, merit list 2023, admission advertisements, and all other important information in one place including UMT jobs.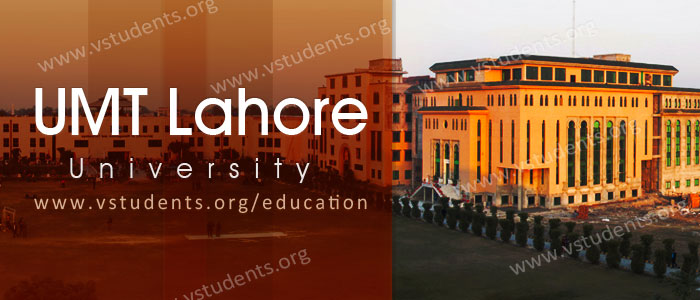 University of Management and Technology Lahore Admission 2023 [GUIDE]
Pakistan Engineering Council (PEC) has accredited electrical engineering programs and allowed them to start industrial engineering programs. For getting admissions in BA, BS, BSc, BBA , MBA, MA, MSc, MS, MPhil and PhD programs the candidates should obtain UMT prospectus and study the eligibility requirements and criteria for the degree program 2023 in which the candidate is seeking admission. The National Computer Education Accreditation Council (NCEAC) has accredited the BS Computer Science and Software Engineering programs.
UMT is a leader, research-intensive private university committed to achieving academic distinction. Those students can also apply for admissions whose result is yet not declared. University has advertised the UMT admission advertisement in different newspapers as well as on the UMT website. To get admission, the candidate should follow the steps presented in the section given below:
[box type="note"]Don't forget to check
UET Lahore
, 
UCP Lahore
, and 
UOL Admission
 complete guides also.[/box]
UMT Admission 2023 Last Date For Applying
University offers spring admissions and fall admissions in 2023 have different form submission last dates.
UMT admission 2023 Last Date IS 

30 July 2023
UMT Lahore Admission Advertisement 2023
UMT Lahore and Sialkot campuses have opened admissions in Undergraduate programs. Applications will be filled and sent online. We will upload the ads as UMT announced in newspapers.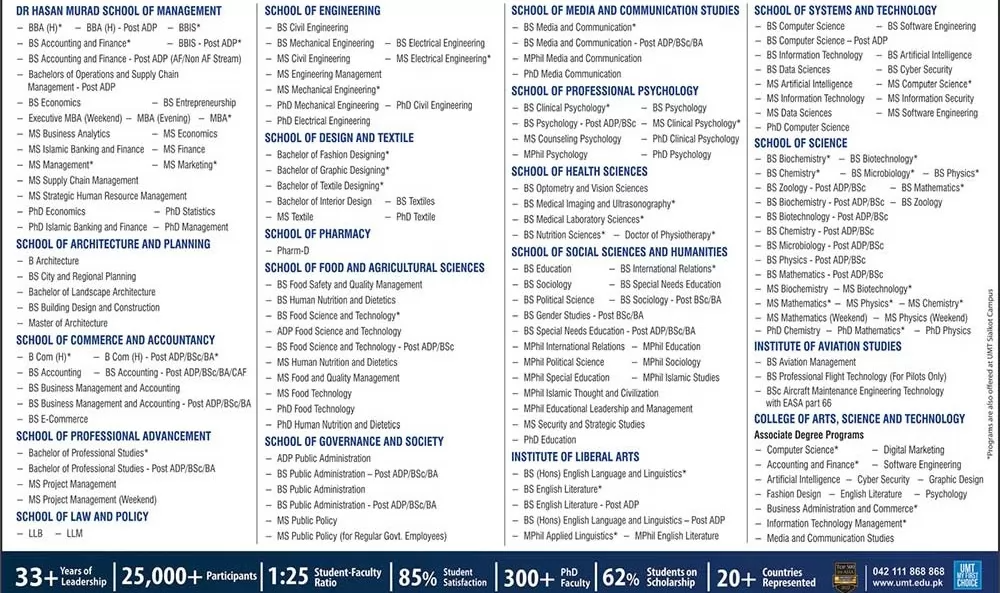 UMT Fee Structure 2023:
The fee structure of the University of Management and Technology is not very high as compared to other universities. Below are the few top program fee structures of the university.
Degree Program offered by UMT and Total Fee (In Rs) respectively
BS-Science Education (Hons) four-year degree program 2,99,999/-
BBA (Degree program of 4-years) 1,39,999/-
BS in Science Education (Two- years Degree program) 1,99,999/-
BS-Media and Communication(Hons) 6,49,999/-
MA (Educational Leadership and Management) 1,49,999/-
MCS (two-years degree program) 3,49,999/-
MA(Special Education) 1,99999
MBA (Degree program of 1.5 Years) 5,49,999/-
MBA ( Degree program of two-Years) 7,49,999/-
MBA-Executive ( two-years Degree program) 5,49,999/-
Please follow the link to find all the offered programmes by UMT fee structure 2023 which can be viewed online by click Here.
UMT Admission Form 2023 Download:
Students should download the admission form 2023 by clicking Here
PDF version of the admission forms 2107 are available at this link. Admission forms can also be obtained by purchasing the UMT prospectus for Rs. 1500. Instruction for filling Admission form should be read in detail and every field of the admission form must be filled correctly in order to avoid ambiguity.
Admission Procedure How to Apply
UMT provides the facility of online admission to the candidates. Candidates applying through the online application system or downloaded form must send a bank draft or money order of Rs 2000/- in favor of UMT. The online application form should be submitted online within the last date mentioned in the admission advertisement. For further detail, the candidate should contact the admission office of UMT.
[unordered_list style="tick"]
Purchase Admission kit 2023 containing the admission form for Rs. 1500  available in the office of information and admission of UMT  or download admission form 2023 in PDF format from Here
Candidates can also receive admission kits at home by sending a bank draft or pay order of Rs. 2000.
Completely fill out the UMT admission form.
Submit the form on or before the last date for admission.
Attach the following documents with the admission form.
Paste 4 photographs of size 1×1. One for admit card and three for the application form.
Attach a Photocopy of the National Identity Card.
Attested photocopies of all degrees and certificates are required.
[/unordered_list]
UMT Lahore Admission Criteria & Requirements:
The candidate applying for the undergraduate Non-Engineering programs must have intermediate or equivalent qualifications having at least 50% marks. 60% of marks are required at an Intermediate level to apply for engineering degree programs.
UMT admission requirements for MS (M.phil) programs are having 16-year education with a minimum of 2.5 CGPA throughout the academic career or 50% marks in case of the annual system. University of Management and Technology admission test should be passed by obtaining 50% marks. For admission in the Ph.D. program, the candidate must have at least 3.00 CGPA in Mphil or equivalent qualification with no third division in an academic career.
UMT Undergraduate and Masters Programs Admissions 2023:
University provides the opportunity for students to take admissions in a wide range of undergraduate and master-level programs. These programs include:
UMT offered Degree Programs
UMT Lahore is offering the following undergraduate and master programs.
B Architecture (B-Architect) 5-Years program
Bachelor of Business Administration (BBA) 4-years programs offered  by UMT
Bachelor of Business and Information Systems (BBIS) 4-Years program
Bachelor of Fashion and Design (Hons) BFD 4-years program
BBS program Leading to MBA (BBS) degree program of 2 years
BCom (Hons) Degree program duration of 4-years
BCom-IT (2-Years duration program offered by UMT)
MBA (Master of Business Administration) Degree program of two-years
MCS(Master of Computer Sc. Program of two-years)
Master in Media & communication (two-Years degree program)
MBA Banking
MSc Accounting & Finance (two-Years)
M.Com
MIT (Master of Information Technology two-years program)
Also, check other Engineering Universities in Pakistan
MS & Mphil Programs:
UMT has highly qualified faculty to offer the advanced degree program of MS and Mphil. Admission 2023 in various MS and M.phil program are open. These Mphil programs include Mphil in political science, MS in Computer sciences, Mphil in English literature, Mphil psychology, Mphil sociology, MS chemistry, Mphil media and communications, MS accounting, and many more.
Merit List 2023:
UMT website displays the merit list 2023 for a selected candidate in admissions. Those candidates whose names appear in the first merit list must deposit their fee within the due date given by the UMT. The Remaining candidates should wait for the 2nd merit list. The merit list can be seen by following the link Here.
Results 2023:
University of Management and Technology has declared results 2023 including BBA, BSc, MA, MBA, MCS, MSc, MS, Mphil, and PhD programs. Students can check their results by entering the Roll Number and degree program in which they are enrolled.
UMT Scholarships 2023:
UMT provides financial assistance to students having excellent academic records. UMT offers various types of scholarships to the students of the university. These scholarships include need-based scholarships, merit scholarships, external scholarships, etc.
UMT Contact Information:
Address: the University of Management and Technology C-II, Johar Town, Lahore.
UMT official website: www.umt.edu.pk
Official Email: info@ umt.edu.pk
Tel.:+92 42 35212801-10
Fax: +92 42 35184789