University of Sargodha UOS admission 2021 is offered in various disciplines including BA, MA, B.ed, Bsc, Msc, BS(Engr), B.com, BBA, MBA, BCS, MBBS, Pharmacy up to Ph.D.  Sargodha university is now considered as a valuable and admirable academic institute of Pakistan for quality education. UOS was established in 1929 and up to this time crossing the student's strength up to twenty-five thousand and 800 faculty members.
University of Sargodha is one of the major public sector universities of Pakistan. There are two public sub-campuses and five private sub-campuses of the University of Sargodha. Below is the complete guide for UOS admission 2021 last date, fee structure, UOS results, admission form download, admission procedure, Check UOS Private BA BSc Admission and Private MA MSc Admission details, registration date, private exams results, eligibility criteria and requirements, merit list, entry test, scholarships and jobs in University of Sargodha main campus.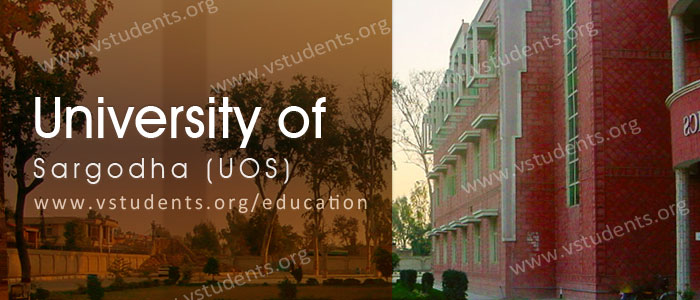 UOS Admission 2021 BA, MA, B.Ed, M.Ed MSc Last Date, Admission Form [Guide]
If you are wondering to join UOS, follow the proper guidelines for Fall admissions 2021 and take advantage of it's provided facilities considered as scholarly, co-curricular and sports activities, including seminars and conferences, sports gala and literary festival.
UOS Admissions 2021 are open for BA, M.Ed. MA, Engineering, Pharmacy, BS, MS, BCS, B.com, BBA, MBA, MCS, medical, Graduate, Postgraduate, MPhil and Ph.D. levels. Eligible candidates can apply as per merit and UOS admission criteria for particular programs with respect to admission last date mentioned below. The University of Sargodha has highly qualified and professional faculty with most of the foreigner experienced mentors. They are working hard to increase the educational structure in the country more professionally and academically.
Find the detailed section of getting UOS admission 2021 last date, private admissions, UOS admission advertisement, fee structure, admission form, entry test date and with complete admission procedure of UOS admission.
UOS Admission 2021 Last Date
UOS has announced revised important admission dates for Spring 2021. This university offers admissions two times in a year for some programs as Spring and Fall admissions. Check out the latest fall admission 2021 last date for MA, BA, MA Private students, and other undergraduate and graduate programs is given below.
Last date for admission forms submission (Undergraduate & Graduate Programs): 26-02-2021
Display of master list 27-02-2021
Regular Programs:

Display of first merit list: 01-03-2021
Display of second merit list: 03-03-2021
Display of third merit list: 05-03-2021
Commencement of classes: 08-03-2021

Self Support Programs:

Display of first merit list: 08-03-2021
Display of second merit list: 10-03-2021
Display of third merit list: 12-03-2021
Commencement of classes: 12-03-2021
UOS Admission Advertisement 2021
After the pandemic Covid-19, University has revised it's 2021 Schedule and comes again with important dates. Here is the UOS admission newspaper ad shown below. You can find Sargodha university private M.A admission 2021 as well as Sargodha university registration form for private candidates.
For details, please visit the following link www.admissions.su.edu.pk/advertisement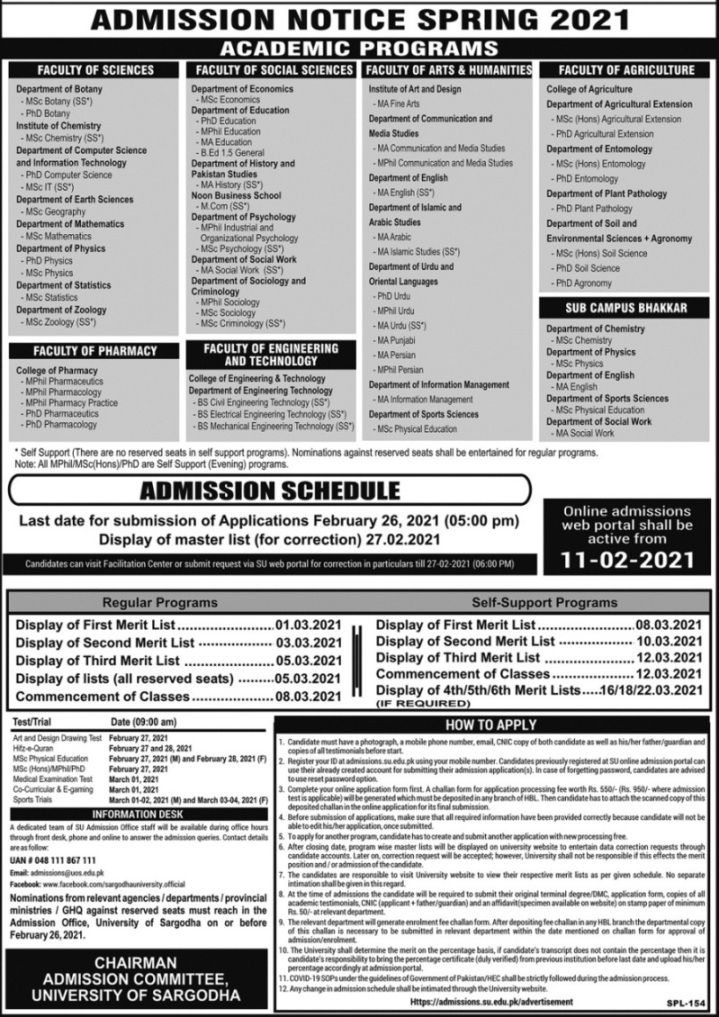 UOS Fee Structure 2021:
As Sargodha university offered many programs, so every program has a different fee structure. Two types of admissions are offered by Sargodha university, Regular and Self Support Programs. Both have different fee structure 2021. Every 4 Year program like BS(CS) regular fee is almost 21,750/PKR and self-support fee is 41,000/PKR.
Fee regarding all admission can be seen in the prospectus that is available in university's Habib Bank Limited and all the other branches of HBL for Rs. 500/-.
UOS BBA, MBA, BCS, MCS, I.com, B.com and engineering fee structure 2021 and all other programs complete fee schedule is available Here. Please follow the link for more details and in
formation about University of Sargodha fee structure 2021.
UOS Admission 2021 Private Students:
Sargodha university offered private admissions for students in many programs, such as FA, BA, MA English, B.Ed. M.Ed. B.com, BSc, MSc, and many others. Private students can get admission form and submit the processing fee in the bank to apply.
University of Sargodha Admission 2021 Form Download:
Before getting admission in UOS you need to fill the admission form 2021 which you can get from Sargodha university's HBL branch or you can follow the five easy steps to apply admission in Sargodha University.
Create account
Fill your personal information
Fill your academic information
Submit processing fee Challan
Done!
You can also download admission or any other form from Here.
[box type="note"]Before submitting any dues to the university by downloading Sargodha university admission form 2021, please contact to UOS admission department first for further details about offered course and admission guideline.  Please check this an admission guide Here.[/box]
UOS Admission 2021 Required Documents
[unordered_list style="tick"]
First, get admission form from university or to download online from Here
Submit the admission processing fee in HBL branch of UOS
Attested copies of your all documents according to your applied degree
Attested copies  of your and guardian CNIC card or B form
2 attested pictures
[/unordered_list]
Graduate and Postgraduate Admissions:
The Institute has opened admission in all departments including Law, Communication Studies, Education, Languages of English, Urdu, Persian, Arabic and Punjabi, Fine Arts, History, IR & Political, IT & Computer, Islamic studies, Commerce & Economics and Faculty of sciences. As Punjab University Admission and another institute offer.
UOS Admissions in MS & Mphil Programs:
The UOS offers MS/Mphil program in some of the subjects that are mentioned below:
Department of Food Sciences offers MSC and Technology. Department of chemistry delivers course named Mphil Chemistry and in this course, students will learn Analytical & Inorganic Biochemistry, Organic & Physical Chemistry.
[box type="note"]You can also check out
Fast University Islamabad
, 
UOL Lahore
and
AIOU Admission details
 for admission in your respective disciplines.  [/box]
Mphil Admissions and Requirements:
Urdu, Arabic and Persian and Agriculture, History, IR, Library science, Economics, Geology, Physics, Maths, Sociology, and Psychology offered by the University of Sargodha.
Eligibility Criteria for MS courses:
The candidates must have passed MA/MSC/BS four years program or must clear 16 years of education with second division or 2.00 CGPA. GAT-General is compulsory for admission in University of Sargodha 2021.
Ph.D Programs and Admission Criteria:
University is offering Doctorate programs in Agricultural subjects, Food, Political and Library science, Arabic, Islamic study, Persian, Urdu, Economics, and Science subjects Physics, etc.
Eligibility criteria for Doctorate:
Mphil or equivalent degree with first division and GAT or GRE test qualified.
[box type="tick"]Must check out complete criteria and details for every offered program in 
University of Sargodha Admission Regulations
.[/box]
Sargodha University BA & MA Admission Requirements For getting admission in BA & MA in the University of Sargodha, the candidates must have to fulfil these requirements.
For BA, the candidate must have passed twelve years of education i.e FA, F.Sc, A-Level or equivalent.
For MA admissions, the candidate must have passed fourteen years of education i.e BA or equivalent.
University of Sargodha Entry Test 2021
Sargodha university admission 2021 has some own rules, most of the undergraduate programs don't need any entry test before getting admission, but some programs it's mandatory like BSSE or more. The entry test schedule is totally under the departments of UOS, you will be notified of the entry test date as you will submit admission form to the department.
UOS Contact Information:
Address: University of Sargodha, University Road, Sargodha.
Google Map Location: https://goo.gl/maps/ATLHaQr9p9m
Sargodha university official website: www.uos.edu.pk
Official Email: info@uos.edu.pk
Phone: +92-48-9230811-815