COMSATS University Lahore admission 2023 has been announced and now candidates can apply for admission. CIIT Lahore is officially known as COMSATS Institute of Information Technology Lahore. CIIT Lahore has announced the opening of Admission 2023 in various degree programs including diverse types of subjects BS, BS(CS), MCS, MIT, BBA, MA, MBA, MS, MSCS, MS IT, and Ph.D. COMSATS University Lahore CIIT is well known at the national and international levels for its contribution to the field of Information Technology.
Interested candidates must follow Comsats Admission Schedule 2023 as advertised in newspapers as well as on the website.
The main Campus is COMSATS University Islamabad and other Campuses are in different cities in Pakistan including CIIT Abbottabad Campus, Wah Campus, Lahore Campus, Attock Campus, Sahiwal Campus, and Vehari Campus. Get the Admission Last Date, Admission Requirements and Criteria, COMSATS Lahore Fee Structure 2023, Admission Form, CIIT Admission Procedure how to apply, Merit List 2023, and COMSATS Scholarships are comprehensively mentioned in the COMSATS Lahore Admission Schedule 2023.
University advertises admissions twice a year. Students can obtain admission in different subjects of Information Technology, Computer Sciences, and other related fields in Spring admissions and Fall admission 2023 semesters for a variety of degree programs of bachelor's and master's levels.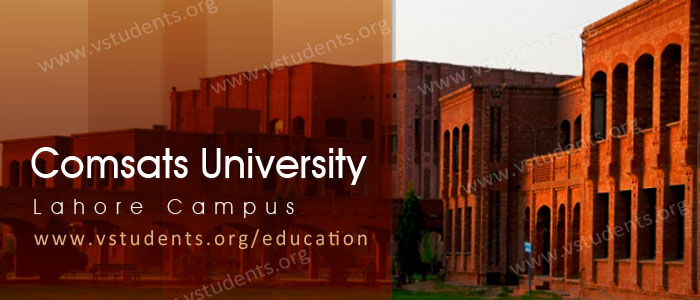 CIIT COMSATS Lahore Admission 2023 Complete [Guide]
The detailed and complete Admission Schedule 2023 for getting Admission to COMSATS University Lahore, Last date for Admission 2023 the procedure to download Admission Form 2023, the comprehensive Fee Structure 2023, the procedure how to apply for Admission 2023, Admission Advertisement 2023, COMSATS University Prospectus, information about merit list, scholarships and job are presented in the section given below.
COMSATS Lahore is one of the leading institutions in the field of IT and Computer Science that aims at generating and preserving knowledge base, understanding, promoting creative thinking, conducting high‐quality research, and promoting scholarship that benefits students, scholars, and communities across the country and world to a great extent.
To obtain Admission 2023 in COMSATS University CIIT Lahore in various disciplines BS, BS(CS), BS(IT), BS(Computer Engineering), BS(Software Engineering), BS Business Administration, MCS, MIT, MSc(IT), MS in Computer Science and IT, Ph.D. in different areas of Computer sciences and IT.
You can also obtain the COMSATS Islamabad Admission schedule and guidelines. The merit list and entry test schedule are also presented in the following section.
COMSATS University Lahore Admission 2023 Last Date
COMSATS University Lahore provides the opportunity to candidates for admission twice a year spring and fall semesters. The admission schedule for Fall 2023 is given below.
Comsats Lahore admission 2023 last dates to Apply Online
Semester
Last Date
Fall 2023
Comsats Lahore admission 2023 last date is 01 August 2023
For Comsats Islamabad admission 2023, the last date is 12 July 2023, and for all other campuses, the last date is 10 August 2023.
Note: Students who are waiting for the result, can also submit their admission form online for BS programs.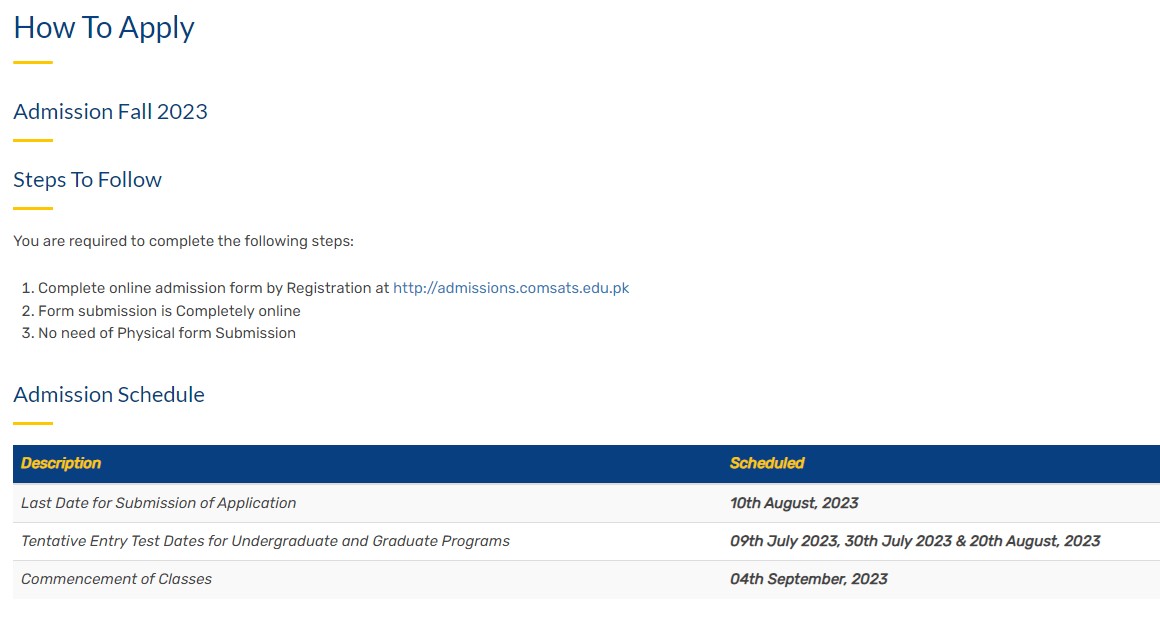 COMSATS Lahore Admission Advertisement 2023
The university published its advertisement for spring admissions in 2023. Last date and the eligibility criteria in mind, the applicants must submit the required documents before the closing date. COMSATS is offering BS, BS(CS), MCS, MIT, BBA, MA, MBA, MS, MSCS, MS IT, and Ph.D.
Check out the latest admission advertisement below: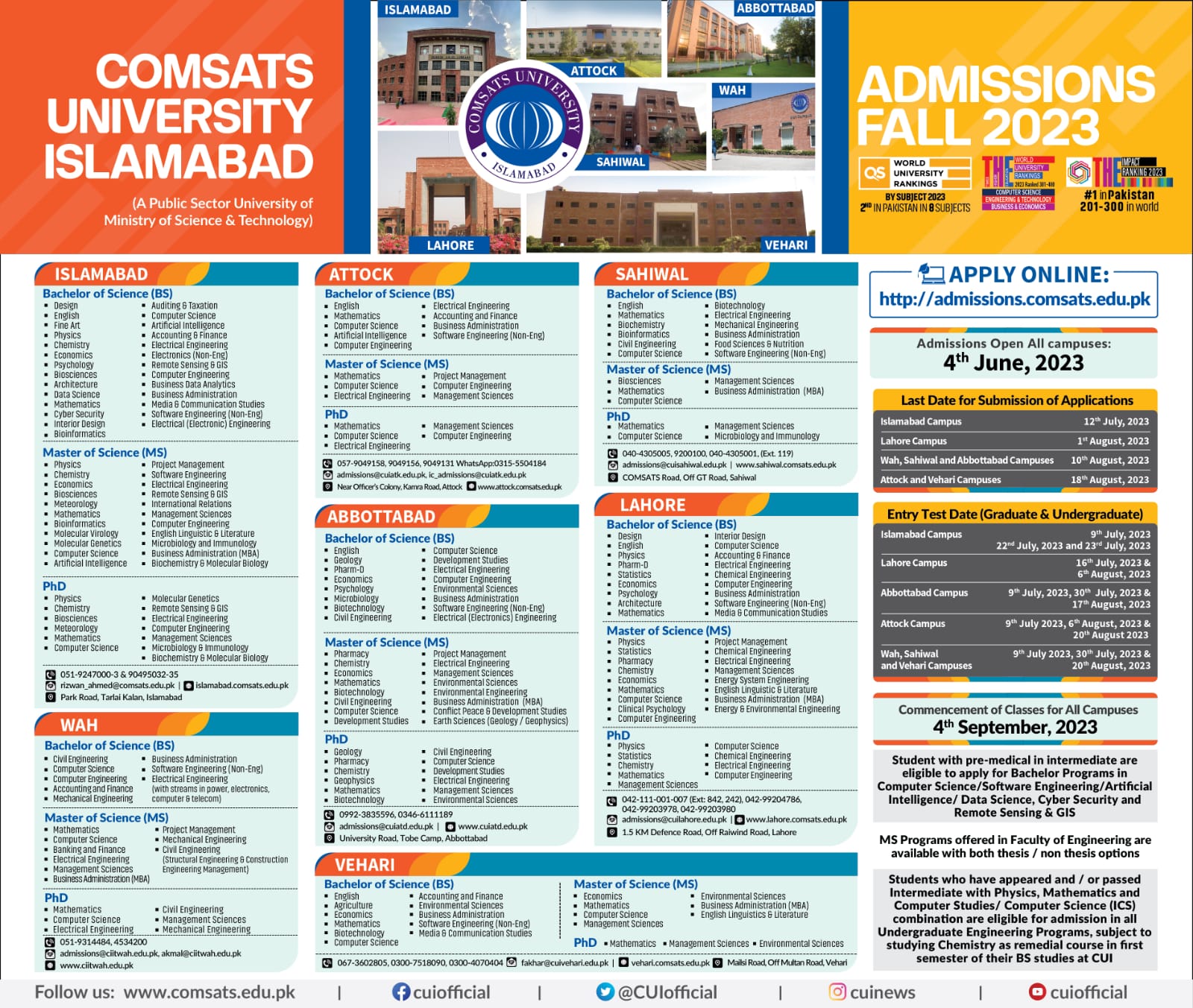 COMSATS Lahore Fee Structure 2023:
COMSATS University Lahore fee structure 2023 is issued by the competent authority and the university administration reserves the right to revise fee rates for a different degree program at any time in the subsequent semesters. COMSATS Lahore Fee structure of 2023 is very flexible. The CIIT Lahore fee structure 2023 for BS, Master, MS, Mphil, and Ph.D. degree programs are below for the first semester.
The Comsats University Lahore Fee structure 2023 for degree programs is described below:
| | |
| --- | --- |
| Degree Programs | Fee Structure |
| Admission Fee | Rs. 22,000/- |
| Registration Fee | Rs. 5,500/- |
| BBA (Hons) | Rs. 109,500/- per semester |
| MBA | Rs. 90,500/- per semester |
| BSCS (Hons) Computer Science | Rs. 109,500/- per semester |
| MS Programs | Rs. 90,500/- per semester |
| Mphil | Rs. 58,750/- per semester |
| PhD | Rs. 64,900/- per semester |
| BS Other programs |  Rs. 94,500/- per semester |
Please follow the link for the complete COMSATS fee structure 2023 for offered programs. Can be downloaded by clicking here.
COMSATS Lahore online Admission Form 2023 Download:
Admission 2023 to COMSATS Institute of Information Technology CIIT Lahore is obtained by applying online. Candidates are required to apply on CIIT Online admission System by clicking Here.
Students are advised to fill out the online Admission form 2023 carefully and follow the steps mentioned in the online system. In case of fake or bogus information is supplied from the students, student admission can be withdrawn at any time by the university. Students are required to fill in the mandatory fields in the form, the otherwise online form is not submitted.
COMSATS Lahore online Admission 2023:
Admissions to a variety of degree programs at CIIT Lahore are open to all eligible candidates without discrimination of any kind, with equal opportunities for all, and admissions are regulated on the basis of merit. Admissions in COMSATS Lahore are conducted according to an admission schedule, which is prominently displayed on university campuses and on the official website.
The application form 2023 for getting admission to CIIT Lahore should be filled out online within the last date mentioned in the admission advertisement 2023. Candidates waiting for their result of FA, FSc or A-Level may also apply on the basis of the Hope Certificate.
[box type="note"]You can also get complete admission guidelines and details for top-ranked universities including BZU Multan Admission 2023, UCP Admission 2023, UMT Admission 2023, and UOL Admission.[/box]
COMSATS Lahore Admission 2023 procedure how to apply:
The Admission Procedure consists of the following steps:
[unordered_list style="tick"]
The first step is to Sign Up at Online Admissions System by clicking here.
After successful sign up please activate your account by authenticating your email address. In order to authenticate, please follow the link sent in your email from Admission System.
Make Login to your CIIT admission 2023 account by supplying your email and password.
Enter your application details in the six sections which are given in the online system.
Submit your online application for 2023 by pressing the "Submit Application Form" button.
After that print your Application Form and NTS Challan Form.
Submit the Printed Application Form, Required documents (Attested copies of all academic documents, NIC, 4 Photographs) and Paid NTS Challan form, Application processing fee Rs. 1000/- ( if you have not purchased a prospectus for the current Session) to CIIT Admission Office, if you have purchased a prospectus for a current session then please attach the admission form in the prospectus with your printed application form.
NTS Test Slip will be issued to you at the Admission Office.
[/unordered_list]
[box type="note"]Admission applications must be submitted within the due date advertised at the time of admission. Late submission shall not be entertained. Interested candidates must make sure that they fulfill the eligibility criteria before submitting their online application forms for taking admission into the program of their choice.[/box]
COMSATS Lahore Admission Criteria & Requirements:
Admissions to COMSATS University Lahore are purely made on the basis of merit. The admission 2023 criteria and requirements are as follows.
For applying for admission in the bachelor's degree non-engineering programs candidates must have intermediate or equivalent qualifications having not less than 50% marks.
For the BS level engineering programs candidates must possess a minimum of  60% marks at Intermediate level FA, FSc, or A-level.
COMSATS Lahore admission requirements 2023 for MS, M.phil degree programs are that candidates must have obtained sixteen-year education with at least 2.5 CGPA or 50% marks. COMSATS admission NTS test is necessary to pass for getting admission and its weightage is also 50%.
The candidate should submit an application form for getting admission in the Ph.D. program having no less than 3.00 CGPA in MS or equivalent qualification.
COMSATS Lahore merit criteria for Bachelor level:
Matric or equivalent 10% weightage
Intermediate or equivalent 40% weightage
NTS test weight is 50%
Merit criteria for Master's Degree program are:
Matric or equivalent carry 10% weightage
Intermediate or equivalent has 15% weightage
Bachelor or equivalent contains 30% weightage
NTS test carries 45% weightage
COMSATS Undergraduate and Masters Programs Admissions 2023:
COMSATS University Lahore offers Admission 2023 in various disciplines and subjects including BS in Accounting & Finance, Bioinformatics, Biotechnology, Business Administration, Chemical Engineering, Civil Engineering, Computer Engineering, Computer Science, Development Studies, Earth Sciences, Economics, Electronics, Electrical Engineering, Electrical (Computer) Engineering, Electrical (Electronics) Engineering, Electrical (Power), Engineering, MBA (Executive, 2‐years), MCS, MIT, MA English, Pharm-D, etc.
MS & Mphil Programs:
COMSATS University Lahore offers admission 2023 in 11 MS and Mphil programs list of which is given below
MS Physics
Mphil Statistics
Mphil Mathematics
MS Computer Science
MS Chemical Engineering
MS Electrical Engineering
Mphil Management Science
MS English (Linguistics & Literature)
MPhil Economics
COMSATS University Lahore Entry Test 2023:
Comsats Lahore's entry test date is July 31, 2023, and August 8, 2023, for NTS and GAT tests. Applicants are needed to have a valid relevant NTS Test score (NAT-I, NAT-II) at the time of submitting an admission application. However, after the last date of submission of Admission Forms, the entrance test will be conducted by NTS according to the admission schedule 2023 or on a given date as notified by NTS through their website www.nts.org.pk and the print media. All admissions shall be regulated on the basis of merit.
COMSATS Lahore Merit List 2023:
A list of shortlisted candidates is displayed on the campus notice boards as well as on the CIIT website by the respective Admissions Offices. However, applicants are recommended to make a proactive effort to know the status of their application for admission by either visiting the concerned campus or clicking Here.
COMSATS Lahore Results 2023:
Results 2023 of the COMSATS University Lahore can be displayed on the relevant department notice board or online on the official website of the university. Students wishing to view their results 2023 online can browse the university's official website and enter their roll no. and degree program in which they are enrolled as well as a session.
COMSATS Lahore Scholarships 2023:
CIIT Lahore is providing various opportunities for obtaining fully funded comsats scholarships 2023 and financial support to its deserving students that are admitted in the degree programs on a pure merit basis. Financial Support Programs (FSPs) at CIIT support various categories of students in the form of scholarships, stipends, financial support, Qarz-e-Hasna, etc. COMSATS Lahore takes special care of its students and plays a fundamental role to determine the financial problems of its students. Comsats University Lahore scholarships 2023 are available to all students who prove to be needy regardless of race, religion, color, national origin, or age.
About COMSATS University Lahore Institute:
COMSATS Lahore Campus which is formally recognized as COMSATS Institute of Information Technology (CIIT) Muhammad Ali Jinnah Campus, Lahore. CIIT Lahore Campus started its academic activities in the year 2002. University is well equipped with the latest computers and electronic laboratories. The institute has progressed significantly in a very short period due to honest efforts made by the administration and faculty of this institution. COMSATS University Lahore is among the topmost universities in HEC ranking 2023. COMSATS University is ranked at position No. 2 among all national universities on the basis of research productivity. It offers 16 undergraduate programs and 17 graduate-level programs out of which 11 are MS-level and 6 Ph.D. level programs.
COMSATS Lahore Contact Information:
Address: COMSATS University Lahore 1.5 KM Defence Road, Off Raiwind Road, Lahore Pakistan
COMSATS Lahore official website: www. lahore.comsats.edu.pk
Official Email: pro@ciitlahore.edu.pk
Tel: +92 (42) 111-001-007
FAX: +92 (42) 99203100