Bahauddin Zakariya University Multan (BZU) has started admission 2018 in undergraduate and post graduate degree programs including  BBA, BCS, MCS, MBA, BSc, BA, MA, Msc, BA Fine Arts & Designing, Architecture, Agriculture, DVM, Pharm-D, Commerce, Accounting & Finance, LL.B (3 Year), Philosophy and many other disciplines. BZU Multan is a progressive university located in Multan in the Punjab province, Pakistan. It is one of the main universities of the South Punjab. You can also check BZU Lahore admission guide and details.
BZU admissions 2018 are opened and Bahauddin Zakariya University Multan is offering admissions in different disciplines mentioned below. Here you will able to find complete information about BZU Multan fee structure 2018, admission form last date, BZU admission advertisement 2018, merit list, scholarship, admission guide 2018 procedure and more.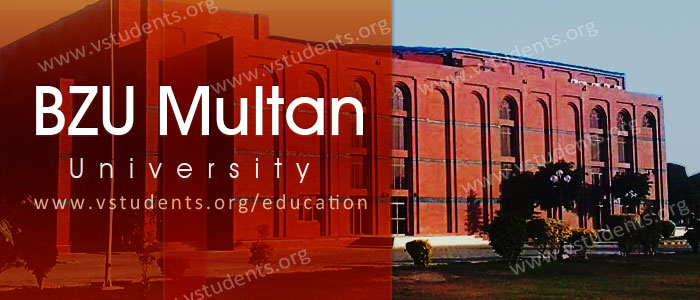 BZU Multan Admission 2018 Admission Guideline
Bahauddin Zakariya University has started admission 2018 in undergraduate and postgraduate degree programs including BA, B.Sc., BBA(Hons.), BS(CS), BS(IT), BS 4-year, BS (Commerce), BS (Accounting & Finance), MA, M.Sc., MCS, MIT, MBA, MBA(Banking), M.Com., M.Sc.(Accounting & Finance), LL.B (3 Year). Result awaiting students can also apply for admission 2018 as per criteria of the BZU in a required program before the admission last date given below.
The comprehensive procedure for taking admission 2018 in Bahauddin Zakariya University, admission 2018 last date, BZU Multan admission advertisement 2018, fee structure, merit list, BZU scholarship, admission form with complete admission 2018 procedure to apply for the admissions 2018 is described as under:
BZU Multan Admission 2018 Last Date:
Schedule of Admission/Registration for Private candidates in B.A/BSc Annual examination 2018 is given below.
Admission form submission Last date (single fee):

25 July 2018

Last date of form submission  (double fee):

20 August 2018

Admission form submission  (triple fee):

19 September 2018

MA/MSc Admissions

last date: 17 August 2018.
BZU Multan Admission Advertisement 2018
Find below the details of registration for private candidates in BA/Bsc annual exams 2018.
Main Campus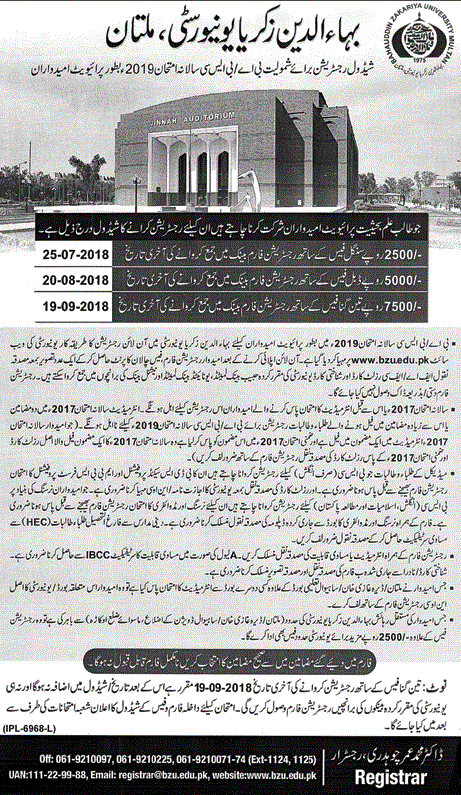 BZU Multan MA/MSc Admission Ad 2018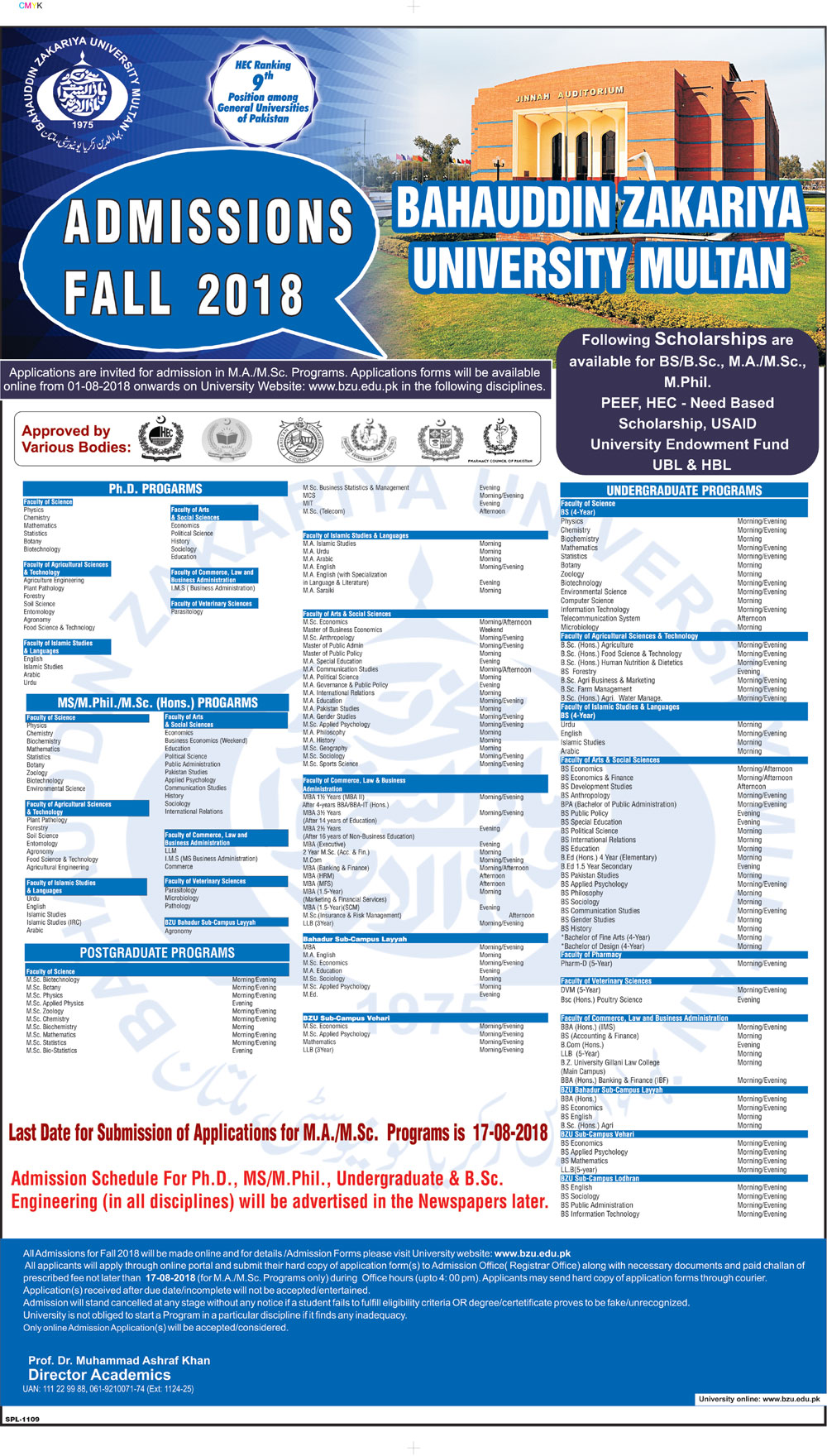 BZU Multan Fee Structure 2018:
Bahaudddin Zakariya University (BZU) Multan is offering different study programs and has a different fee structure for different programs. BZU Multan Fee structure 2018 regarding admission in all types of programs can be checked from university prospectus which is obtained from university admission office for Rs. 600 only.
MA (in all programs)  Morning session Rs. 24,700/- (1st semester)
MSc (In all programs) )  Morning session Rs. 24,700/- (1st semester)
MA (in all programs)  Evening session Rs. 36,700/- (1st semester)
MSc (In all programs) )  Evening session Rs. 36,700/- (1st semester)
BA (Annual system) Rs. 3000/-
BSc (Annual System) Rs. 3200/-
BSc(Hons)/BS (all programs) Rs. 24700/- (1st semester)
Note: After admission, fee/dues once paid will not be refunded. BZU reserves the right to change the fee structure of any program offered at any time. Please follow the link for complete BZU fee structure 2018 and details for every discipline online Here.
BZU Multan Admission Form Download 2018:
Admission can be obtained in BZU Multan by filling the admission form which is acquired from Bahauddin Zakariya University (BZU) Multan admission office.  Interested students can also download admission form 2018 online from Here.
Note: The candidate is advised to select the subject of his/her choice for admission very carefully. If a candidate has paid the fee/dues in any University Teaching Department/Constituent College, then the fee/dues once paid will neither be refunded nor transferred in case of Inter-Departmental/College transferred.
BZU Multan Admission 2018 Required Documents:
Obtain BZU admission 2018 prospectus from admission office for Rs. 600/-
Get admission form from university's admission office or download bzu admission form 2018 from Here
Fill the admission form 2018 very carefully. Any incorrect statement made in this Form may lead to disciplinary action or cancellation of admission at any time.
Attach attested photocopies of Academic Certificates, Merit Certificate(s), Character Certificate from Head of Institution last attended, Detailed marks certificate of last examination passed, Hifz-e-Quran Certificate (if any), Domicile Certificate (where applicable)
National ID Card
Two passport size photographs
Once you are offered admission 2018 in required discipline then obtain Challan form from BZU University admission office and deposit the admission fee 2018 in the corresponding bank.
Bachelors and Masters Programs Admissions 2018:
The BZU Multan has started of admissions 2018 in different undergraduate and postgraduate degree programs including BBA (Hons.) (Morning/Evening), BS (CS), BS (IT), BS (TS), Pharm-D, B.Sc. (Hons.) Agriculture, DVM (Doctor of Veterinary Medicine), B.Sc. Agricultural Engineering, B.Sc. (Civil Engineering), B.Sc. (Electrical Engineering), B.Sc. (Building and Architectural Engineering), BS Botany, BS Microbiology, BS Chemistry, Mathematics, Physics, Biotechnology, Statistics, BS Zoology, BS Environmental Science, BS English, BS Economics, BS Psychology, BS Philosophy, BS Sociology, Education, B.Ed(Hons.) Elementry, BS Communication Studies, BS History, International Relations, BS Urdu, Arabic, Pakistan Studies, Commerce.
MS & MPhil Programs BZU:
The BZU Multan is offering the admission in MS/MPhil program in different subjects including Department of Management Sciences, Department of Computer Sciences, Department of Urdu, Department of English, Department of Physical Education, Department of chemistry, Department of Physics, Department of Mathematics, Department of Commerce, Department of Islamic Studies and Department of Pak Studies offers.
Eligibility Criteria and Requirements for MS /M.Phil Programs:
The entry requirement for MS/M.Phil degree program is master degree in relevant field with at least 45% marks under the Annual System and 50% marks under Semester System. The other details are the same as prescribed by the university
Ph.D Programs and Admission Criteria and Requirements:
BZU Multan has started Ph.D programs in Subjects of Management Sciences, English, Urdu and Mathematics, Education, Economics, Social Sciences, Political Sciences, Philosophy, Sports Sciences, Arabic, Islamic Studies, Pak Studies, Chemical Sciences, Computer Science and Information Technology, Physics, Statistics, Biology and other subjects. MS/ M.Phil or equivalent degree with 1st division and having qualified GAT or GRE test.
BZU Multan Merit List 2018:
Merit list for admissions 2018 for various subjects degree programs are displayed by BZU in the concerned departments. The candidates are required to check the merit list. If Candidate is offered admission 2018 by BZU, then specified fee must be paid in the corresponding bank. Candidates can download merit list 2107 from university website by clicking Here:
BZU Multan Results 2018:
Find Bahauddin Zakariya University Examination Results 2018 for BA BSc, MA MSc postgraduate and undergraduate degree programs. Students can get their result online from Here.
BZU Scholarships 2018:
BZU is Public Sector University recognized by HEC. BZU Scholarships 2018 are available to the students on a competitive basis. BZU also grants fee concession and interest-free loans to the deserving students following the prescribed procedure. BZU awards scholarships to the students on the basis of academic merit. BZU Multan was renamed in honor of Sufi of Suhrawardiyya order Hazrat Baha-ud-din Zakariya (RA).
BZU Jobs & Vacancies 2018:
Bahauddin Zakariya University Multan is providing job opportunities to talented male and female teaching and non-teaching staff have excellent communication skills. BZU Multan has appointed Lectures and assistant professors having M.Phil and Ph.D. qualification in relevant subjects. The detail about BZU jobs & vacancies which are recently advertised can be seen by clicking Here.
BZU Multan University Contact Information:
Address: Bahauddin Zakariya University, Bosan Road Multan.
Website: www.bzu.edu.pk
Email: itcenter@ bzu.edu.pk
Phone:  +92 61 9210071, UAN 111 22 99 88
Fax: +92 61 9210069