AIOU Admission 2022 is open in Allama Iqbal Open University Islamabad for both private and regular candidates in undergraduate and postgraduate programs including Matric, BA, MA, Bed, Med, BS, MSC, and more. The open university offers AIOU autumn admission and spring. This university is the primary institute of distance learning education in Pakistan and aimed to transfer the eminence knowledge to every person in the province and also to provide literacy services to its middle east students.
Its structure is designed for that motif to support lower standard candidates, those who cannot afford regular studies, and the expanse of well-reputed colleges and universities. They could get admission to the AIOU Islamabad distance education system to improve their lifestyle.
Find Allama Iqbal open university announces autumn admission 2022 last date to apply for Matric FA BA, BSc and more, assignments, Results 2022, AIOU spring admission advertisement 2022, AIOU fee structure, jobs, roll number slip, tutor address, and more. AIOU is also conveying superior and exceptional education as compared to Pakistan's other leading universities. Candidates can get admission to this university from any city via a simple enrollment procedure for any academic course or program. Just follow the instructions to download the AIOU admission form and apply for it.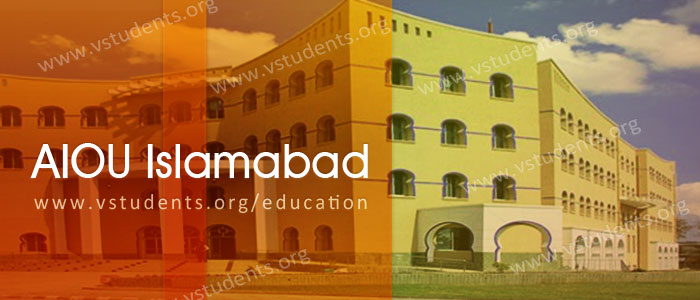 AIOU Admission 2022 Matric, FA, BA, Be.d, Me.d Last Date
The candidates can carry on their studies as private students to get AIOU admission 2022 for spring and fall sessions in Matric, F.A, B.A, M.A, B.ed, M.ed, and more also can do their jobs and business efficiently during the time span of continuing their studies with AIOU learning program. Get admission form for continue admissions AIOU for matric, BA MA, and more with assignments.
Below you can find AIOU's latest admission advertisement 2022. Also find the AIOU admission last date below, details regarding fee structure, late admission fee charges, AIOU due date of forms submission, programs outline and eligibility criteria, AIOU jobs for tutors, results for the previous sessions, and more.
AIOU Admission 2022 Procedure
[unordered_list style="tick"]
Get AIOU admission 2022 prospectus from your regional office
Download the AIOU Admission form from below
Fill the admission form properly and attach the attested copies of your all documents with photographs
Deposit the admission processing fee in one of the mentioned bank branches on challan form and attach the receipt with the admission form while sending it to the AIOU Islamabad office
Double-check your AIOU admission form before sending it to the Islamabad office
[/unordered_list]
[box type="tick"]Must Check IIUI Admissions, QAU Admission, and Nust Admission details before submitting the admission form in AIOU.[/box]
AIOU Admission 2022 Last Date
Allama Iqbal open university offers admissions two times a year named autumn and spring 2022. Candidates can enroll in any interesting programs offered by AIOU officials. Recently the university announced an admission start notice and advertised in the newspapers for the new enrollments. Students are encouraged to apply before the last date of application form submission.
AIOU offers admissions twice a year for spring and autumn.
AIOU admission 2022 last dates to apply
Semester
Date
Autumn
AIOU admission 2022 last date is 14 October
Spring
AIOU Spring admissions 2022 last date is 30 March
AIOU admission 2022 FA Matric last date: 14 October.
AIOU admission 2022 B.A, ADE, BS, B.Ed, M.A, M.Sc, M.Ed, PGD the last date is 23 August for the autumn semester.
The first merit list for fall admissions will be displayed on the University's website in August.
Admissions of M.A/M.Ed, Teacher training programs and B.A/B.Ed will start in August.
AIOU Admission 2022 Advertisement
As Allama Iqbal Open University Spring semester admission 2022 advertisement is given below. You can see admission programs in FA. M.A, M.Sc, B.A, B.Sc, BBA, MPhil, Ph.D. and more.
Please keep visiting this page for the latest AIOU Admission Newspaper advertisement.
Please click on the image for zoom and a larger view of spring admission ad 2022 the last date. Also, see the dates for NUML Islamabad Campus and Arid University Admissions.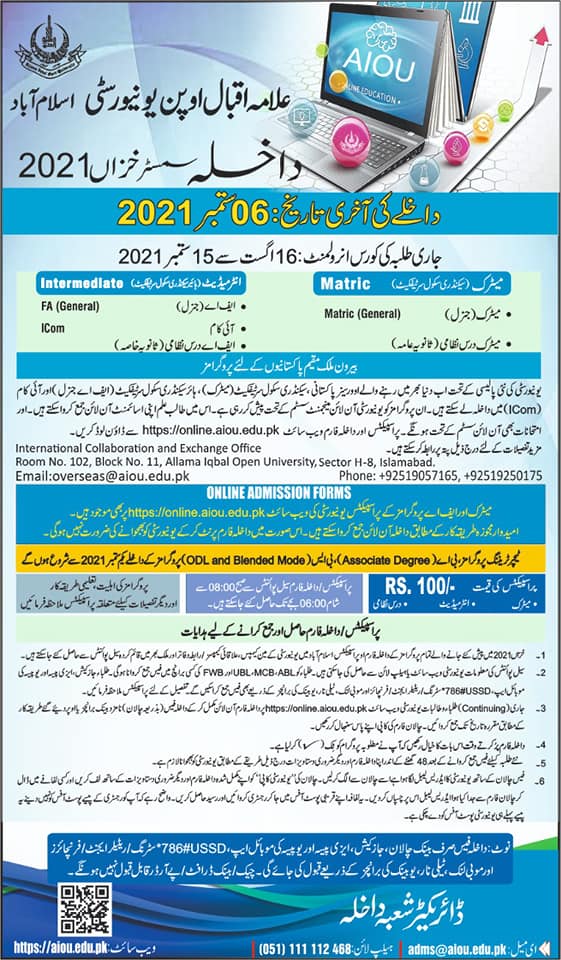 AIOU Fee Structure 2022
AIOU fee structure for BA, MBA, BED 1.5 years, MA Islamiat, MPhil, MA Education, Masters, & MSc Mathematics is given below.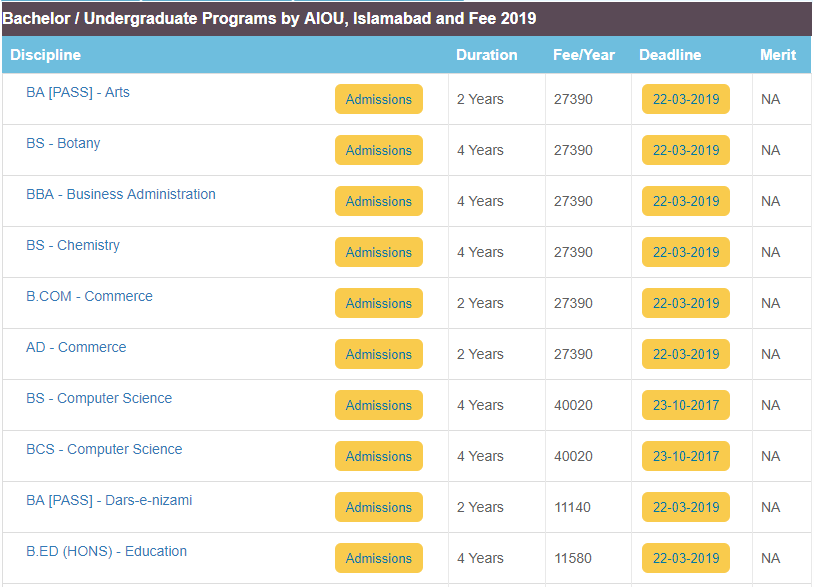 MSc Programs Admission:
Allama Iqbal Open University Islamabad is announcing your courses in MSC in the subjects of Mass Communication, Chemistry, Mathematics, Physics, Sociology, Statistics, and forestry extension. The interested students must have done their graduation with the 2nd division. Also check UOS Admissions to appear for private MA, BA, and more programs.
Those candidates are eligible to submit their application forms according to the given schedule in AIOU admission 2022 office located in their city. The students who are going to apply for MSC Stat, Mathematics, Physics, and MSc Chemistry, will take their classes only in Islamabad city.
AIOU Admission in Master Programs 2022:
1. Distance & Nonformal education.
2. Secondary teacher's education.
3. Education planning management.
4. Special education.
5. Library & information sciences.
6. History.
[box type="info"]Eligibility Criteria: The students must have passed BA examination with the 2nd division for applying for the courses mentioned above in MA degree.[/box]
Admission in Graduate Program:
Following courses in various disciplines have introduced in AIOU Graduate Program where you can submit your application forms before the last date for forms and fee submission.
1. Bachelor of Commerce (B.com)
2. Bachelor of Mass Communication
3. Bachelor of Library Science (BLS)
4. BA of Arts (Humanities Group)
Open University Matric & Intermediate Admission 2022:
Students can be enrolled themselves in FA offered programs which are FA arts, I.com, F.Sc pre-engineering and FSC pre-medical and submit forms in SSC matric for those who have done PEC 8th class examination.
Admission Banking & Finance: Allama Iqbal Open University Islamabad is launching professional courses of Associate Degree Specialization in various disciplines are mentioned below.
1. Accountant & Finance.
2. Banking & Finance.
3. Hospital Management.
4. Hotel Management.
5. Human Resource Management (HRM).
6. Information Technology (IT).
7. Marketing.
8. Tourism.
Post Graduate Diploma: 
This educational institute has offered a one-year diploma program in Educational planning, Mass communication, TEFL, Computer science, and youth in development work.
AIOU admission in M.Ed Course:
The candidates who are interested in making your future in the education field and desirous to do the job in teaching can submit in M.Ed before the last date in AIOU regional campus. This course will give you a specialization in various disciplines like distance & nonformal education, secondary education teaching, science education, and special education.
The department is offering teacher training course 2022 in Arabic instruction and CT. AIOU offered the course in Dars-e-Nizami for those who are interested in becoming an Islamic scholar and certificate of Environmental design.
Download AIOU Admission Forms 2022 & Prospectus
AIOU Programs
AIOU Prospectus Fee
Matric Admission
Intermediate
BA and B.com Admission
Open Tech Program
Certificate Courses
Dars-e-Nizami
Short Term Educational Program
 50/-
CT
ATTC
 100/-
FSC
French Online
 300/-
M.Com
MBA and MPA admission
Post Graduate Program & Diploma
BSC Programs
 500/-
AIOU Admission Form Download 2022:
All offered programs of the autumn session, prospectus with application forms are available at AIOU main campus Islamabad and across entire regional centres of the university. Download AIOU Admission form 2022 along with fee can be deposited at various branches of HBL, first woman bank, Bank Alfalah, Allied bank, Muslim commercial bank, and national bank of Pakistan's nominated branches.
Please check further details about fee submission on the official website AIOU Islamabad.
AIOU admission form download from below button
Download AIOU Admission Form
AIOU Results 2022
Find the Allama Iqbal Open University Results in 2022 for M.A, B.A, F.A, Matric, undergraduate and postgraduate programs. Candidates can get their results, search by roll number according to managed website application of university. Students can find all the current, and previous years' AIOU results for all offered programs by the university.
AIOU Jobs Tutorship 2022
The institute hires a large number of experienced and trained teachers for jobs who are available for assisting the students and check their performance in their studies on a regular basis. Aiou has launched 140 study centres and offices across the country and offers different jobs in AIOU for many departments of education. It manages all the official requirements of the organization and provides services to the enrolled candidates.
Allama Iqbal Open University Islamabad is performing quietly excellent mean with the collaboration of Pakistan Atomic Energy Commission (PAEC). AIOU announced tutorship jobs 2022 according to the press to hire new teachers to check students' assignments and papers to finalize the results. You can follow the official website below for updated details about the latest jobs.