Isra University Hyderabad made an announcement of the opening of admissions 2022 into bachelors, masters and postgraduate programs for semester system and on annual basis in spring and fall semesters. ISRA University is providing high-quality education to the people of Sindh. This university is ranked among performing universities in the private sector.  Following degree programs are announced in the advertisement which are BS Nursing, MBBS, BDS, DHCA, MPH,  DPT, BBA, FCPS, MCPS, BSCS, BS(SE), BS(TC), BSIT, MBA, MS, MPhil, Ph.D. and different diplomas.
 You can get more information about admission advertisement 2022, form download, last date, fee structure, entry test, merit list, results, scholarships and eligibility requirements for getting admission at ISRA University. University reserves the right to make adjustments in the number of seats for admission and according to prescribed quota mentioned in the university charter as per Govt. approved the policy. University has three campuses which are at Hyderabad, Karachi, and Islamabad.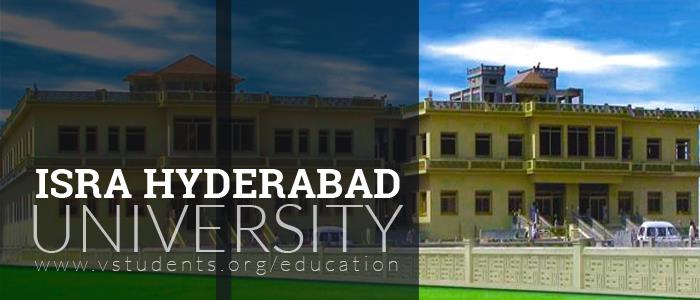 Isra University Hyderabad Admission 2022 Guidelines
ISRA University is a private sector university which is established by Isra Islamic Foundation which is not for profit organization.  At present admission into the different study, programs are advertised by the University for admission into MBBS, BDS,  DPT, BBA, FCPS, MBA, and MS. These degree programs are either annual or semester-based.  Entry test is taken by the university administration.
Spring semester is stared in the month of March and Fall semester classes are scheduled in November. Detail information about admission form download, admission last date, undergraduate and postgraduate degree program, Isra University entry test, merit list, fee structure can be obtained by going through the article. At the same time, University of Karachi Admissions are open so you can check out that also. 
Isra University Admission 2022 Last Date
The last date for submission of admission forms is mentioned in the admission advertisement and on the notice board of the university.  The last date to apply for admission at ISRA University Hyderabad for the session 2022 below:
Last date of form submission for MBBS and BDS: 18th December
Form submission last date for FCSPS, M.Phil MD, MS/Ph.D: 31st December
Form submission last date for BS, BE, BBA, MBA, DPT, Post RN, BSN: 16th December
Admission test: 18th December
Spring Admission 2022:
Admissions for the session spring 2022 are now announced by the Isra University and admission forms are available at the admission office.
Fall Admission 2022:
Fall Admissions 2022 at ISRA University will be started in the month of September into degree programs and diplomas. Admission test will be held in the month of October and complete procedure will be completed and classes will commence in the month of November.
Isra University Admission Advertisement 2022
University has advertised the admissions for the session 2022 into various degree programs ranging from undergraduate to postgraduate and doctorate. Interested candidates can apply online on the university website by downloading the admission form or getting the prospectus from the university admission office.
Here you will see the latest advertisement once it is published by the University management.
Fee Structure 2022:
Isra University fee structure is different for open merit and self-finance basis. Fee package for that student who gets admission on open merit is nominal as compared to the self-financed fee structure. Fee packages of some of the degree programs offered by the Isra University for the session 2022 are given below for the information of students.
| | |
| --- | --- |
| Degree programs | Fee packages |
| BS Nursing | Rs. 165,000/- (annual basis) |
| Diploma in Health Care | Rs. 26000/- per year |
| DPT | Rs. 250,000/- per year |
| BSCS, BSIT, BS(SE), BS(TC), BBA | Rs. 75000/-per semester |
| MS/MPhil | Rs. 450,000/- per year |
| Ph.D. | Rs. 500000/- per year |
Further details about the fee structure of Isra University Hyderabad for degree programs offered by the university can be seen by clicking here. Also, find AKU Karachi fee structure guide here.
Admission Form 2022 download:
Admission form 2022 for acquiring admission at ISRA University into degree programs advertised by the admission office can be obtained during the office hours. ISRA University admission form 2022 and prospectus are available at the admission office of the University. Candidates who wish to apply for admission at Isra University can be obtained by click Here.
Admission 2022 procedure how to apply:
Applicants for getting admission into bachelors and master degree programs are required to take the Isra University Admission Test (IUAT). Qualifying the entry test is must for getting the admission and this is all on the merit basis. Both Pakistani and foreign students are eligible to take admission at the Isra University.
[unordered_list style="tick"]
Admission Kit can be obtained from the ISRA University admission office containing the prospectus and admission form or download admission form Here and deposit the challan form of Rs. 1500/- into the designated bank branch mentioned in the advertisement.
Attach an attested photocopy of Entry Test result card
Attested copies of all certificates and degrees
Copy of ID card
Copy of Domicile
Three color pictures
Submit all these documents to the admission office of Isra University.
[/unordered_list]
Admission Criteria & Requirements:
If a student has passed intermediate examination or equivalent with first division then he or she is eligible for admission at ISRA University Hyderabad into undergraduate programs like MBBS, BDS, DPT etc. Eligibility criteria for MS and MPhil programs are having a master degree with a minimum 2.5 cumulative grade point average or first division in case of the annual system.
Undergraduate, graduate and Ph.D. Programs Admissions 2022:
Different study programs of undergraduate, masters, MS, MPhil and Ph.D. level are initiated by the university with the approval of HEC. The degree programs for which students can enroll at the Isra University are BS Nursing, MBBS, BDS, DHCA, MPH, DPT, BBA, FCPS, MBA, MS, MPhil, and Ph.D., MCPS and various diplomas.
Isra University Entry Test 2022:
According to Pakistan Medical and Dental Council (PMDC), entry test is the must for admission into MBBS and BDS degree programs. Isra University is also following this requirement to scrutinize the applicant for admissions into various undergraduate and postgraduate degree programs. Entry test is held in all the campuses of the university at the same time and the result is announced after two weeks of the conduct of the test.
Merit List 2022:
ISRA University Merit list 2022 is displayed for obtaining admission into different study programs like MBBS, FCPS, BDS, BS and MPhil programs. Merit list is displayed on the notice board of the admission office. Applicants can check the merit list from Isra University main campus or can download it from the website of the university Merit list 2022 for admission at Isra University can be seen by clicking Here.
ISRA University Scholarships 2022:
Isra University Hyderabad has started a number of financial assistance programs for granting scholarships to the students who cannot afford the expenses of higher studies in the University having an excellent academic record. Isra University in collaboration with any organization is arranging the funds for scholarships for the students who are registered with the university.
Address and Contact Information:
Address: Isra University Hala Road Hyderabad, Sindh, Pakistan
Website: www.isra.edu.pk
Address: admissions@isra.edu.pk
Phone #: (92 22) 2030181-4
Fax : (92 22) 2030180 , 2030185