Shaheed Mohtarma Benazir Bhutto Medical University (SMBBMU) is offering admissions 2022 to all eligible candidates for undergraduate and postgraduate spring and fall programs in DPT, BDS, MBBS, Pharm-D, DHCA, MPH,  FCPS, MCPS, MS General Surgery, Ophthalmology, Obstetrics & Gynaecology, Orthopaedics, Paediatric Surgery, Urology, MD MEDICINE, M.Phil Microbiology. SBBMU is the vision of former prime minister and leader Shaheed Zulfiqar Ali Bhutto who inaugurated a medical college named Chandka Medical college in the city of Larkana Sindh on 20th April 1973 during his Government.
SMBBMU University offers these programs for on open merit seats as well as on self-finance to meet the expenditure of the university. Fee structure varies for Pakistani students and foreign students. The Last date to apply for admission at SMBBMU is printed in admission advertisement. Students willing to get admission at the university are required to download admission form and submit it with relevant documents to get registered for the admission entry test which going to be held in the all affiliated institutions of the university.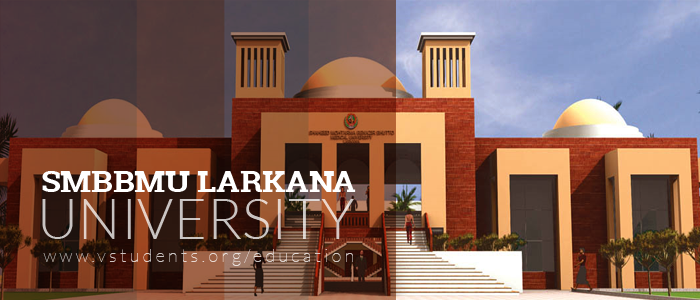 SMBBMU Admission 2022 Complete Guidelines
SMBBMU is going to offer the following degree programs inviting applications from Pakistani students as well as students who are living abroad. Courses offered by the Shaheed Mohtarma Benazir Bhutto Medical University are MBBS, BDS, Pharm-D, DHCA, MPH,  DPT, FCPS, MCPS, MS General Surgery and more. Application for admission is required on the specified Admission forms which can be downloaded from the university website as well as we will provide you link on this page to download it for the facility of students.
Some of these degree programs have an annual course of study and others are semester wise. Admission schedule, how to download admission form, last date to apply for admissions, the conduct of entry test, display of merit list is also mentioned in the prospectus for the year 2022. You may get guidelines about Aga Khan Medical College Admissions also.
Admission Form 2022 download:
Candidates willing to apply for admission at SMBBMU are required to download the admission form which is available on our website. You can download the admission form for the session 2022 by clicking Here.
SMBBMU Admission 2022 Last Date
SMBBMU has declared the admission schedule and the last date to apply for admission through advertisement and on its website. We have complete information about admission procedure and last date to apply for admission for BSN (Generic) and BSc Nursing Degree programs. Admission forms received after the last date will be cancelled.
Spring Admission 2022:
SMBBMU Spring admissions are under process for the session 2022. A candidate must get the application form from the admission office or download it from this page. The last date for applying will be announced later.
Spring Admission 2022:
Admissions 2022 into SMBBMU and its affiliated institutions will be opened for obtaining admission into various degree programs of undergraduate and graduate level in the month of August.
POSTGRADUATE ADMISSIONS FOR JULY 2022:
Date for Inviting Applications: 23-04
Last Date for Submission of Form: 11-05
Display of eligible candidates: 24-05
Display of successful candidates:

10-06

Commencement of classes: 01-07
[box type="note"]Looking for more Universities in Karachi? Must check the complete information about these top universities in Karachi 
University of Karachi (UOK)
and 
DUHS Karachi Admission.
[/box]
SMBBMU Admission Advertisement 2022
Shaheed Mohtarma Benazir Bhutto Medical University has announced the admissions for the session 2022 from suitable candidates. Prospectus and admission forms can be obtained from the university and its affiliated colleges. The complete admission schedule can be seen from an advertisement which will be available on our website once it is officially published by the University.
SMBBMU Merit List 2022:
Admission office of the SMBBMU has prepared the merit list of candidates offering the admission in the University according to the academic marks and marks obtained in the entry test for the session 2022. You can check your name in the merit list of the university updated merit list website and pay the fee Challan in the designated bank branches if you are getting admission.
Admission 2022 Procedure How to Apply
A SMBBMU admission procedure is given below how to apply for the admission at university into different study programs.
[unordered_list style="tick"]
Download admission form from this website and fill it carefully
No field of the form should be left blank
Attach an attested copy of Matric Certificate
Attach the Attested copy of the Intermediate provisional certificate
Attach an attested copy of NIC or B-form
Attested copy of domicile
4 passport size colour photographs
[/unordered_list]
SMBBMU Fee Structure 2022:
Fee structure of the SMBBMU is different for open merit seats and self-finance. Moreover, the fee structure for Shaheed Mohtarma Benazir Bhutto Medical University Karachi varies for national and foreign students. Fee structure of different study programs is given below:
| | |
| --- | --- |
| Degree programs | Fee packages |
| MBBS (5-years duration) | 50,000/- for each year |
| BDS (4-years duration) | 48,000/- for each year |
| Doctor of Physio Therapy | 40,000/- per year |
| BS | 58,000/- each semester |
SMBBMU is providing quality education at a very nominal fee in the medical, dental and surgery field.  Fee structure of SMBBMU is revised time to time subject to the approval of the administration. Check KEMU Lahore Fee Structure for admissions 2022 also.
SMBBMU Admission Entry Test 2022:
There is a limited seat for admission into undergraduate degree programs at Medical and Dental Colleges affiliated with the Shaheed Mohtarma Benazir Bhutto Medical University. For shortlisting the students, SMBBMU takes the entry test for the session 2022 into various degree programs including MBBS, BDS, and Nursing. The registration fee for entry test is Rs. 1500/- which must be submitted to designated bank branches of the university.
SMBBMU Admission Criteria & Requirements:
Candidate must obtain the at least 1st division or 60% marks at the intermediate level for applying admission into MBBS, BDS, and DPT. Entry Test must be passed by the candidate for making admission application to the University. For enrolling into MD, MS and MPhil degree programs CGPA must be at least 2.5 in the previous examination. CGPA 3.00 is mandatory for getting admission into the Ph.D. degree program.
Undergraduate, graduate and Ph.D. Programs Admissions 2022:
Shaheed Mohtarma Benazir Bhutto Medical University has started many different undergraduate and postgraduate degree programs in the field of nursing, surgery, therapy, and medicine. Interested candidates can enrol in the following study programs:
Undergraduate Degree Programs
MBBS and BDS
BS and BSc Nursing
DPT
Pharm-D
Postgraduate Degree Programs
FCPS
MS General Surgery
MS Ophthalmology
MS Obstetrics & Gynaecology
MS Orthopaedics
MS Paediatrics Surgery
MS Urology
MD MEDICINE
M.Phil Microbiology (3-years degree programs)
SMBBMU Scholarships 2022:
Students of the Shaheed Mohtarma Benazir Bhutto Medical University can avail the scholarships and financial assistance plans according to the procedure laid down by the university. There are two categories of students availing these types of scholarships. One category is of students having excellent grades and others include poor and needy students.
Address Contact Information:
Address: Shaheed Mohtarma Benazir Bhutto Medical University SMBBMU, Larkana Sindh
Website: www.smbbmu.edu.pk
Email: info@smbbmu.edu.pk
Phone : +92-74-9410750
Fax : +92-74-9410511