Admissions in different degree programs are announced officially by the National College of Arts NCA Lahore for the academic session 2019. All the National, as well as foreign students, can apply for the admission at NCA through a procedure mentioned in the advertisement as well given in the next section for the information and guidance of the students. The NCA Lahore offers admissions 2019 to students in a variety of degree programs including B.A, B.Sc, BS, MA, MSc, MS, MPhil and different diplomas and courses for different disciplines Architecture, Fine Arts, Interior design, Visual Design, Textile Design, Multimedia arts, etc.
National College of Arts Lahore NCA recognized by the Govt. of Pakistan as the pioneer institution of Arts and design in 1963. This is considered as one of the leading institutions offering quality education to the students, in the field of art and design. Procedure for getting admission in NCA Lahore and last date to apply for admissions 2019, NCA admission advertisement 2019, detailed fee structure, admission form download, and complete admission procedure for the academic session 2019 is described below.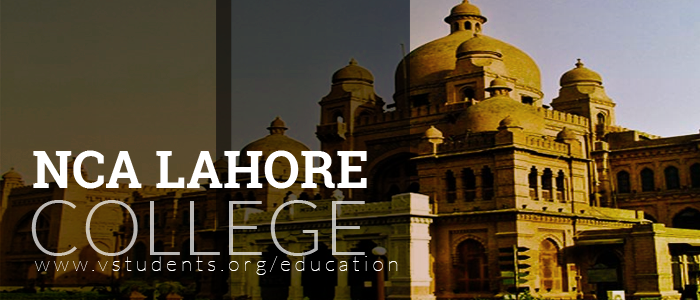 NCA Lahore Admission 2019 Complete Guideline
NCA Lahore has announced the opening of admission in different study programs as advertised in the newspapers for the year 2019. This institution is serving the nation by providing an excellent environment to the students of art, textile, fashion, and design. Admission advertisement 2019 is published in most national newspapers as well as on the official website of NCA Lahore.
The NCA official website contains information about  Degree programs, fee structure, complete merit list for admissions 2019 in different degree programs, results in 2019, merit-based scholarships, Last Date to apply for admission and guidelines to apply for the admission. UOL Admissions Schedule can also be checked here.
NCA Lahore Last Date For Applying
Undergraduate admission will open from July 2019
Postgraduate admission will open from 

November 2019

Admission in short courses (Film Production Fiction and Television):

From 26th May 2019
Check out COMSATS Lahore Admission Last date also for the application process.
NCA Lahore Admission Advertisement 2019
Find complete information about NCA latest admissions in below advertisement. The last date to apply, admission procedure and eligibility condition requirements thoroughly.
NCA Fee Structure 2019
NCA Lahore is striving for quality education for the betterment of society not for profit-making. So the fee structure of NCA is low as compared to other institution of the private sector. The present Fee Structure for some of the popular degree programs offered by the NCA Lahore is as under:
Degree Program offered by NCA
Total Fee

 (In Rs)

Bachelor of Architecture
97940/- per year
BA Fine Arts
98000/- per year
MA Interior Design
93000/- per year
MA Multimedia
45000/- Per Year
MA Visual Arts
45000/- per Year
Mphil Communication and Cultural Studies
71200/-
MS Multimedia Arts
72000/-
PGD
9000/-
DIP
9000/-
The fee structure is different for open merit and self-finance seats. NCA Lahore Fee Structure 2019 for different degree programs can be view online by click Here.
[box type="tick"]Must check out  LUMS Admission and UMT Lahore Admissions in Fine Arts and Engineering fields. Submit your application forms before the deadline.[/box]
NCA Lahore Short Courses
National College of Arts, Lahore offers 06 months diploma & certificate in Post Graduate Center for Multimedia Arts, Department of Visual Communication Design, Architecture and Department of Film & Television. Last date to apply is 5th July 2019
Detail of all these certifications and courses is given Here.
Admission 2019 procedure how to apply:
Candidates who wish to apply for the admission for the academic session 2019 should get the admission form from the college by paying Rs. 1000 or Download Admission Form 2019 by clicking Here and depositing the amount in favor of NAC Lahore at the designated bank branches.
Fill the NCA Admission Form 2019
Submit the duly filled form on or before the last date for admission as advertised.
Attach attested photocopies of the following documents with Admission Form

SSC/HSSC/Intermediate or equivalence certificates
Copy of detail mark sheets
Copy of National Identity Card
Copy of Domicile
5 passport size recent photographs
Copy of passport for foreign students
Original bank draft of fee deposited
NCA Lahore Admission Criteria & Requirements:
NCA Lahore offers equal opportunities for the male and female students to get enrolled in this institution having an aptitude for visual arts and design. For admissions into different degree programs, NCA conducts admission test in different provinces of Pakistan. Students who pass the admission entry test and having at least 45% marks in the last degree are eligible to apply for the admission at National College of Arts Lahore.
Undergraduate and Post Graduate Programs Admissions 2019:
NCA is going to offer the admission for the year 2019 for the students in a wide range of undergraduate and master level programs. Some of these programs are mentioned as under for the information of students:
NCA offers Degree Programs
B Architecture (B-Architect) 5-Years program by NCA
Bachelor of Ceramic Design 4-years
BS Culture 4-years
Bachelor of Fine Arts 4-years
Bachelor of Textile Design
Master of Visual Design
Master of Interior Design
Master of Multimedia Arts
MS & Mphil Programs:
NCA Lahore is one of the oldest and prestigious institutions having highly qualified professors and administration to offer the latest and advance degree program of MS and MPhil level. The admission 2019 in various MS and M.phil program are announced by the NCA. These Mphil and MS Programs include Communication and Cultural Studies, Interior Design, Multimedia, and Visual Arts. Planning is underway to launch the many other advanced degree programs.
NCA Merit List 2019:
NCA Lahore offers admission in the spring and autumn semester for the degree programs and in different types of diplomas and short courses of six months and one-year duration. Merit Lists for admission into different types of study programs offered by NCA are displayed on the official website of the college for the year 2019.
NCA Results 2019:
National College of Arts has declared results 2019 for the different discipline including the BA, BSc, MA, MSc, MS, MPhil and Diploma programs in architecture, interior design, Fine arts, Music, Culture, Product Design, Textile Design, etc. Students are advised to check their result by entering their roll number and degree program for which they are seeking the declared result.
NCA scholarships 2019:
NCA is looking to raise the education standards by motivating the young and talented students by providing financial assistance and scholarships to the students having excellent grades in their studies. Poor and needy students are also offered numerous types of scholarships funded by many different organizations. Some of the awards and scholarships offered by the NCA for the students are Haji Sharif Prize, Shakir Ali Award, and Kipling award, etc.
Address & Contact Information:
Address: National College of Arts Shahrah-e-Quaid-e-Azam, 4 Mall Rd, Lahore
Website: www.ncat.edu.pk
Email: info@ nca.edu.pk
Tel.:+92 42 99210601
Fax: +92 42 99210500