People university of medical and health sciences (PUMHS) Sindh has announced the opening of Admissions 2023 in undergraduate and postgraduate degree programs. PUMHS is one of the top universities providing quality education to women in the field of medical and health sciences. University offers admission into M.B.B.S, DPT, Doctors of Pharmacy ( PHARM-D), BS in Nursing, BSPH, M.D in Cardiology, M.S in Neurosurgery, Orthopaedics & Paediatric Surgery. Ph.D. in Pharmacology, Public Health & Epidemiology. This medical university has its main campus at Nawabshah in the province of Sindh.
Admissions are offered on open merit and only female students are eligible for admissions. Peoples University of Medical & Health Sciences for Women, Nawabshah was established by the Government of Sindh in 2009. Pakistan Medical and Dental Council have approved the courses offered by the PUMHS. In this article, you can get information about admission's last date, how to download the admission form,  PUMHS fee structure, eligibility criteria, the schedule of the medical entry test, display of merit lists.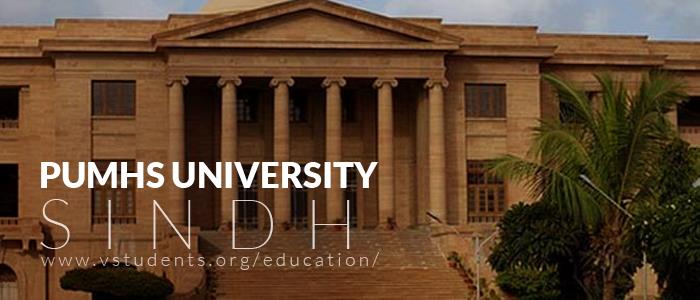 PUMHS Nawabshah Admission 2023 Guidelines
People university of medical and health sciences is pleased to announce the start of admission in undergraduate and postgraduate degree programs in the field of medical & health sciences. These medical colleges are offering admission in different Subjects like M.B.B.S, DPT,  BSPH, Ph.D. in Pharmacology, and more. PUMHS has published the admission advertisement describing the courses offered by the university, the due date, admission form download, entrance test, merit list, and admission schedule for the session 2023.
PUMHS Admission 2023 Last Date
PUMHS declares that planning for admission 2023 is in progress allowing the candidates to take admission in the field of the medical field. The PUMHS Spring admissions deadline for DPT, BS-Nursing, BS Public health is given below.
Application forms to be issued

15.03

Last date for submission of application forms 22.03
Submission of application forms 25.03
Display of the list of eligible candidates 30.03
Entry test for all Diploma / MCPS 24.05
Final Display of list of all Selected candidates after Interviews 11.06
Start of Classes of Academic Session March 2023 01.07
PUMHS Admission Advertisement 2023
PUMHS admission advertisement can be downloaded from this website. Eligibility criteria and requirements, admission schedule and last date to apply for admission in mentioned in the PUMHS admission advertisement.
The advertisement will be updated soon.
PUMHS Fee Structure 2023:
PUMHS Fee structure for the year 2023 is presented here for the students who wish to get information about different study programs and their fee packages.
| | |
| --- | --- |
| Particulars | Fee |
| Registration Fee | 10,000/- |
| Tuition Fee Per year | 45,000/- |
| Examination Fee | 15,000/- for MD and MS programs |
| Diploma Fee | 25,000/- |
| Ph.D. | 10,0000/- per year |
It should be noted that the fee structure of PUMHS can be seen for a different degree program in the prospectus for the year 2023.
PUMHS Admission Form 2023 download:
Admission form to apply for admission at the People University of Medical and Health Sciences for Women PUMHS applicants should download the admission form for the year 2023 by clicking Here.
Admission 2023 procedure, how to apply:
PUMHS admission applications are invited from suitable candidates and the admission forms can be downloaded Here:
To apply for admission at PUMHS, please download the form and read the instruction for filling the form carefully and an admission advertisement should be followed.
Please take a printout of the admission form from the link given above and fill the form
Print the fee challan form and submit the processing fee to the bank
Get an admission card for the entry test
Please bring the testimonials, certificates, and degrees in original at the time of the interview
Three passport-size color photos should be provided at the time of admission
PUMHS Admission Criteria & Requirements:
Admission criteria for obtaining admission at People University of Medical & Health Sciences Nawabshah are approved by the HEC for enrollment into different degree programs. Admission into various undergraduate degree programs at PUMHS and its affiliated colleges can be obtained by those students who secured first division at the intermediate level.
Undergraduate, graduate and Ph.D. Programs 2023: Following courses of study are offered at PUMHS. Some of the degree programs are of five years duration and some are the 4-years duration. The examination is held annually or semester-wise for different degree programs.
PUMHS Undergraduate Programs:
M.B.B.S (5-years duration)
Doctors of Physiotherapy & Rehabilitation Sciences(DPT) 5-years duration
Doctors of Pharmacy ( PHARM-D) 5-years duration
BS in Nursing (4-years duration)
BSPH (4-years duration)
PUMHS Postgraduate Programs:
M.D in Cardiology
M.S in Neurosurgery
M.S in Orthopaedics
M.S in Paediatric Surgery
M.S in Urology
Ph.D. in Pharmacology
Ph.D. in Public Health & Epidemiology
PUMHS Entry Test 2023:
PUMHS Entry test for the session 2023 is going to be held in all the affiliated Medical and Dental colleges.
Those candidates who pass the admission entry test will eligible to enroll on PUMHS admission merit list.
Failing to qualify for the entry test will cancel the candidature of the applicant.
PUMHS Merit List 2023:
List of candidates is displayed in the admission office of the university and also uploaded on the authenticated website of the university.
Candidates are advised to pay their fee dues within the last date in order to avoid the cancellation of admission.
PUMHS Scholarships:
US-Aid scholarships are also given to the students for financial support.
Merit-based scholarships funded by Higher Education Department are granted to students who show good performance during the academic year and scholarships are continued on the condition that students maintain their good performance in the future.
Address & Contact Information
Address: Peoples University of Medical and Health Sciences for Women, Shaheed Bhutto Road Nawabshah, Sindh
Website: www.pumhs.edu.pk
Email Address: info@ pumhs.edu.pk
Phone Number: 92-244-9370260