University of Gujrat (UOG) Gujrat has announced admission 2020 in various degree programs including Bachelor and Master level programs BA, BSc, BBA, BS, MA, MBA, MSc and Ph.D. in different subjects. The University of Gujrat UOG offers admissions 2020 in spring and fall semester for different degree programs of bachelor and master level. University of Gujrat UOG Founded in 2004 is one of the public sector institutions of higher learning in Pakistan. The University of Gujrat offers degree programs in various different disciplines. The University of Gujrat (UOG) is now a well established organizational structure. UOG has a number of sub-campuses in Lahore, Sialkot, Rawalpindi, Narowal which are equipped with all the teaching facilities.
Following is the detailed procedure of getting University of Gujrat (UOG) admission 2020 last date, UOG admission form for private students, UOG spring admission advertisement & announcement, fee structure and requirements, admission form 2020 with complete admission procedure to apply for admission in the UOG within the last date.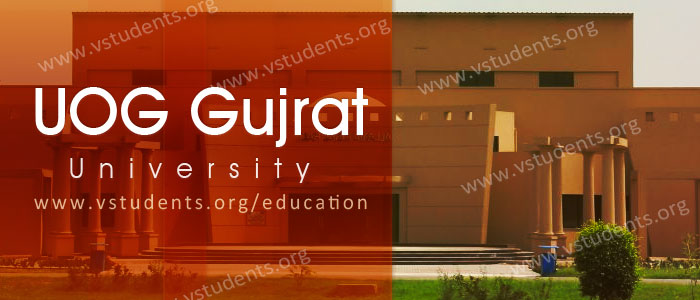 UOG Gujrat Admission 2020 Last date, Admission Form Download [GUIDE]
The University of Gujrat is going to start UOG admissions in different undergraduate, graduate and doctors degree programs that include BA, BSc., BBA, BCS, BS(IT), M.A, MSc, MCS, MIT, MBA, MBA and more. The detailed procedure for taking admission in University of Gujrat, admission 2020 last date, admission advertisement 2020, UOG admission Form for private students, UOG Gujrat fee structure 2020, merit list, results, scholarship, admission form with complete admission procedure to apply for the admissions is explained in the following section given below:
Students waiting for their result can also apply for admission 2020 in University of Gujrat as per rules and regulations specified by the UOG in the required program before the admission the last date is given below. Interested applicants can also visit the UOS admission 2020 complete guide.
UOG Gujrat Admission 2020 Last Date
UOG is offering admission for private and regular students in the annual examination and semester system. In order to get admission in the University of Gujrat, interested students must fill out and submit admission form 2020 before the due date.
Last date of an online application form (main campus): July 27
Last date of online application (Sub Campus Rawalpindi for Women): July 26
Last date of Ph.D. admission: 31st July
[box type="note"]If you are looking to get admission as a private student then you can also check AIOU Admission complete details. UOS Admission and BZU Admission complete admission guide.[/box]
University of Gujrat UOG Admission Form 2020 Download:
For getting enrolled in the UOG, students must fill the admission form online. There is no manual admission form available from UOG. Students are advised to please register for admission by filling the application form online. You can also get UOG admission form for private students for programs FA, BA, MA. BSc Bed and more. For online admission form 2020 click Here.
The interested candidates are suggested to fill the admission form the University of Gujrat carefully. In case fake information is found in the admission form, UOG reserves the right to cancel the admission of the students at any time. If a candidate is offered admission and has paid the fee in any Department of the University or in any affiliated college, the paid fee cannot be refunded to the student.
University of Gujrat UOG Fee Structure 2020 
University of Gujrat (UOG) is offering different study programs and has a different fee structure for the different program. Fee Structure for some of the most common degree program offered by UOG is given below:
Fee Structure 2020 Specified by UOG
Study Program offered by UOG
Fee Structure( per year)
BS (Banking & Finance)
Rs. 70000/-
BBA ( Four Years Degree program)
Rs. 70000/-
B.Com (Hons) Commerce Degree program
Rs. 70000/-
B.Ed (Bachelor of Education)
Rs. 70000/-
LLB
Rs. 70000/-
M.Sc. Chemistry
Rs. 76000/-
M.Sc. Computer Science
Rs. 76000/-
UOG Fee structure 2020 regarding admission in all types of programs can be checked from university prospectus or can be checked online from Here.
University of Gujrat UOG Admission 2020 How to apply:
The procedure to get the admission in University of Gujrat UOG is as follows:
[unordered_list style="tick"]
Admission Application Form must be filled online by following the instructions. Click Here to register and get UOG admission form 2020.
The online system of UOG assigns a unique Application Number to each application for admission, which must be noted for later use.
Fill the admission form very carefully. In case of any incorrect information submitted in this Form, Gujrat University UOG reserves the right to cancel admission at any time without any fee refund.
An application processing fee is Rs. 700 for the first Degree Program and Rs.200 for the subsequently chosen Degree Programs. All applicants must pay the fee including those seeking admission on a quota basis in any near HBL branch.
Take a printout of the online filled admission form 2020.
Attach department and treasurer copy of Challan form with admission form 2020.
Attach attested photocopies of all academic certificates.
Attach the photocopy of National ID Card
Two passport size photographs
Printed application form 2020 along with required documents must reach the admission office of the University of Gujrat before the last date.
[/unordered_list]
UOG Merit List 2020:
Merit list for admissions in different degree programs can be seen in the university department. The candidates whose names are not listed in the 1st merit list should wait for the second merit list to be displayed by UOG. Merit list 2020 can be downloaded online from Here.
UOG Results 2020:  
The University of Gujrat announced results for different subjects. To download the University of Gujrat Examination results in 2020 for BA BSc MA MSc postgraduate and undergraduate degree programs. Students can get their result online by click Here.
UOG Scholarships:  
The University of Gujrat offers different scholarships to the deserving students on the basis of the merit. UOG offering different types of scholarships including need-based scholarships, Merit Scholarships, PEEF scholarship, HEC need-based scholarship.
UOG Jobs Vacancies 2020: 
The University of Gujrat is an equal opportunity employer for talented male and female teaching and non-teaching staff having excellent Teaching and communication skills. UOG has highly qualified and experienced faculty in each department. The new job vacancies announcement 2020 can be seen on newspapers or online by clicking Here.
Bachelors and Masters Programs Admissions 2020:
Admissions 2020 are now open in UOG in different Bachelor,  Masters and Doctors programs including B.A., B.Sc., BBA(Hons.), BS(CS), BS(IT),BS Islamic Studies, BS English, BS mass communications, BS physical education, BSc chemical engineering, BSc electrical engineering, BS Commerce, BS Accounting & Finance, M.A, MSc, MCS, MIT, MBA, MBA Banking, M.Com., M.Sc.(Accounting & Finance), LL.B (3 Year), M.A. Philosophy.
MS & Mphil Programs: 
The UOG is offering the admission 2020 in MS and M.phil program in different subjects including MPhil Islamic Studies, MS in Computer sciences, Mphil English, MS chemical engineering, Mphil Mathematics, MPhil Physics, Mphil statistics, Mphil Chemistry, MS Business Administration, Mphil Botany, Mphil Zoology, Mphil in Economics, History, Pak Studies, Political Science, Education, Psychology.
Eligibility Criteria & Requirements for MS M.Phil Programs: The entry requirement for MS M.Phil degree program is master degree in relevant field with at least 45% marks under the Annual System and 50% marks under Semester System. The other details are the same as prescribed by the university
Ph.D. Programs and Admission Criteria and Requirements:
UOG has announced Ph.D programs in Subjects of Computer Science, Islamic Studies, Mass Communication, Management Sciences, Chemical Engineering, Education, Economics, Social Sciences, Political Sciences, Philosophy, Sports Sciences, Arabic, Islamic Studies, History, Chemistry.
Eligibility criteria for Ph.D. 2020 programs: MS M.Phil or equivalent degree with 1st division and having qualified GAT or GRE test.
UOG Contact Information:
Address: University of Gujrat UOG, Jalalpur Jattan Road Gujrat, Pakistan
website: www.uog.edu.pk
Email: info@ uog.edu.pk
Phone: 0533 3643331