FAST University Lahore has officially announced the opening of Admission 2020. Admissions are offered in a variety of disciplines BBA, BS, MBA, MS (Computer science), MS (Electrical Engineering), MSC, Ph.D. BS (Accounting & Finance), BS (Computer Science) BS (Electrical Engineering). Students that are seeking admission in various subjects are suggested to submit an admission application before or on the last date of the admissions.
FAST University offers admissions in spring and fall twice a year to students. Check admission 2020 complete guide, admission schedule, detailed Fee Structure, admission advertisement, interview schedule, merit list, admission procedure how to apply, scholarship are described in detail as given below. FAST University Spring Admission 2020 is offered in the month of December and Fall admission 2020 are announced in the month of June and the admission process is completed in July.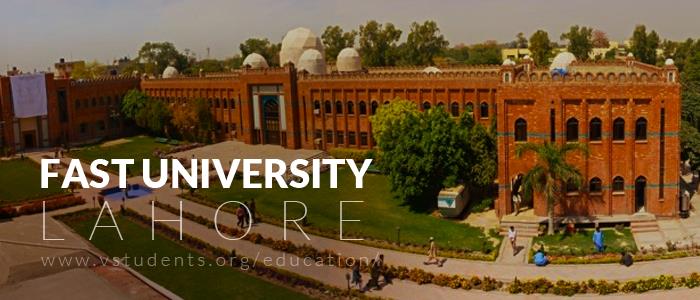 FAST University Lahore Admission 2020 Guidelines
FAST University Lahore spring admission 2020 are formally declared for getting admission in a number of subjects and disciplines. The University has its campuses spread in different cities all over the country including Islamabad, Lahore, Karachi, Peshawar, Chiniot-Faisalabad. Getting admission in it is not a difficult task if you are a talented student, as all admissions are made on merit and priority is given to the students with an excellent academic career.
Candidates must obtain Admission Form from university campus admission office or can be downloaded from its official website. You can also check FAST University Islamabad and FAST Karachi Admissions for the same degree programs as mentioned above.
FAST Lahore Admission 2020 Last Date
Applicants must follow the admission schedule 2020 for acquiring admission in FAST University Lahore Campus. The last date to apply for admission in different disciplines is given below. 
Fast Lahore admission last date (BBA & BS): July 3 – July 5, 2020
Fast Lahore admission last date (MBA, MS, & Ph.D.): July 3 – July 5, 2020
Admission Tests Schedule: July 09 to July 16, 2020
For more details visit the link here.
Note: Last date to apply for MBA in Islamabad campus is July 12, 2020

FAST Lahore Fee Structure 2020:
Fee structure of the FAST University Lahore is very competitive as compared to other private sector universities. The fee structure is explained below. Admission fee is Rs. 15000/- for BS, BBA,  MS and Ph.D. programs that must be deposited at the time of getting admission to the university and payable one time.
The tuition fee is Rs. 6300/- per credit hour for BS, BBA programs and is Rs. 7000/- per credit hour for the MS and Ph.D. degree program. Further details about fee structure can be obtained by clicking Here. If you are interested in LUMS Lahore recent admission then don't forget to apply these also.
Fast University Lahore Admission Advertisement 2020
Check complete eligibility Criteria, programs offered and the last date of admission in the following advertisement.
Admission Form 2020 Download:
FAST Lahore allows the students to submit admission form online following the guidelines are given in the admission form 2020. Admission form can be downloaded online. Click Here to download an online admission form.
Admission Procedure How to Apply:
FAST  Lahore complete procedure how to apply is mentioned here so that applicants act accordingly:
[unordered_list style="tick"]
Interested applicants must apply online for the Admission 2020 in FAST University. Applications other than online will not be entertained.
Click Here in order to view the online Admission Application Form. The login page will be displayed.
Applicant must register by entering email address and password
Online Admission System allocates an ID to each admission application that must be noted for reference in case of any query.
Candidate must fill the online application form 2020 thoroughly by following the step by step procedure given in the online system.
The online system will generate the challan form of processing fee Rs. 1500/- and NTS test Fee is Rs. 500 is mentioned. If a candidate has already passed NTS Test, then Rs. 500 is not payable.
After paying the processing fee in the designed branched authorized by FAST University, the candidate will print Admission card if he/she is enrolled for Admission Test.
Applicant should bring Admission Card to the university campus on the given date and time.
After the admission is confirmed, the applicant must submit attested photocopies of all the academic certificates along with 3 passport size photographs.
For detailed guidelines visit this link.
[/unordered_list]
Admission Criteria & Requirements:
 Admission Criteria and Requirements for undergraduate programs BS-4 years is given below.
Applicant must have at least 60% marks in Matric and Intermediate or equivalent qualification.
Applicant must possess 16-Year education obtaining at least 60% marks or CGPA 2.0 out of 4 in order to be Eligible for MS & MBA Degree Programs.
For enrollment in Ph.D. Program applicant should have completed a degree in the relevant subject with 17 ½ year education.
The applicant is selected for Admission on the basis of marks obtained in NTS test or Test held to be the FAST University itself in which obtaining 50% is mandatory for getting admission in any degree program.
Undergraduate and Masters Programs:
Admissions are now open in a variety of program as recognized by the HEC. The Undergraduate and master degree programs including BBA, BS Civil Engineering, BS Electrical Engineering, BSCS, BS Accounting & Finance, MBA.
MS & MPhil Programs Admissions:
MS and MPhil degree programs are MS software engineering, MS Software Project Management, MSCS, MS Civil and Electrical Engineering. These programs are initiated by the university to promote higher studies.
Fast Entry Test Dates:
Entry test is mandatory for the applicants for obtaining admission 2020 in FAST University Lahore. Candidates can get admission on the basis of NTS test passed or university entry test conducted by the University itself. If an applicant does not qualify the entry test, then he/she is not eligible for getting admission. At least 50% marks are necessary for qualifying the test.
Merit List 2020:
Merit list of the candidates that are offered admission in the specified subject after passing the entrance test, interview and meeting the requirements of the FAST Lahore. Merit list is displayed on the notice board of the concerned department and also on the website of the university.
Scholarships 2020:
The institute provides the opportunity to the students for getting financial assistance for poor and deserving students. FAST University Lahore awards scholarships to first three students which are on the top of merit list. The full tuition fee of these students is waived off for the period of 4-years if they maintain their excellent performance in studies.
Contact Details:
Address: FAST University Lahore Block-B Faisal Town Lahore, Pakistan
Official website: www.lhr. nu.edu.pk
 Email: info@lhr. nu.edu.pk
Tel: 111 128 128 , (042) 516 5680-83
Fax: (042) 516 5232