The University of Central Punjab (UCP) Lahore offers admissions in 2023 for graduate and undergraduate programs. As UCP is a public sector institute that was founded in Lahore in the year of 2002.  This academic institute is the most popular one in Pakistan that covers all the programs like BBA, BSCS, MBA, MS, Ph.D., and another undergraduate, graduate, and postgraduate programs in various fields. Up to this time, the UCP Lahore has opened a few other campuses in Faisalabad, Sialkot, Okara, Gujranwala, Multan, Sargodha, and Rahim Yar Khan.
Recently University of central Punjab offered Spring admission in 2023 in various disciplines including BBA, MBA, BS (Hons), and other Mphill and Ph.D. programs. Find the detailed procedure to get enrolled in the interested field, the latest UCP admission advertisement 2023,  fee structure, entry test date, admission last date, scholarships, and jobs.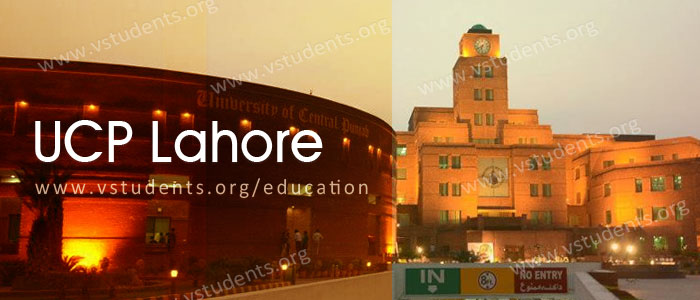 University of Central Punjab Admission 2023
The institute has recently announced the admission of various departments like computer science, Business, BSCS, MSCS, BBA, MBA, BA, MA, Mphil, and numerous other modern programs. Students can find the UCP Lahore admission Last date, UCP Fee Structure, Scholarships, Merit List, Entry test date, university ranking by HEC, and jobs offered by the University of Central Punjab Lahore.
UCP starts its admission for all departments including engineering, pharmacy, information technology, media and communications, sciences, life sciences, art & social sciences as well as faculty sciences. Find the announced last date to apply for admission.
UCP Lahore Admission 2023 Last Date
The University of Central Punjab announced the Spring admission 2023 and accepting application forms from now even though the due date is not yet published officially. Students can submit their admission form along with with the required documents before the BBA, MBA, BCS, MS, and Ph.D. admission on the last date to apply.
Last Date to apply for Admissions: 30th September
To apply online click here.
UCP Fee Structure 2023
There are different fees for every program like BS, MS, MPhil, etc. Every program registration fee is 25,000 PKR. For BBA, BCS BS (Hons) programs per semester UCP fee structure is up to 1,55,000 PKR, and per course, fee is 26,000. Fees can vary with the discipline to choose and program duration also depending on the number of semesters.
For UCP MBA fee structure and MPhill similar programs same as above 25,000 registration fee as well as 1,55000 and 26000 PKR, are total and per course fees respectively. Click here for more details.
UCP Lahore Admission Advertisement 2023
UCCP Lahore Admission in Spring 2023 program is open. You can check here the latest advertisement for more details once it is officially published by the University Officials.
UCP Lahore Entry Test & Merit List 2023
The institute stands in "W4" category which is the ultimate achievement for the university management and their faculty. It means the students are on the right way to brighten their future with an international standard education level. Check meri list for more details.
That's why the filtration matters and university of central Punjab entry test 2023 are compulsory to get enrolled for graduate or undergraduate programs. After that university will punch BBA, MBA, BCS, MPhil merit list 2023 on the board as well as the online website for qualifying students.
Admission at Graduate, Postgraduate, Mphil & Ph.D. level:
UCP Engineering Admissions:
The institute offers BSc in Electrical and Mechanical Engineering and the course consists of 4 years program.
Eligibility: FSc pre-eng with 60% marks.
MSc: Electrical Engineering.
Eligibility: BSc engineering or equivalent with 50% marks.
Department of Information Technology:
BS and MS programs in computer sciences. The institute offers Ph.D. of three years in computer sciences.
Eligibility: The candidates who are applying for BS, must have Intermediate with 45% marks, for MS admission candidates have 16 years of education and for Ph.D., 18 years of educational background with 50% marks.
UCP Lahore Business School:
The department is offering BBA & MBA in Banking and Finance.
Commerce Department:
BS & B.com Honors in Applied Accounting for four years.
Eligibility: I.com/F.A/FSc or A'level.
The institution is also offering MS, MPhil, M.com, and Ph.D. programs in Commerce education.
Mphil & MS in Psychology:
The department offers MS and MPhil courses in Clinical & Organizational Psychology.
Eligibility: Students of M.A, MSC, and BS (honors) can submit applications for this course.
UCP Lahore Jobs 2023
University offers many jobs for qualified and competing lecturers as well as for examination staff. Please be updated with the latest job posting for the UCP Lahore on the official website. For more details, please visit UCP official website www.ucp.edu.pk or regional offices in Faisalabad, Sialkot, Okara, Gujranwala, Multan, Sargodha, and Rahim Yar Khan.
Contact and Address Information
Address: Khayaban-e-Jinnah Road, Johar Town, Lahore.
Website: www.ucp.edu.pk
Email: info@ucp.edu.pk
Tel.: +92-42-35880007