Bahauddin Zakariya University (BZU) Lahore campus admission 2023 has been announced. BZU is a well-known HEC recognized by the University of Pakistan that was founded in 1975. The university has already run its sub-campuses due to legendary performance in education departments in Sahiwal, D.G Khan, and Layyah and now it has launched another approved campus in Lahore. BZU is focusing on high-standard education for students all over Pakistan. Institute has a team of highly professional and experienced staff and all the facilities that students need.
Find BZU Lahore's latest admission advertisement below that will guide you on how to fill out the application form online, the overall eligibility criteria, the application submission last date, the fee structure for all degree programs, and the details of jobs and scholarships offered at BZU Lahore. Keep visiting Vstudents for the latest admission updates about all universities in Pakistan.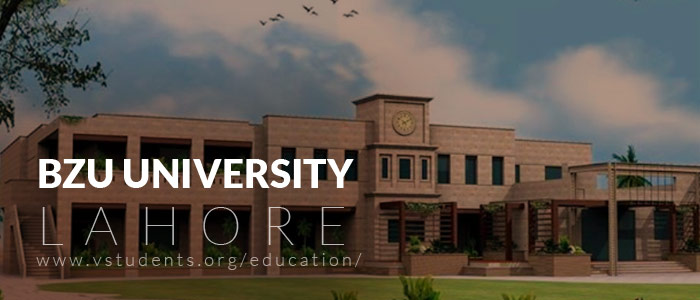 BZU Lahore Campus Admission 2023 Guidelines
Get admission in BA, BS, BBA, BCS, MA, MBA, MSC, MS, MCS, Graduate, Post Graduate & M Phil programs at BZU Lahore. Like the main campus, the sub-campus also offers both engineering and nonengineering programs at the institute. Arts, Business, and Engineering fields are the main focus of BZULahore.
Find the last date of admission and more details in the following paragraphs.
BZU Lahore Admission 2023 Last Date to Apply Online
BZU admission last date to apply online is 16 August
[box type="tick"]Must check out  
LUMS Admission
and
 

UMT Lahore Admissions
in Fine Arts and Engineering fields. [/box]
BZU Multan Fee Structure 2023:
Baha Uddin Zakariya University (BZU) Lahore offers different study programs and has a different fee structure for different programs. Check more details in the below paragraphs.
MA (in all programs)  Morning session Rs. 24,700/- (1st semester)
MSc (In all programs) )  Morning session Rs. 24,700/- (1st semester)
MA (in all programs)  Evening session Rs. 36,700/- (1st semester)
MSc (In all programs) )  Evening session Rs. 36,700/- (1st semester)
BA (Annual system) Rs. 3000/-
BSc (Annual System) Rs. 3200/-
BSc(Hons)/BS (all programs) Rs. 24700/- (1st semester)
BZU Prospectus and Admission 2023 details
Application forms and prospectus are available in Rs. 500 at BZU Lahore Campus.
Those students who are waiting for results can also apply.
Bahauddin Zakariya University Scholarships are available on a merit basis.
Candidates of other cities can get a copy of the prospectus in 700 rupees through courier.
Department of Engineering
BSc
University offers BSc program in Civil Engineering, Building & Architectural, and Electrical Engineering 4 years programs with a semester system that consists of 8 semesters.
Department of Pharmacy:
Pharm-D
This course consists of 5 years programs with 10 semester
Biotechnology:
BS & MSc
Department of biotechnology is offering BS 4 years (8 semesters) and MSc 2 years (4 semesters).
School of Physical Therapy:
It is giving a Diploma in Physical Therapy consisting of a semester system 5 years program.
Business Administration:
The department is offering courses for Business students like BBA (Hons.), MBA consists of 7 & 3 semesters, MBA (Executive) of 4 years.
MS of Business Management 4 year's program and classes will be held only for the weekend program.
Commerce Department:
BS Accounting & Finance and BS Commerce both consist of 8 semesters.
M.com (4 semesters)
MSc Accounting & Finance of 4 & 6 semesters.
Law Department:
The branch of Law is giving LLB in 5 and 3 years and LLM in 2 years.
Department of Computing:
BS course in three fields Information technology, Telecommunication, and computer science, and all are of 4 semesters
MSc (Telecom), MIT, and MS computer science all consist of 4 semesters but MS is just in the weekend program.
Statistics:
MS weekend program and MSc 4 years.
Branch of Food Science & Technology:
BSc Hons. 4 years & Msc 2 years.
Department of Pure & Applied Mathematics:
Department offers MSc regular classes of 4 semesters & MPhil 2 years.
Education:
Department of Education is providing MA education and MPhil 2 years.
Communication Studies:
BZU department of communication studies is offering BS, MA & MPhil 4 semesters.
Department of Sociology:
4 years program in MSc & MPhil.
The School of Applied Psychology is giving courses in the programs of BS 8 semester, MSc & MPhil 4 semester, and Advance Diploma in Clinical Psychology of 3 semesters.
Department of Gender Studies:
MA & MPhil 4 semesters.
Art & Design:
Bachelor of Design and Bachelor of Fine Arts both are 4 semesters.
English language & Literature:
Department of language offers BS 4 years and MA & MPhil 4 semesters.
Note:
All MPhil courses are according to weekend programs.
BZU Lahore Campus Jobs
If you are interested in BZU Lahore campus Jobs then please visit the official website of the university for more information. Multiple job vacancies are available at BZU Lahore for teachers, vice-chancellors, and other technical and non-technical staff. Visit the site here for more details.
Address and Contact Details:
Address: 5-Ahmad Block, New Garden Town, Main Canal near Punjab University Lahore.
Website: www.bzu.edu.pk
Phone: 042-99239102-6, 35844144-6
Tags: BZU Lahore Campus Jobs