Quaid-e-Azam University Islamabad (QAU) spring and fall admissions 2023 for BS, MS, BBA, LLB, MSc, M Phill, Pharm-D Ph.D., and more undergraduate and postgraduate programs are open now. Interested candidates who want to get enrolled in this academic institute must appear first on the entry test.  Admissions are also opened on a Regular & Self Finance basis in various programs. This leading institute was first time set up under the National Assembly ordinance in 1967 and still it is at the top of the list of top ten universities in Pakistan by the Higher Education Commission HEC ranking.
Here you can find the QAU university admission last date, M.Sc, MS, and B.S fee structure 2023, merit list, entry test date and admission procedure, and guidelines. Quaid e Azam University Islamabad is a top-ranking HEC university for years and it holds the title of delivering quality education institute in Pakistan in many fields like medical, engineering, and business. You can also find the admission last date, admission requirements and criteria, scholarships, jobs, merit list 2023, admission advertisements, and all other important information in one place including QAU Islamabad jobs.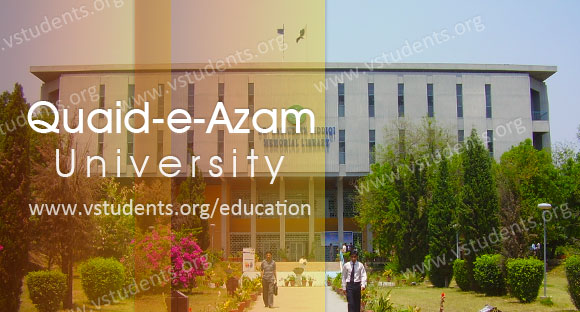 Quaid-e-Azam University Admission 2023 [Complete Guide]
There are a number of universities in Pakistan that provide international standard higher education but this university has an eminent name, conveying higher studies in graduate, and postgraduate programs for law, and business administration. QAU admission 2023 for BS, MS, BBA, LLB, MSc, M Phill, Pharm-D Ph.D. programs dates and test dates can find out in the below section. requirements. Admissions on Regular & Self Finance basis are opened in multiple programs and many courses are offered by officials like a school of Medicine, Gender studies, biological sciences, Pakistan studies, and technical education.
These programs are teachers by highly motivated experienced and professional academic staff. Quaid-e-Azam University is having entire the facilities that a student need, it has fully furnished classrooms, well-equipped laboratories, its own transport, and a modern library that's why it is considered the best university in Pakistan. Find the QAU university admission the last date to submit forms, fee structure, QAU scholarships, jobs, and admission complete procedure along with the admission criteria and requirements.
QAU Islamabad Admission 2023 Last date 
The applicants can submit their online admission form for the QAU undergraduate programmes 2023 last date for the BS programs. QAU announced admission in a number of disciplines including all BS, BA, LLB, Pharm-D, and more. You can seek admission in BS, and also in MS, MPhil, and Ph.D. The latest admission dates are the following.
QAU admission 2023 Last date is

31 July 2023

for Morning classes
for the undergraduate BS/B.A. L.L.B Programmes. Also, check the last dates for morning and Self Support programmes for Mphil and MS below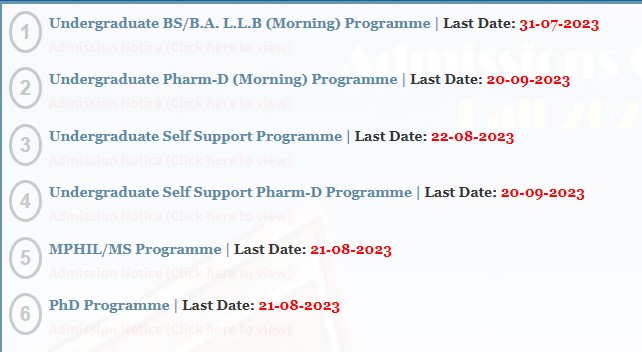 QAU admission 2023 Last date for Self support is

20 August 2023


for the undergraduate BS/B.A. L.L.B Programmes. Also, Mark the last date for Self Support programmes for Mphil and MS.
QAU admission Advertisement 2023
Please find below the admission advertisement 2023 by QAU officials for the natural sciences and admissions in BS Programmes for the fall semester of 2023. Keeping the Last date and the eligibility criteria in mind, the applicants should submit the required documents before the closing date. QAU is offering Computer Sciences BSCS, BSIT, Physics, Statistics, Management Sciences, Pharm-D, Information Technology, B.A, and  LLB programs.
QAU entry test 2023 date.
QAU admission entry tests will be conducted on the basis of submitted admission applications.
[box type="note"]Don't forget to check
IIUI Admissions
,
NUML University Islamabad
,
SZABIST Islamabad
, and 
FAST Islamabad Admissions
2023 the complete guide for
LLB
,
Pharm-D
&
IT
 also.[/box]
QAU Fee Structure 2023
The fee structure of Quaid-e-Azam University Islamabad is quite low as compared to the other top universities. QAU has a reasonable fee structure for Management Sciences, Computer Sciences, Pharm-D, Information Technology, B.A, and  LLB programs. The fee structure for some of the programs for National & Foreign students has been mentioned below.
QAU Fee Structure for National Students
Category-A students (regular) : 26,400/-
Category-B students (open merit/self finance) : 55,200/-
QAU Fee Structure for Foreign Students
Category-A students (regular): $680/-
Category-B/ semester: $2080/-
For details of the fee structure mentioned above, you can visit the official website for undergraduate and master's programs in 2023. Find the detailed Fee Guide here.

[box type="tick"]Note: These dates are confirmed for QAU fall semester admissions 2023 by the QAU Islamabad officially but these are tentative and can be changed as per university announcements. [/box]
QAU Admission Procedure 2023 How to Apply
Please find the admission procedure that how to apply to QAU 2023.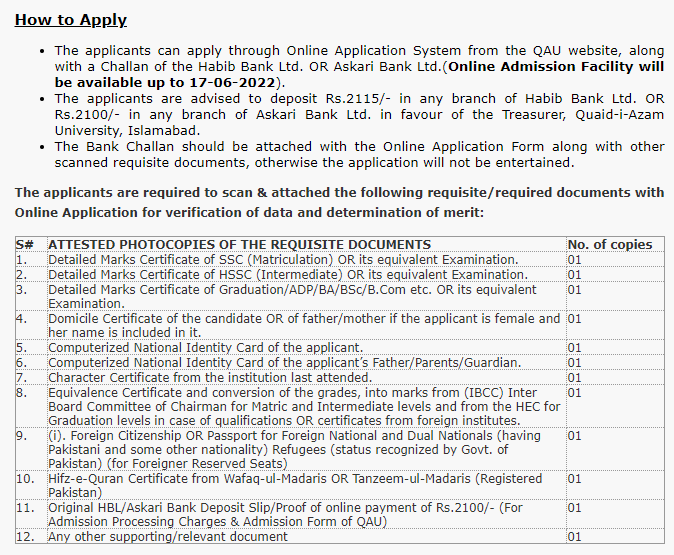 The Admission Form along with the Prospectus for all the academic programmes can be obtained from
Admission forms are available at Habib Bank, Askari Bank, and the university's admission office at @Rs. 2000. OR
Download from the QAU Website or from the given link above.
[box type="tick"]
Important Admission Instructions
: Every region has its own number of fixed seats on the basis of which admission on self-finance will be given. QAU will financially support only those who deserve the financial assistance that will take admission on a regular basis. If any student provides wrong information about him then the university can strike off his name.[/box]
QAU Admission Form 2023 Download
Students can download the admission forms for  Pharm-D, Information Technology, B.A, LLB programs, and all others by Here.  Check out the eligibility criteria for both national and foreign students. The other details can be seen on the admission form. Send it before the due date otherwise no applications will be entertained. 
QAU Prospectus 2023
You can also download the prospectus of Quaide Azam university from Here
Admission forms can also be obtained manually from the main campus. QAU prospectus charges are Rs. 1500. You can get the admission forms from the prospectus and fill them out. Attach the required documents with the form and send them to the official address of the QAU Islamabad campus.
QAU Eligibility Criteria & Requirements:
A candidate with HSSC or equivalent with at least 50 percent marks can submit the admission form before the last date to apply. 
QAU undergraduate programmes:
Department of Biological Sciences
Department is offering a Pharm-D program of 5 years
F.SC (pre-medical) degree or equivalent from any verified institution.
Department of Social Sciences
Department of social sciences has announced admission in BS economics, BS business administration with 4 years program and LLB 5 years.
Interesting candidates who have passed their FA / FSC or equivalent degree with a minimum of 50% marks are eligible to apply.
Department of Natural Sciences
If you have done your FSC Pre-Engineering, ICS, or equivalent degree with at least 2nd division from any recognized institute by HEC then you are eligible to submit your admission forms in your desired program.
The university has planned that your age should not be exceeded 22 years.
Eligibility criteria for the Master Programme:
Both Pakistani and Overseas students can apply for Master's programs at QAU. Students are being given admission on a regular basis as well as a quota. Eligible foreign students admission are accepted on valid visas and NOC from HEC.
A Bachelor's degree holder equivalent from any other recognized university, with at least a second division or its equivalent grade, is eligible for admission at QAU Master Programme.
For more information, visit the link.
Eligibility criteria 2023 for the MPhil programme:
To be eligible for admission to MPhil, a candidate:
Should have an MA/MSc degree or its equivalent in a relevant discipline.
Should have first division in MA/MSc or BA/BSc or at least 60% marks in BS (Hons) and all other 4-5 years degree programme he has already appeared in.
Should not have obtained third division in any of the BA/BSc or MA or MSc programs.
If a student has a third division in FA/FSc, the candidate must have the first division in both BA/BSc and MA/MSc; or at least 60% marks in BS (Hons) and all other 4-5 years degrees.
he should have passed NTS GAT-General/ GRE-General with at least of 50% accumulative score in each mentioned previous test.
Scholarships Program 2023

In collaboration with HEC, a separate office of the Students' Financial Assistance (OSFA) is established in Quaid-i-Azam University Islamabad to provide financial help/Scholarships to the needy and deserving students of the University. Mr. Zulfiqar Ali, Manager (Financial Assistance) is appointed as a focal person to deal with all the financial matters of the needy and meritorious students.
QAU Address and Contact Information
QAU Location: Quaid-i-Azam University Islamabad, 45320, Pakistan.
Official website: www.qau.edu.pk
Email address: info@qau.edu.pk
Tel: +92-51 9064 0000