Bahria University Islamabad Campus (BU) admission last date 2023 has been announced.  Bahria University Islamabad is offering study programs BBA(Hons), BS(Hons), BS engineering, BSCS, BSIT, BSS, MBBS, BDS, LLB, MBA, MS Engineering, MPhil, LLM and Ph.D. in Electrical Engineering, Software Engineering and Computer Sciences, etc. Bahria University is a public sector university officially established by the Pakistan Navy. Bahria University (BU) is providing its services in the field of Health Sciences, Computer Sciences, Management Sciences, Engineering, Social Sciences, and many more. The main Campus of Bahria University is at Islamabad and the other campuses are in Karachi and Lahore. BU has also established a medical and dental college that provides the opportunity to the students enrolled in the medical field for further studies.
For the new admissions, the admission schedule is published in the admission advertisement 2023. Bahria University admission's last date to submit the application form and eligibility criteria is also described in the advertisement as well as in the BU Prospectus 2023.  Admission forms that are submitted after the last date will not be considered for admission by the university. To get complete information about the admission procedure, admission schedule, admission form download, Bahria university fee structure, eligibility criteria and requirements, BU entry test, merit list, students profile,  scholarships offered by BU, jobs and employment opportunities at BU.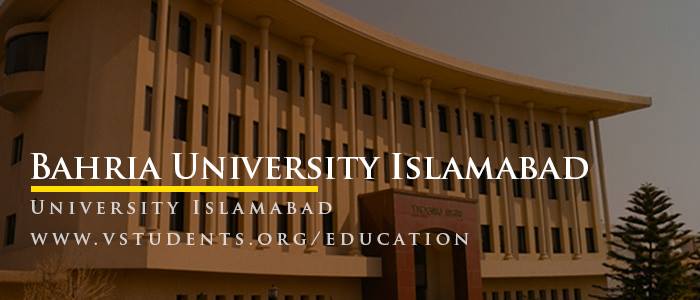 Bahria University Islamabad Admission 2023 [Complete Guide]:
Bahria University Islamabad declares the opening of new admission 2023 in different degree programs for Spring 2023 including BBA(Hons), BS(Hons), BS engineering, BSCS, BSIT, BSS, MBBS, BDS, LLB, MBA, MS Engineering, MPhil, LLM, and PhD.  Bahria University (BU) provides the chance for students to enroll in different study courses in Spring and Fall Semesters. The study period of each semester is a minimum of 16 weeks. Bahria University also allows evening and weekend classes in different disciplines for employed persons. All engineering programs offered by Bahria University are approved by Pakistan Engineering Council (PEC).
Bahria University admission advertisement contains information about different degree program for which admission is going to be offered. After reading this article you will be able to know the procedure how to apply for admission to Bahria University, How to obtain the admission form, get information about eligibility criteria and requirements to enroll in the specific study program, and the fee structure of a university. Bahria University has talented faculty and new jobs are offered to candidates having an excellent academic records. Bahria University offers many different types of scholarships to students admitted to the university.
BU Islamabad Admission 2023 Last Date
For getting admission into Bahria University Islamabad, the candidate must apply online before the last date notified in the advertisement. To apply for the Spring admissions 2023 in any degree program the last date to apply is given below.
Online Admissions open for both campuses (Islamabad and Lahore): 2nd November.
Last date of online form submission (Islamabad Campus): 23rd December.
Last date of online form submission (Lahore Campus): 17th December.
CBT for both campuses: 26th December and 19th December
Classes will start on

8th February

.
For complete admission, details, click here.
[box type="tick"]Recommend universities for you to check the complete admission details of
IIUI
,
Quaid-i-Azam University Islamabad
 and
Nust University Admission
.[/box]
Bahria University Islamabad Fee Structure 2023:
Fee structure of Bahria University is notified as approved by the Board of Directors of the University. Fee structure includes a tuition fee per credit hour. The degree fee is payable with the last semester. Administration of the Bahria University reserves the right to revise the fee structure at any time without prior notice. Students are advised to deposit the fee before the due date, otherwise, late fine will be charged per day. Degree programs and their fee structure is presented for the knowledge of the candidates.
| | |
| --- | --- |
| Program offered | Fee of the degree program(1st semester) |
| BBA | 121,680 PKR |
| BS (Accounting & Finance) | 110800 PKR |
| BSCS – BSIT | 108,000 – 99,000 PKR |
| LLB | 104,000 PKR |
| MBBS -BDS | 757260 PKR  (1st Year) |
| MBA | 113650 PKR |
| LLM | 88430 PKR |
| MS | 87400 PKR |
| PhD | 83460 PKR |
For detailed fee structure including registration fee, admission fee, security fee, tuition fee, and miscellaneous charges can be viewed by clicking Here. You can also check UET fee guide and Comsats Islamabad and Comsats Lahore fee structure for this year.
Admission procedure How to Apply:
Bahria University Islamabad Admission procedure is presented below for the assistance of the candidates.
[unordered_list style="tick"]
Apply online for admission into any degree program Click Here.
After providing all information in the online admission form, click the submit button.
Take a printout of the online application form and the following documents should be attached to the printed admission form.
Two Attested copies of all academic certificates
Attested Copy of National Identity Card
four recent colour photographs
applicant must appear in the entry test and interview on the mentioned date and time.
[/unordered_list]
BU Admission Form Download:
For getting admission into Bahria University, the applicant must apply online by providing the information in the prescribed online form. Applicants must fill all mandatory fields for the successful submission of the admission form. After the form is submitted online, Candidate can print it along with the processing fee voucher. Processing fee can be paid into designated bank branches as mentioned in the fee voucher. Candidates can apply online for admission into Bahria University by Clicking Here.
Bahria University Islamabad Admission Advertisement 2023:
Bahria University Islamabad Admission advertisement 2023 is published in daily jang, express, and many other popular newspapers all over the country for inviting admission applications from eligible candidates to enroll into a different degree program. Admissions for Spring 2023 are announced in the month of December-January and Fall 2023 in the month of July-August.
Candidates must fulfill admission requirements to ensure their admission to Bahria University. All documents along with the admission form must reach the University well in time before the Last date of admission.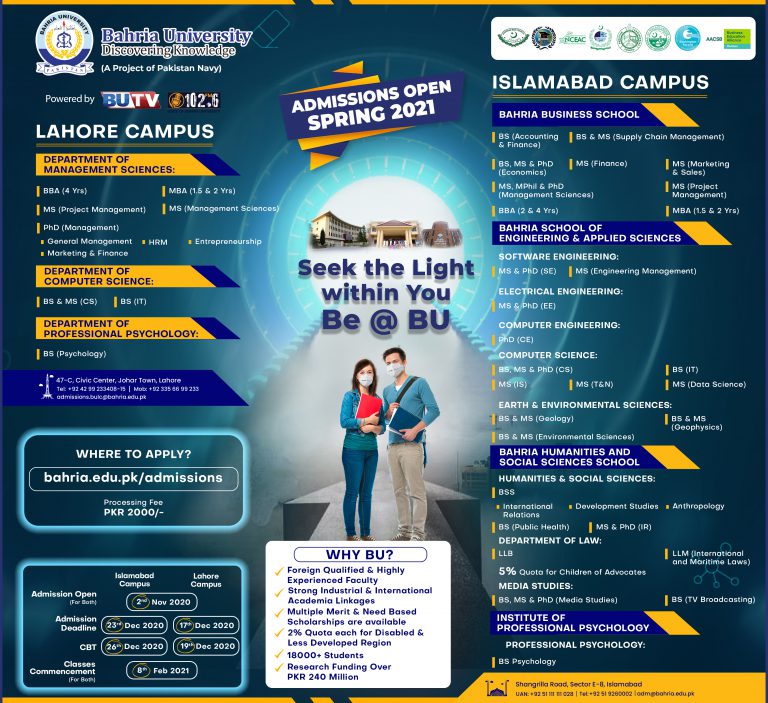 Bahria University Admission Criteria & Requirements:
Bahria University follows the same criteria for admission in the undergraduate, master, postgraduate, and doctorate level degree programs as approved by the HEC. For admission in the undergraduate program BBA(Hons), BS, Candidate must have passed the intermediate (HSSC) examination with at least 2nd division or 50% marks. Eligibility requirements for admission into graduate programs MBA, LLM, MS, Mphil applicants must have 2nd division or 45& marks in the previous degree. For acquiring admission into MS or MPhil and PhD program GAT test should be qualified.
Undergraduate, graduate, and PhD Programs Admissions:
Bahria University Islamabad offers multidisciplinary programs. There are different academic departments in the University that provide the facility of getting an education in various degree programs BBA(4-Years), BS Accounting & Finance, BS Electrical Engineering, BS Software Engineering, BS Computer Engineering, BS Computer Sc, MBBS, BDS, BSS, LLB, MBA, MS Electrical Engineering, MS Computer Science, Mphil Psychology, LLM, PhD in Computer Science, Electrical Engineering, Software Engineering etc.
Bahria University Entry Test 2023:
Bahria University conducts the entry test for the purpose of admission into different degree programs. Candidate must qualify for the entry test with at least 50% score to be considered for admission. Merit is calculated with the scores obtained in academic qualification, entry test scores, and interview marks. Candidates who fail to qualify for the entry test are not considered for admission at Bahria University. For admission into MS, Mphil, and PhD degree programs GAT test is mandatory.
Bahria University Merit List 2023:
Bahria University Islamabad Merit list 2023 can be viewed or downloaded from the university website. Candidates must check their names in the first merit list, if the name appears on the merit list then those candidates are called for an interview. The interview date is mentioned on the merit list. At the interview time candidate has to provide original documents with two sets of photocopies of all academic certificates with NIC issued from NADRA. You can check Bahria University Islamabad's merit list 2023 for various degree programs by clicking Here.
Bahria University Islamabad Scholarships 2023:
Bahria University Islamabad provides scholarship opportunities for talented students as well as poor students. Those students who got excellent marks in any degree programs at Bahria University and need financial assistance for further studies can avail of merit scholarships offered by the University. HEC grants scholarships to students who cannot afford the fee for further studies. Students who wish to avail of scholarships at Bahria University Islamabad can apply for the scholarship online by giving their information. To apply for Bahria University Scholarship Click Here.
Bahria University Islamabad (BU) Address Contact Information:
Address: Bahria University, Shangrilla Road, Sector E-8 Islamabad
Official website: www.bahria.edu.pk
Email address: info@bahria.edu.pk
Phone Number: +92-51-111-111-028