Recently, the Institute of Business Administration (IBA) Karachi admissions 2023 have been announced by one of the best academic universities in Pakistan for business studies. Students are invited to apply to multiple undergraduate, graduate, and postgraduate programs, including BBA, BBA (Entrepreneurship), BS, BS(CS), BS Economics and Mathematics, MBA, MBA Executive, MS, MS(CS), M Phill, and Ph.D.
IBA Karachi admission policy is exactingly based on merit and the candidate who meets eligibility requirements for particular degree programs are offered the admission letter. IBA is one of the top-ranked business universities in Pakistan ranked by the Higher Education Commission (HEC).
Below is the complete guideline for enrollment into IBA Karachi including the complete admission process, form download, last date, IBA fee structure 2023, admission requirements plus eligibility criteria, admission procedure and required documents to be submitted with the admission form, entry test date, admission criteria, display of merit list, financial assistance programs, scholarships and offered jobs in IBA University Karachi.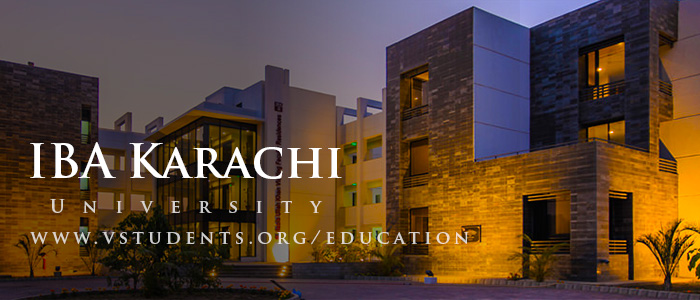 Institute of Business Administration Karachi Admission 2023
If you are wondering about take admission to a highly-ranked university, you must take a chance to become a part of IBA University. IBA Karachi has started admission into various degree programs for the Fall and Spring semesters of 2023 in various departments like Business Administration, Computer Science, Accounting and Finance, Mathematics, Statistics, etc.
They launched these courses in the Spring as well as in the Fall semester of 2023. One short semester called summer semester is offered to the students to improve their deficiency and grades. IBA Karachi publishes an academic calendar at the start of a new session, which is helpful in evaluating the pace and quality of education. IBA Karachi faculty is one of the best that meeting the international standards and criteria as approved by the HEC.
IBA Karachi Prospectus can be obtained from the admission office of the Main campus as well as the city campus.
IBA Karachi Admission 2023 Last Date
IBA Karachi has published an admission notice for inviting admission applications from qualified candidates who fulfill the minimum eligibility criteria for enrollment. Admissions are announced two times in an academic year.
Check below the Undergraduate 2023 Admission detail.
IBA Karachi admission 2023 Last date to apply is July 07 2023
For more details about undergraduate admissions, click here. For graduate, and postgraduate programs' last dates and entry test dates, click here.
[box type="note"]Are you looking for more Universities in Karachi? Must visit complete information about these top universities in Karachi 
University of Karachi (UOK),
and 
Iqra University Karachi.
[/box]
IBA Admission Form Download 2023:
It should be noted that you can only apply online for admission at IBA Karachi. No manual admission form or downloaded admission form is required. You should fill the form carefully and provide the correct information for getting IBA BBA & MBA admission 2023. The online admission form is submitted by Clicking Here.
Admission Procedure How to Apply:
IBA Karachi allows only an online admissions application to get admission into any discipline published in the admission advertisement. For the facility of candidates, we have mentioned the steps for online admissions.
[unordered_list style="tick"]
Apply for admission online by Clicking Here.
Complete the registration form and your Username and password will be emailed to you at the given email address.
Click on the link mentioned in the email and enter the username and password to log in.
Fill out the admission form carefully following the instructions mentioned in the form. Mandatory fields are not left blank.
Upload your recent color passport-size picture according to the format specified. Otherwise, the application will be rejected.
Click on the submit button and print the fee Challan
Deposit the processing fee of Rs. 4000/- in any branch of Faysal bank before or on the Last date.
After that visit the admission office of IBA Karachi main campus or city campus to collect your admit card for the aptitude test.
[/unordered_list]
Institute of Business Administration Admission Advertisement 2023
IBA Karachi Admission advertisement is published electronically for IBA admission the last date and list of degree programs offered by IBA Karachi. IBA Karachi admission advertisement is published in most of the national newspapers for the knowledge of willing candidates that admissions are open at IBA.
The last date is mentioned in a prominent place in the advertisement. Candidates should follow the admission procedure given in the admission advertisement or we have mentioned this complete procedure in the above paragraph. Willing candidates must purchase a prospectus from the admission office of the university.
IBA Admission Criteria & Requirements:
If you are looking for admission into IBA Karachi, then it is advised that you should first check the eligibility criteria and requirements for admission at IBA. If you are satisfied that you fulfill these eligibility criteria then apply for admission. IBA eligibility criteria for getting admission into an undergraduate program is that candidate must pass HSSC or equivalent with at least 60% marks. For getting admission into a master's degree program the candidate must qualify bachelor's degree with minimum 60% marks or 2.5 CGPA. For admission into any degree program offered by IBA, an aptitude test is mandatory.
IBA Karachi BBA and MBA Admission Criteria 2023: IBA eligibility criteria for getting admission in BBA is that the candidate must have passed HSSC or equivalent with at least 60% marks in the final exams. For an MBA or any other master's degree program, the candidate must have a qualified bachelor's degree with minimum 60% marks or 2.5 CGPA upon graduation.
Institute of Business Administration (IBA) Karachi Undergraduate, graduate and PhD Programs Admissions 2023:
IBA offers following degree programs to candidates who are young and energetic and
IBA Karachi Undergraduate Programs:
Institute of Business administration Karachi offers BBA(Hons), BBA(Entrepreneurship), BS (Accounting & Finance), BS Computer Science, BS Economics and Mathematics, BS Social Sciences and Liberal Arts.
IBA Karachi Graduate Programs:
Graduate degree programs include MBA, Executive MBA, MSCS, MS Economics, MS Mathematics.
IBA Karachi PhD Programs:
IBA PhD degree program which is in progress at present are PhD Computer Sc, PhD Economics, PhD Mathematics, PhD Statistics.
IBA Karachi Fee Structure 2023:
The IBA fee structure is approved by the Board of Directors. Main and city campus has the same IBA fee structures for BBA, MBA, PGDM, BSC, and others. The fee structure varies for different degree programs offered by the IBA. If a candidate is offered admission at IBA and he/she cannot afford the fee expenses of IBA, then-candidate can apply for the financial assistance or merit-based scholarship which is awarded after the approval of the competent authority. The Fee structure of IBA Karachi for some common degree programs is given below:
| | |
| --- | --- |
|  Degree Programs | Fee Structure |
| BBA | Rs. 260,000.00/- Total Recurring Charges |
| MBA | Rs. 260,000.00/- Total Recurring Charges |
| BS Accounting & Finance | Rs. 260,000.00/- Total Recurring Charges |
| BSCS | Rs. 218,200.00/- Total Recurring Charges |
| BS Math, BS Economics | Rs. 218,200.00/- Total Recurring Charges |
| MS Economics | Rs. 133,500.00/- Total Recurring Charges |
| MS Mathematics | Rs. 133,500.00/- Total Recurring Charges |
| MS Computer Science | Rs. 133,500.00/- Total Recurring Charges |
The above fee package mentioned by the IBA includes Tuition fees, student activity charges, and examination fee, laboratory and library funds, and development charges. You can Click Here to see the complete fee package including different charges.
IBA Entry Test Last Date 2023:
IBA conducts aptitude entry tests for admission and announces the last date to conduct the tests for different degree programs. Candidates have to qualify the SAT-I aptitude test for BBA, SAT-I, and SAT-II for admission into the BS-level degree program. GMAT test is required to be passed by those candidates who wish to take admitted in MBA or MBA Executive. GRE general and specialization test is required for admission into MS and PhD programs. You can download previous entry test papers conducted by IBA by clicking Here.
Institute of Business Administration (IBA) Karachi Merit List 2023:
After qualifying for the aptitude test, interview and group discussion for a specific degree program, a merit list of the successful candidates are prepared and displayed in each department as well as on the official website of the IBA Karachi www.iba.edu.pk.
Merit list is prepared according to the criteria specified in the admission policy of the IBA calculating the marks obtained in academic certificates as well as in interviews and group discussions. Merit list is uploaded on the university website and candidates are required to submit fee dues within a given time period. After the deposit of fee, their admission is confirmed.
Institute of Business Administration (IBA) Karachi Scholarships 2023:
IBA grants merit scholarships to those students who get maximum marks in IBA aptitude tests. Top ten candidates are awarded these scholarships, giving them 50% fee concession in tuition fee during the entire study period of degree programs in which they are enrolled.
IBA also provides financial assistance to deserving students for up to 50% concession in tuition fees. The students must apply through proper channels by submitting an application to the Head of the Department which recommends the application and forward it to the competent authority for approval.
IBA Karachi Address & Contact Information:
Address: Institute of Business Administration, University Road Karachi.
Official website: www.iba.edu.pk
Email address: info@iba.edu.pk
Phone Number: +92- (021) 111 422 422