Baqai Medical University is pleased to announce the start of Admissions for the session 2021 in undergraduate and postgraduate degree programs (Spring & Fall 2021). Applicant should get admission form for applying admission into various course in the field of medical health care for spring and fall admissions 20210 in MBBS, BDS, BS-DCP , DVM, BSMT, DPT, BSc NUR, FCPS, MCPS, MD Internal Medicine, MD Pediatrics, MS Surgery, MS Ophthalmology, M.Phil Anatomy, M.Phil Biochemistry, M.Phil Physiology, Ph.D Biochemistry and Pd.D Pharmacology.  
Baqai University Admission advertisement is published in different newspapers showing the disciplines in which admission is offered, Last date to receive admission forms, admission schedule, entry test schedule, merit list, scholarships and eligibility criteria. University offers admission for Pakistani Nationals and Foreign students in different disciplines. Baqai Medical University is approved by the HEC and is at no. 13 in the ranking among top universities. University has many institutions and colleges affiliated.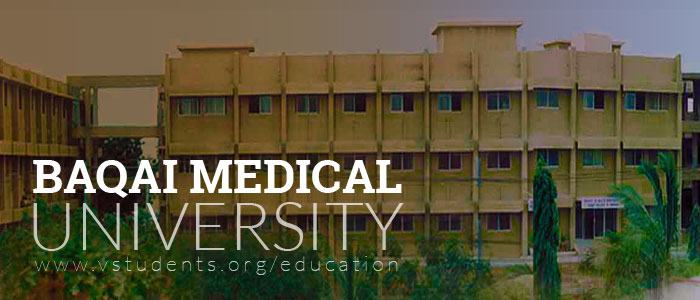 Baqai Medical University Karachi Admission 2021 Guidelines
Baqai Medical University admissions for the MBBS, BDS, DCP, Pharm-D, DVM, FCPS, MCPS, MD, MS and Ph.D. in the field of surgery, anatomy and general medical health care has been announced for the year 2021. Baqai University is one of the top-ranked universities in Sindh Province. You can find BMU admission guidelines 2021 about fee structure, last date, merit list, entry test date, scholarship, and address, etc below.
The university along with these institutions are offering admission in different fields of study. Recently Iqra University Karachi Admissions have been started. Selection will be merit-based and up to the eligibility of the candidates.
Baqai Medical University Admission 2021 Last Date
Admissions for the year 2021 are in progress and applications are required from applicants for enrolling in various disciplines. At present admissions are opened for the session 2021 and the last date to apply is
Apply before the last date of admission that is: 28th October, 2021.
Entry test will be held at different examination centers.
[box type="note"]Looking for more Universities in Karachi? Must visit complete information about these top universities in Karachi 
University of Karachi (UOK)
and 
DUHS Karachi Admission
.
[/box]
Baqai Medical University Karachi Admission Advertisement 2021
Baqai Medical University offers various degree programs in admission advertisement for the year 2021. Candidates are advised to read the advertisement carefully in order to avoid any ambiguity. You can download Baqai Medical University admission advertisement for the session 2021 from its official website www.baqai.edu.pk.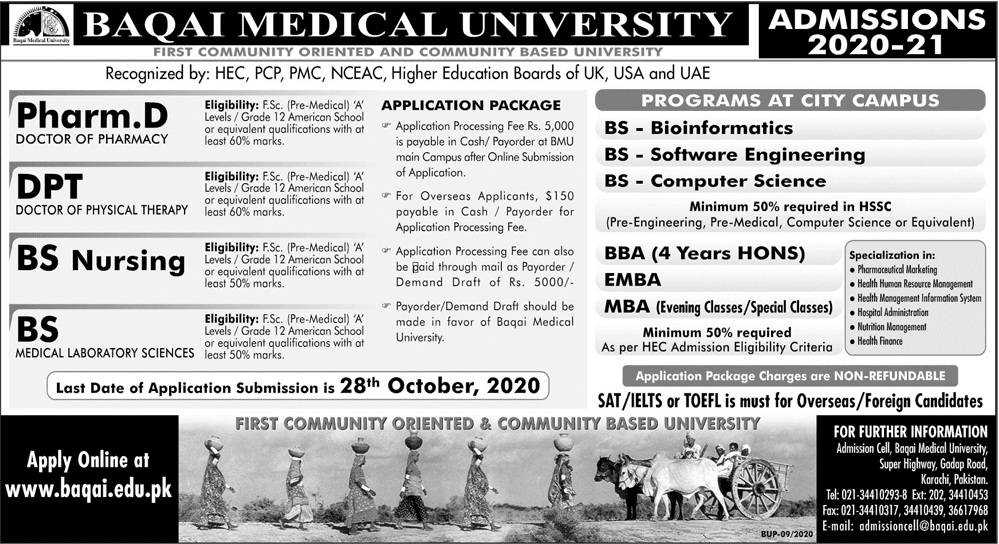 Baqai Medical University Fee Structure 2021:
Baqai Medical University Karachi is one of the main universities in the field of Medical Sciences whose fee structure is very low and can be compared with any public or private sector university.  Details about Admission fee for undergraduate programs MBBS and BDS, the yearly fee is given below for the students:
| | |
| --- | --- |
| Particulars | Fee |
| Admission fee for MBBS and BDS | 1000 Rupees |
| Fee for the first year | 450,000 Rupees |
| Fee for per year | 410,000 Rupees |
Baqai Medical University Fee structure can be changed any time without prior notice subject to the approval of syndicate. Similarly, MAJU Karachi Fee Structure can be found here. You can find complete info about BMU Fee structure Here.
Baqai Medical University Admission Form 2021 download:
Admission form for enrolling into various degree programs for the year 2021 can be obtained from the admission office of the Baqai Medical University Karachi. Admission form for getting admission at Baqai Medical University Karachi can be downloaded from our webpage by clicking Here.
Admission 2021 procedure, how to apply:
Admission form can be obtained from the admission office of the university by paying Rs. 2500/- as form issue fee and Rs. 1500/- as form submitting the fee. This form is issued along with prospectus of the University.
[unordered_list style="tick"]
First of all, fill the admission form according to instruction
Deposit the Fee in the designated bank branches of the university
Attach attested copies of SSC and HSSC certificates
Attach Copy of Father NIC
Attach Copy of B-form of candidate
Affidavit
Three passport size pictures with the name printed on the back
Submit all these documents with admission form at the admission office of the university for further processing.
[/unordered_list]
Admission Criteria & Requirements:
Admission criteria for getting admission into various degree programs are approved by the Higher Education Commission. First division in mandatory at HSSC or equivalent examination for getting admission into undergraduate courses at Baqai Medical University.
Undergraduate, graduate and Ph.D. Programs 2021: Baqai Medical University is one of the private sector university in Karachi who offers different undergraduate and postgraduate degree programs in the area of medical science.
Postgraduate Programs:
Postgraduate programs include MD Internal Medicine, Pediatrics, MS Surgery, Ophthalmology, Otorhinolaryngology, Anatomy, Biochemistry, M.Phil Physiology, Ph.D. Biochemistry, Pharmacology, and Hematology.
Undergraduate Programs:
These programs include MBBS, BDS, BSc-Nursing, Pharm-D, DVM, DPT
Baqai Medical University Entry Test 2021:
Entry test is conducted by the Baqai Medical University for the admissions 2021 to check the aptitude and eligibility of the suitable candidates. In order to get admission into degree programs of Medical and Dental field offered by the university, passing Baqai University Entry test is mandatory.
Merit List 2021:
Baqai Medical University Karachi is one of the top universities who provide admission to talented students solely on merit. Merit list is displayed on the notice board for information of students. Students are also offered admission notice through email and postal address.
Scholarships 2021:
University has announced the many scholarships for the deserving students and those students having excellent academic records. These scholarships include concession in the tuition fee, registration fee and other types of funds. Higher Education Commission is also providing scholarships to the Baqai Medical University students for continuing their studies.
Address & Contact Information:
Address: Baqai Medical University, Gadap Road, Karachi Sindh.
Website: www.baqai.edu.pk
Email : info@ baqai.edu.pk
Phone Number: +92 21 34410-293
Fax: +92 21 34410-317