The University of Agriculture Faisalabad (UAF) recently announced the admission and Entry test date of 2023 for eligible students. The UAF offers admissions 2023 in various disciplines including BA, BSc, BSc(Hons), BS, B.Ed, MA, M.ed, MSc, MSc (Hons), MS, M.Phil and Ph.D. degree programs.
UAF is internationally recognized for its research-intensive education in the field of agriculture, engineering, water resources, food and nutrition, and environmental and veterinary sciences. The University of Agriculture Faisalabad's skilled faculty is working hard to maintain its present status which is a distinction for the people of Faisalabad. Admission form 2023 is required for obtaining admission to the University of Agriculture Faisalabad.
UAF Faisalabad Admission 2023 Schedule is announced and published in electronic and print media by the UAF for this year. Students should apply for admission well in time with all required documents before the last date of admission. UAF Fee structure, and complete admission process to apply are predominantly mentioned by the University. After the UAF entry test is completed, the merit list will be displayed at public places in the University as well as on the official website.
For getting more details about the University of Agriculture Faisalabad UAF Admission 2023, admission schedule 2023, UAF Fee Structure, admission advertisement 2023, Last date for Admission, entry test date, merit list, scholarships, and UAF currently announced vacancies read the following paragraphs which are presented below.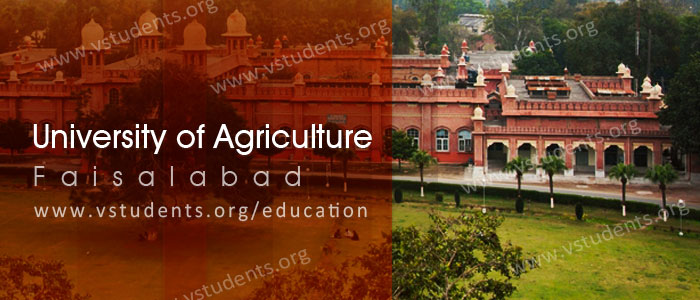 UAF Agriculture University Faisalabad Admission Guide 2023
UAF Admission Schedule 2023 is publicly announced for undergraduate, graduate, and postgraduate degree-level programs offered by the University. The UAF degree programs officially recognized by the HEC are  BSc, BSc(Hons), MA, MSc., MSc (Hons), MS, M.Phil and PhD in different fields of agriculture sciences, engineering, food sciences, animal sciences, textile technology, statistics, computer sciences, environmental sciences, veterinary sciences, Education.
Intermediate-level classes are also going on at the UAF in the pre-agriculture discipline. As we know Pakistan 70% population depends on agricultural products for their financial earnings.
Agriculture University Faisalabad is Punjab Government charted university which is among the topmost universities whose research is admirable at the internal level in the field of agriculture, animal sciences, water management, etc.
Candidates wishing to get UAF admission 2023 are advised to read this article which gives more knowledge about the Last date for applying, the complete procedure how to apply, UAF prospectus, the UAF admission form 2023 download, UAF Fee structure 2023, the merit list preparation, eligibility criteria and requirements for admission, scholarships awarded and announcement of teaching & non-teaching vacancies at UAF.
[box type="note"]Must check GCU Faisalabad admission 2023 complete guide and NTU Faisalabad Admission details before applying for other universities. [/box]
UAF Admission 2023 Last Date
UAF admission 2023 the last date for Agriculture Engineering, Veterinary Sciences, Institute of Pharmacy, Psychology, Sciences, and UAF Community College is given below.
UAF admission 2023 Last Date is 31 July 2023
For more information click here
UAF Admission 2023 Advertisement
UAF Admission advertisement 2023 for Fall and Spring admissions will be uploaded here once it is officially published by the University management.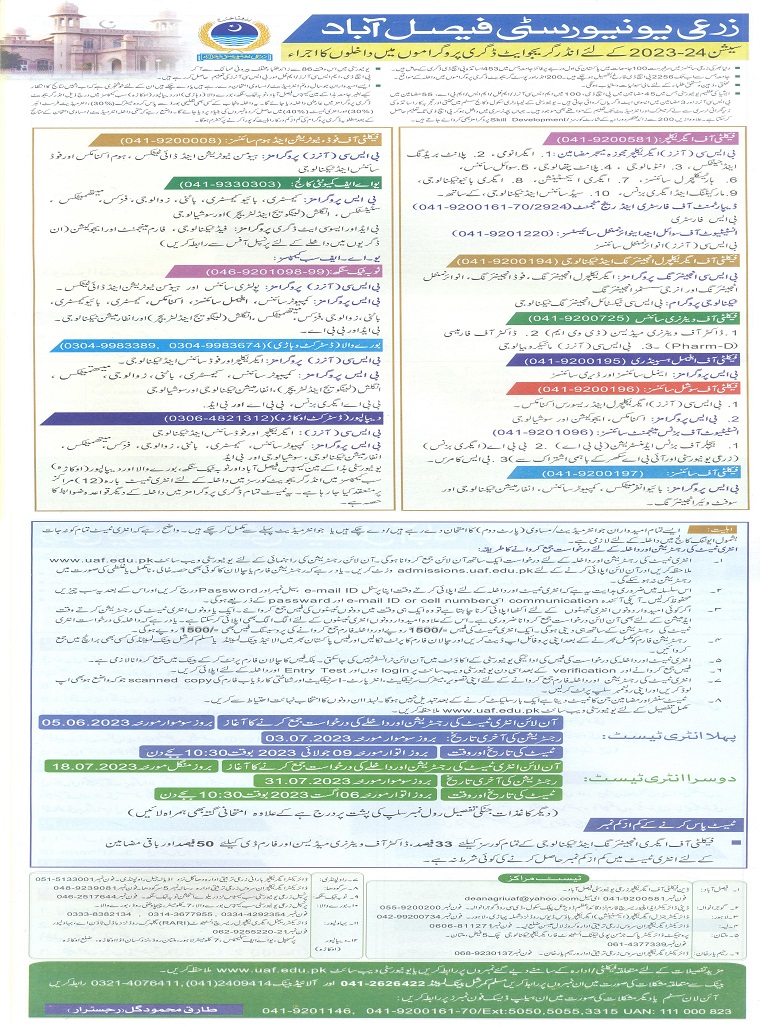 UAF Fee Structure 2023
UAF fee structure is very much economical for students and consists of the registration fee, tuition fee, examination fee and some other fee funds. University of Agriculture Faisalabad Fee structure 2023 of different degree programs depends on the number of credit hour courses offered in each semester.
BSc(Hons) agriculture sciences and Home Economics 1st semester fee is Rs. 46,750/-
Bsc Engineering Rs. 44,775/-
DVM fee is Rs. 42,475 (1st semester)
Further detail about fee structure is obtained from the official website
UAF online Admission Form 2023 Download:
UAF Admission form 2023 can be acquired by applying online and submitting the admission form for the Faisalabad campus. For T.T.Singh (Vehari) campus admission is obtained by purchasing the UAF prospectus 2023 in which admissions form for different degree programs of study as mentioned in the prospectus are included for candidates.
Applicants seeking admission in the UAF must follow the instruction given on the admission form 2023 overleaf. In case misleading and bogus information is provided on the admission form, student admission is liable to cancellation at any time. The admission form can be submitted online from Here.
UAF Admission 2023 Procedure How to Apply Online:
The UAF admission requirements, and the procedure for submission of application and applying for admission are presented below:
[unordered_list style="tick"]
Apply online for admission 2023 in different study programs advertised by the UAF. The online admission application form can be obtained Here.

After submitting the admission form, take a printout of the fee voucher containing the processing fee for admission and the entry test fee.
Appear in the entry test as mentioned in the admission schedule by the university.
Print the completely filled application form, and attach the following document to it.
Detail mark sheet of all the certificates starting from matriculation to the latest degree attested by a gazetted officer.
Three colored passport-size recent photographs
Attested copy of National Identity Card
Attested copy of the certificate of domicile
To apply in different disciplines, a separate application is required for each one.
Incomplete admission forms that are received after the last date will not be accepted.
[/unordered_list]
UAF Faisalabad Admission Criteria & Requirements:
UAF admission criteria and requirements for admission to each degree program is properly mentioned in the prospectus and also available online from the website. For admission in undergraduate programs in UAF 60% marks are mandatory at the intermediate level. For getting admission in BS (4-years programs) at least 45% marks are required at the intermediate level.
 UAF Undergraduate, graduate, and Ph.D. Programs Admissions 2023:
UAF offers different programs of study at the undergraduate, graduate and Ph.D. levels. A variety of degree programs available at the University of Agriculture Faisalabad are BSc(Hons) in agriculture science, BSc(Hons) in agriculture engineering, BSc(Hons) in Food engineering, BSc(Hons) in Textile Technology, Pharm-D, DVM, BS(IT), BSCS, MA, MSc Statistics, Physics, Chemistry, Economics, MSCS, MS and PhD in different areas like agriculture, food, textile, computer sciences, and other different science subjects.
UAF Entry Test 2023:
University of Agriculture Faisalabad UAF entry test is mandatory for admission to different study programs. Information about the entry test date is supplied to the candidates after submitting the application form. The entry test contains 40% marks in merit prepared by the university officials.
Agriculture University Faisalabad Merit List 2023:
UAF merit list is displayed in which the names of successful candidates are mentioned. If a candidate does not deposit fee dues within the specified time limit given by the university, then it is considered that he/she is not interested to take admission in the University. So the offer is given to the next candidates on the merit list. Merit lists of different study programs for admission are seen.
UAF Faisalabad Scholarships 2023:
UAF administration is very much aware of the financial needs of the students. So different types of scholarships are awarded by the UAF to its students who pass the examination with distinction. Scholarships holder students are given fee concessions on tuition fees as well as free education to the position holders.
UAF Address Contact Information:
Address: University of Agriculture, Agriculture University Road, Faisalabad, Pakistan, Zip Code 38000.
website: www.uaf.edu.pk
Phone: +92 41 9200161-70
Fax: +92 41 9200764