International Islamic University Islamabad (IIUI) admission 2023 has been announced in various departments by officials of IIU Islamabad which is one of the famous public research universities in Pakistan. You can get admission to the International Islamic university Islamabad for spring and autumn sessions offering programs BA, MA, Be.d, Me.d, BS, BCS, BBA, MBA, Engineering, Literature, MPhil, and up to Ph.D. Levels. IIU Islamabad is the most popular educational institute for Islamic studies as well as science education in Pakistan.
Here you will be able to find the IIUI admission 2023 last date to apply online, fee structure, entry test date, browse the merit lists, admission criteria, form download, IIUI scholarships, and jobs offered by the university. IIU Islamabad is playing a vital role and providing modern education in the fields of engineering, computer science, business, medical science, natural science, law, and humanities and English literature programs along with quality education of Islam, beliefs, and Islamic theories.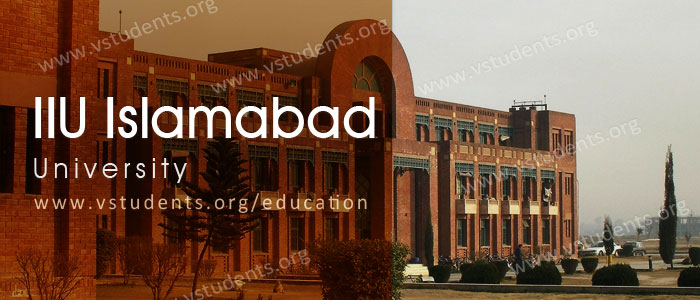 International Islamic University Islamabad Admission 2023 Apply Online
IIUI Islamabad is a leading educational institute, which announced IIUI admission 2023 spring and fall sessions. You can download the IIUI application form from below, follow the How to apply procedure to get enrolled in the university. Below are the details for your complete guide including important IIUI admission last date, fee structure, BBA, BSC, BSCS, MBA, MPhil, and more requirements & criteria.
You can get admission in graduation, post-graduation & doctoral studies. Below is the complete information about Islamic University Islamabad including its fee structure, eligibility criteria, last date of form submission, entry test date, and merit list date.
IIUI Islamabad Admission 2023 Last Date to Apply Online
IIUI announced the last date to apply for admissions. IIUI is one of the largest organizations in Pakistan where more than 30 thousand students have enrolled currently. so if you are interested to be a part of it. You should submit the application form before the last date of IIUI Fall Admissions 2023. Admissions are now open for Ph.D. Arabic Literature & Linguistics, MS Arabic Literature & Linguistics, MA Arabic, & BS Arabic.  
Check the last dates and application deadlines below for all the undergraduate programs including BS (Hons) for BBA, BSCS, Mathematics, English, Botany, Urdu, and all other BS programs.
IIUI admission 2023 last dates to Apply Online
Semester
Last Date
Fall 2023
IIUI admission 2023 last date is 28 July 2023
Programs Offered FALL admissions 2023 last date and test date details can be seen here.
[box type="tick"]We recommend all of the students must check out
Nust Admission
 as well as 
COMSATS Islamabad
,
Quaid-e-Azam University Admission,
 and 
AIOU Admission Guide
 [/box]
IIUI Spring Admission 2023 Advertisement
Islamic university offered spring admissions and now students can apply in many disciplines and continue their studies. Institute has advertised for the spring session and the last date for Spring and Fall admission form submission is as above. IIUI also offers Short Courses in Urdu, English, and Chinese.
IIUI Admission Advertisement was officially announced by the University. Please find the below official advertisement notification.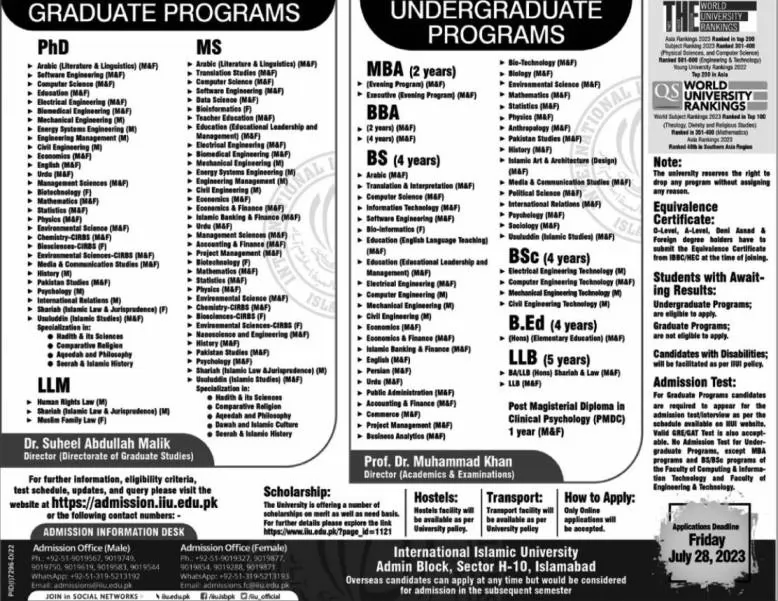 IIUI Fee Structure 2023:
International Islamic University Islamabad has a vast area of offered programs which has different fee structures.
For IIUI fee structure for BBA is 77400 for the first semester and for MBA 69200.
The fee structure for BSCS, BSIT, MSCS Software Engineering is 57800.
IIUI fee structure for civil engineering is 97200 for the first semester.
If you want to check out the other subjects of IIUI fee structure 2023 then please follow this Link.
The main advantage of this University is that you can avail the facility of International Islamic University Islamabad's Hostel.
[box type="note"]In Malaysia, there is an institute known as International Islamic University Malaysia which has no concern with IIUI and it has its separate courses, eligibility criteria, fee structure, admission procedure, and everything.[/box]
IIUI Admission 2023 Form Download:
You can also IIUI admission form download 2023 online, from Here.
First of all, keep in mind university offered three ways to get admission form one is to get from the university's HBL bank branch of IIUI located in sector H-10 for males and females can get from the First Women Bank branch located in sector H-10. 

You can get an application form from the university also by post after sending the bank draft at the university's name.
IIUI Admission 2023 Procedure & Guide: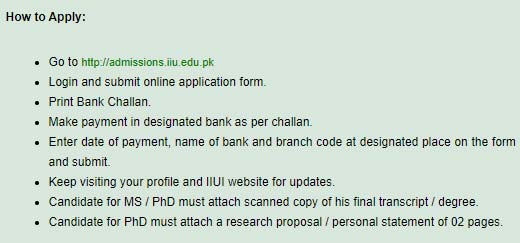 [unordered_list style="tick"]
Get the admission form as mentioned above.
Submit the processing fee in IIUI bank branches and attach the deposit slip with the form. You can also submit the dues with the bank draft or pay the order in the name of the HBL IIU branch.
[box type="note"]700 Rs/form if you get it from the university and 1250 Rupees if you downloaded the form online. You can download the form from Here[/box]
 The admission form should be properly filled out and must be signed.
Attach three passport-size pictures with the form.
Submit two sets of attested copies of your degrees.
Attach your CNIC card copy with the IIUI admission form.
[/unordered_list]
International Islamic University admission Criteria 2023
Only those candidates who have cleared their last degree with at least 50% marks in the related subject and GAT (General) test is compulsory for those students who are going to apply for a doctorate and MS programs. Both male and female candidates are welcome to apply to the Department of Psychology.
Eligibility Criteria for Masters & Ph.D. Programs in IIUI

Academic Qualification 30%
Admission Test / NTS 50%
Interview 20%

IIUI Admission Criteria for BS, BA, BBA Under Graduate Programs

Academic Qualification 40%
Admission Test 60%

Criteria for Politics & International relation IIUI:

Ph.D. International Relation (3 years) & Ph.D. Political science, MS or Mphil either in IR, Political science, Law, economics, journalism and Pakistan studies subjects with minimum CGPA of 3 from 4 CGPA or 60% marks.
For the detailed admission criteria please follow this Link.
IIUI Entry Test Date
University has declared the schedule of the entrance test. According to the official site of the International Islamic University, the date of entry test is as follows.
The schedule for the entry test of IIUI can be checked out at the official site of the International Islamic University.
Never forget to take the original test admission slip, CNIC, pencil, ball pen, sharpener, and eraser.
After that IIUI admission test results, for 2023 will be displayed on the university's official website www.iiu.edu.pk

 
About IIU Islamabad:
International Islamic University was founded on 11th November 1980 and up to recent times there are thousands of students are gotten knowledge from this popular institute. The IIU Islamabad running by the motif to highlight the purpose of Islam, its vision & ideology, and promote the real theme of Islam on a worldwide basis to produce skilled persons who could implement Islam in their professional life.
IIUI Islamabad Campuses:
International Islamic Universities also have a number of International Islamic University Schools which has campuses around Pakistan. The school has 80 campuses in Pakistan. We hope now you know the way that how to apply for international Islamic university Islamabad admission 2023 with a complete guide and details.
Old Campus: The old Campus of IIUI is around the Faisal Mosque.
New Campus: The new campus of IIUI is located in

Sector H-10 of Islamabad.