Admission in University of Sargodha is getting more difficult but not impossible because sargodha university officially announced that admissions open and this institute is now considered as a valuable and admirable institute in Pakistan for quality education and more experienced teachers with highly professional academic standards. It was established in 2002 and up to this time the strength of the students had crossed the limit of twenty two thousand. The institute has extremely professional, hardworking and many of foreign qualified experienced staff who know that how to deliver knowledge and how to increase the educational structure in the country more professionally as well as academically.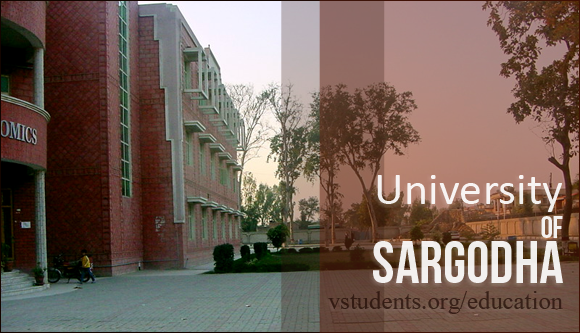 Last Date of Admission in Sargodha University 2016
UOS has officially announced that Admissions are open for BS, MS, BCS, BBA, MCS medical, Graduate, Postgraduate, MPhil and PhD levels. Any one can apply as per merit and criteria for particular programs with respect to mentioned last date.
Graduate and Postgraduate Admissions: The Institute has opened admission in all departments including Law, Communication Studies, Education, Languages of English, Urdu, Persian, Arabic and Punjabi, Fine Arts, History, IR & Political, IT & Computer, Islamic studies, Commerce & Economics and Faculty of sciences. As admission in punjab university and other institute offers.
UOS Admissions in MS & Mphil Programs: The UOS offers MS/Mphil program in some of the subjects that are mentioned below:
Department of Food Sciences offers MSC and Technology. Department of chemistry delivers course named Mphil Chemistry and in this course students will learn Analytical & Inorganic Biochemistry, Organic & Physical Chemistry.
Mphil: Urdu, Arabic and Persian and Agriculture, History, IR, Library science, Economics, Geology, Physics, Maths, Sociology and Psychology.
Eligibility Criteria for MS courses:
The candidates must have passed MA/MSC/BS four years program or must cleared 16 years of education with second division or 2.00 CGPA.
GAT-General is compulsory for admission in University of sargodha.
PhD Programs:
University is offering Doctorate programs in Agricultural subjects, Food, Political and Library science, Arabic, Islamic study, Persian, Urdu, Economics and Science subjects Physics etc.
Eligibility criteria for Doctorate:
Mphil or equivalent degree with first division and GAT or GRE test qualified.
Sargodha University Admission Last Date
•    Last date of admission forms submission was  September 30, 2016 but for some reasons UOS extend the admission last date to October 5,2016.
Fee structure:
Fee regarding all admission can be seen in the prospectus that are available in university's Habib Bank Limited and all the other branches of HBL in Rs. 500/-
Contact information:
Address: University of Sargodha, University Road, Sargodha.
Website: www.uos.edu.pk
Email: info@uos.edu.pk
Phone: +92-48-9230811-815
This page was updated January 25, 2016 and i hope this information will be helpful for all interesting students who they want to get enrolled into UOS for building their carriers.